In:
What can we expect when Royal Caribbean opens its first beach club experience in 2025?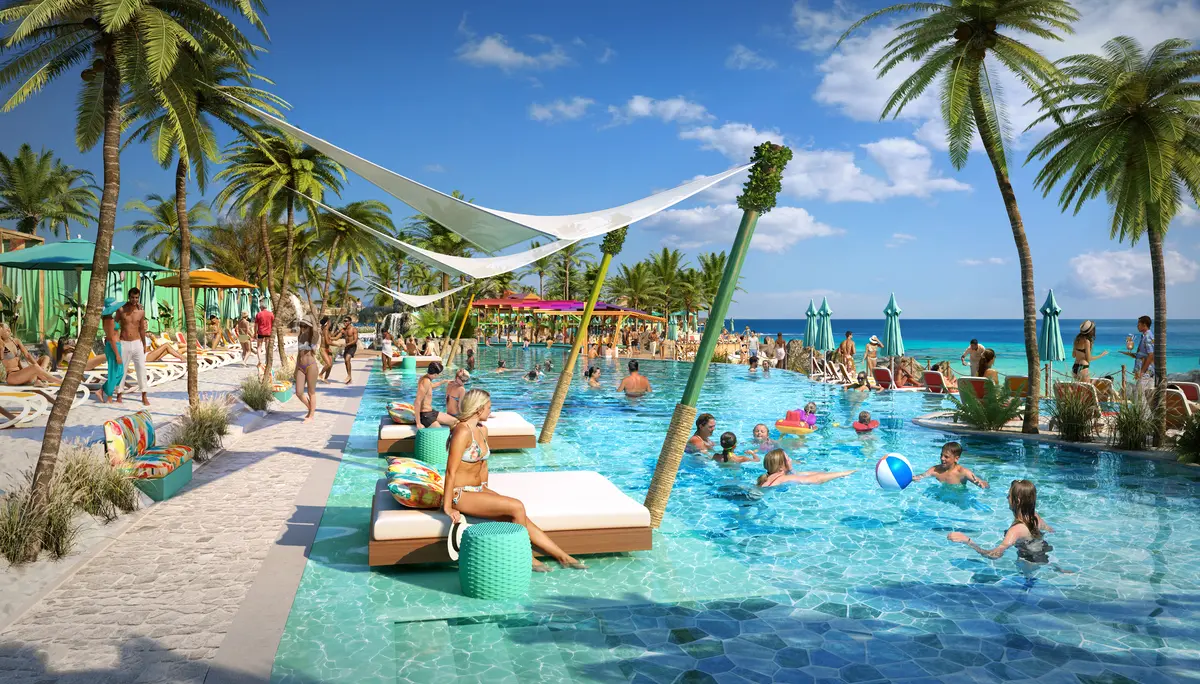 Royal Caribbean confirmed last month it was moving forward with plans to build a beach club in Nassau, Bahamas, which is set to open in the first half of 2025.
This will be the first of its kind experience for the cruise line, as the beach club is not going to be another private island type of experience.  But how different will the Royal Beach Club at Paradise Island be and what can expect once the first passengers visit the beach club?
Royal Caribbean's Senior Vice President and Chief Product Innovation Officer Jay Schneider has a large hand in the planning of the new destination, and has been working with the Bahamian government for years through two different administrations to get approval for their work.
The Bahamian government gave Royal Caribbean "approval in principle from the government", which means the government of the Bahamas and Royal Caribbean have reached an agreement on kind of the key principles that they both think are important.
How is the beach club different than a private island?
Up until now, the only context cruisers have for a land-based experience offered by Royal Caribbean are the private destinations of Perfect Day at CocoCay and Labadee.
Mr. Schneider calls the beach club, "a really rich Royal Caribbean service experience attached to a high volume destination or strategic destination for us."
"Whereas a Perfect Day it is the destination, it is the only thing you can do... and it's typically far flung."
To better explain the differences, Mr. Schneider confirmed that the beach club will cost extra, as it's not intended to be something for everyone to visit like it would be at CocoCay.
"Not everybody's going to have an opportunity to go to the Royal Beach Club. It wasn't designed for that purpose."
"Because we then hope you sail with us again the next weekend and have that opportunity. And so that's where it kind of fits into our strategy."
He also confirmed that the beach club admission will be all-inclusive, which means your admission cost will cover:
Water taxi ride to/from the beach club
All food and beverage, including alcohol.
Beach chairs
Umbrellas
Non-motorized activities (swimming, snorkeling, kayaking, etc)
"It's really meant to be this kind of all inclusive, ultimate beach day," Mr. Schneider said of the plans.
The beach club will have three primary areas:
Family beach zone
Active pool space
Quieter beach area on the western side
In addition to the beach, the pools are going to be a focal point, "At the heart of it, you'll find a series of pools. And part of the reason for a series of pools is you need heated pools in the Bahamas to have a really great experience year round."
Don't expect a giant pool akin to the Oasis Lagoon pool at CocoCay. Rather, for a better environmental footprint, these pool spaces will be smaller, "They're not terribly small, but smaller experiences. So imagine a Splashaway Bay sort of experience."
"Imagine if you were to take Oasis Lagoon and kind of break it into a couple different parts."
There will be live Bahamian music to enjoy, cabanas to rent for an additional cost, snack shack restaurants, along with beach bars around the club.
One thing you will definitely not find at the beach club are thrills, "there's no massive thrill experience. And frankly, you know, there's two reasons not to have a massive thrill experience."
"One is the land is just not that big."
"The second is there's really great thrill elsewhere in Nassau. This wasn't meant to steal thrill from other things in Nassau."
How much will the beach club cost?
You're probably wondering how much this experience will cost, and there isn't yet a price determined.
Mr. Schneider confirmed the all-inclusive admission will include food and drink (including alcohol), but said it was too early to know what the cost will be.
I then asked if admission will be a full or half day experience, and Mr. Schneider said he wasn't sure yet what to expect.
Why build beach clubs?
Why would a cruise line invest millions of dollars in a project like this when there are already lots of places to visit in Nassau, as well as destinations around the Caribbean.
On a high level, Mr. Schneider says the two predominant reasons people book a cruise are for destinations and food.
"The reason people go on a vacation is they want to go visit destinations. We break that down into destinations have two parts: the places we take you to and the ships and hardware that you sail on as a destination."
In speaking about the places Royal Caribbean already goes to, Nassau fell into a grouping of ports that have high volume but don't have high appeal or high satisfaction rates. This is the primary reason for leading Royal Caribbean down the path of planning a Royal Beach Club.
"Nassau is a great place to go. We wanted to add a Royal level service to that destination. This this gave us that model to to really expand."
Profiting the Bahamas too
Mr. Schneider was adamant about the fact the Royal Beach Club in Nassau isn't a cash grab by the company that only benefits the cruise line.  
He called it a "public private partnership", which has the goal of ensuring, "that the profits from the Beach Club stay in the Bahamas for generations to come."
How does it work? There's a few components to this deep partnership between cruise line and government.
First is equity, "Bahamians will have the opportunity to own up to 49% of the Royal Caribbean Beach Club."
"And so we felt and the government felt as we went through our discussion that it was important that Bahamians have ownership in this as a result of the Bahamas contributing crown land."
"We want to make sure that that the Beach Club has real ownership of local Bahamians so that it's beloved for years to come.
"The equity comes in two parts. First is the government. The government sovereign wealth fund, which is called the Bahamas National Investment Fund, will get essentially equity for the fair market value of the four acres of crown land that they're contributing."
"The second part of the equity is really then individual Bahamians will have an opportunity through an investment fund to essentially buy shares in the investment fund to buy equity into the fund."
In addition to the equity being built up from the crown land, is to open up every kind of bespoke part of the operation to local Bahamians.
Mr. Schneider said this includes all sorts of jobs, such as security, lifeguards, environmental monitoring, food, music, and more, "All of those will be open to local businesses and entrepreneurs. And our hope is that the entire operation is through partnerships from Nassau."
He mentioned the first employee hired will be the new president of the Royal Beach Club, "the goal is to hire somebody who is Bahamian. So from the senior most executive down to the landscaper, the idea is all Bahamian or Bahamian partnerships."
On top of all of that, a new tourism tax will be part of this project that benefits local Bahamians, "one of the things we're really excited about is not just the growth of tourism, but we agreed to a new tourism levy that doesn't exist."
"We'll be the first new development kicking 1% of gross profits into a new tourism levy in perpetuity. And the purpose of that tourism levy is a new tourism fund to improve other attractions throughout New Providence in the Bahamas."
Mr. Schneider also took some time to address local press coverage regarding the beach club, "we've seen some negative press that people think this is just a mini Perfect Day at Nassau such that we'll suck all the air out of the local businesses and this will be the only place our guests go."
He was emphatic that is not the case, "Less than 40% of our guests will have an opportunity to go to the Royal Beach Club of our deployment to Nassau on an annual basis."
"It's important they have other things to do because the other 60%, we want to have a great destination as part of a rich itinerary."
In 2017, Royal Caribbean was bringing about a million passengers to Nassau.  By 2027, the cruise line expects to be bringing 2.5 million visitors to Nassau.
"The number will have grown the number of calls and visits and guests into Nassau far in excess of the total capacity of the beach club."
Something else Royal Caribbean is doing to benefit local businesses is to build a water taxi service, "we're partnering with local Bahamians to create a new water taxi infrastructure."
"That water taxi infrastructure is serving the beach club will then also serve other attractions throughout the harbor and New Providence."
In short, Royal Caribbean is doing something no other company has done for the Bahamas, "We look at the totality of kind of the structure that we created with the government and the kind of net new employment opportunities and job creation and profit creation for  the government and individuals and the money that we're putting back into the Bahamas is really something that nobody's ever done before, for sure, for the Bahamas. And it's rare to see worldwide."
"We think this is a home run for the Bahamas."
First of many beach clubs
When The Royal Beach Club at Paradise Island, it will be the first, but not the last, beach club.
"We want to build multiple beach clubs around the world because every geography is is somewhat unique," stated Mr. Schneider. 
But don't expect each to be an exact replica of each other, "as we think of the future beach club kind of portfolio, our hope is they'll have similar components."