In:
It turns out the amazing deal Royal Caribbean has for a new VIP pass was indeed too good to be true.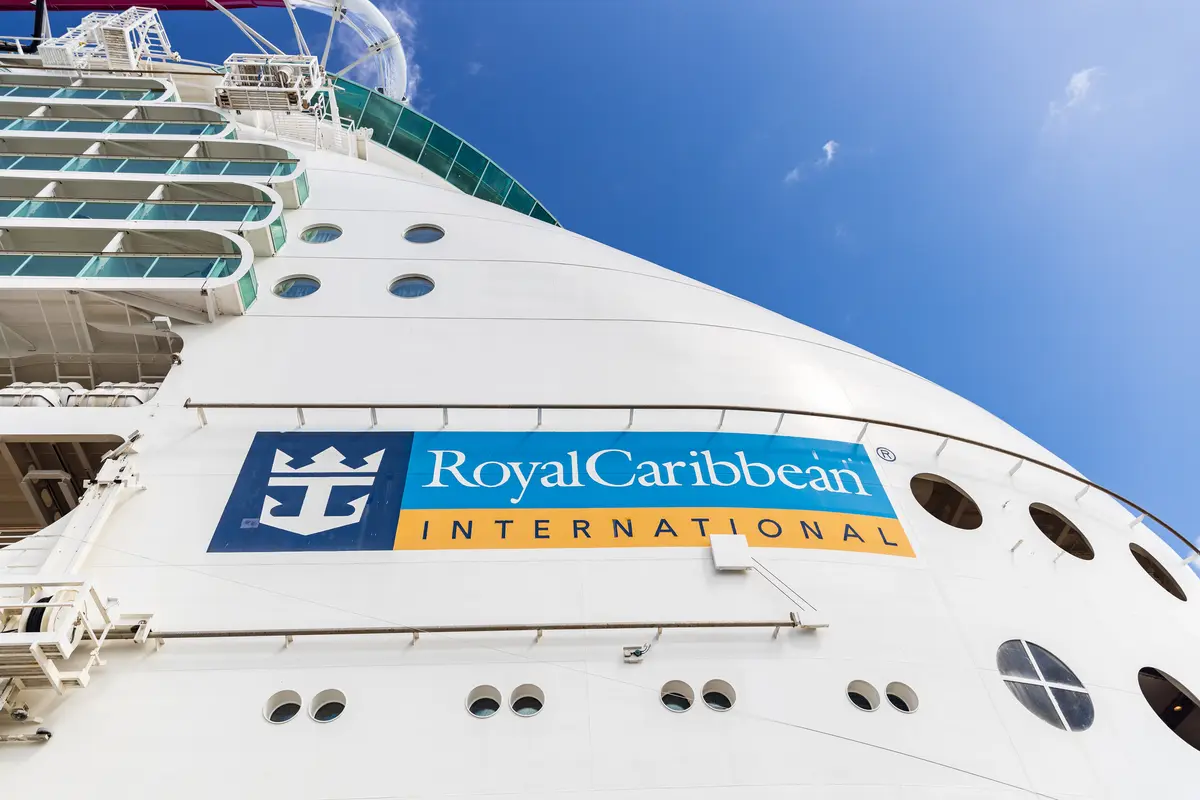 Over the weekend Royal Caribbean added a new package to its website that appeared to be a new extra cost pass. It included WiFi, exclusive tours and more at a bargain price.
Unfortunately, it was too good to be true. 
On Monday, Royal Caribbean sent guests an email to inform them that Premier Pass was a "system glitch" and was never intended to be put on sale in the first place.
Premier Pass listed all sorts of benefits, such as dinner with an officer, internet access, and more.
Royal Caribbean removed the Premier Pass option, cancelled all purchases, and will issue refunds.
In the email sent to guests that purchased Premier Pass, the cruise line admitted the benefits sound incredible, but are, " all things that would be operationally unsustainable" to actually offer.
Royal Caribbean International Assistant Vice President of Guest Experience, Aurora Yera-Rodriguez, wrote in the email, " In reading all of the social media threads – I've seen many guests mention that it was "way too good to be true", and unfortunately, that's the truth."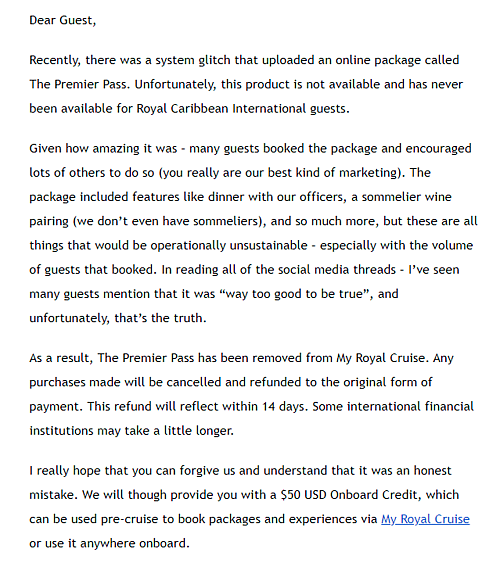 The email alludes to the fact so many people purchased the pass simply by way of word of mouth, which also made it impossible to carry through with.
Royal Caribbean is offering guests $50 USD Onboard Credit as a way of making up for the mistake.
Unfortunately, it looks like some people got more onboard credit than they should have received, because the system gave them $50 per person initially.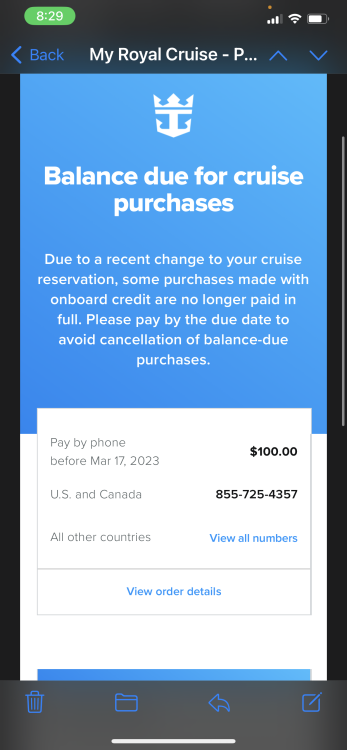 Anyone that spent the money immediately on a new purchase, received an email to inform them that the purchase they made was no longer paid in full and they needed to make up the difference.
"Just got the same email- now I OWE Royal $100!!," is what Carlyn3 posted after encountering the onboard credit error.
Cruise fan reactions
As soon as the emails went out, cruisers shared their thoughts on the mix-up.
On the Royal Caribbean message boards, there were plenty of comments on the cancellation.
Rakaia wrote, "Hey, $50 I didn't have before. I'll take it."
Montemy2419 posted, "Nice of them to give the gesture because if they didn't give a little something then the backlash would of been bad."
Wilson wrote, "This is a hot mess."
Shore excursion price mistake
Minutes after the email was sent about Premier Pass, another email went out to anyone that booked an Atlantis Aquaventure Waterpark tour. 
There was a price mistake for this popular Bahamas shore excursion, and purchases will also be cancelled and refunded.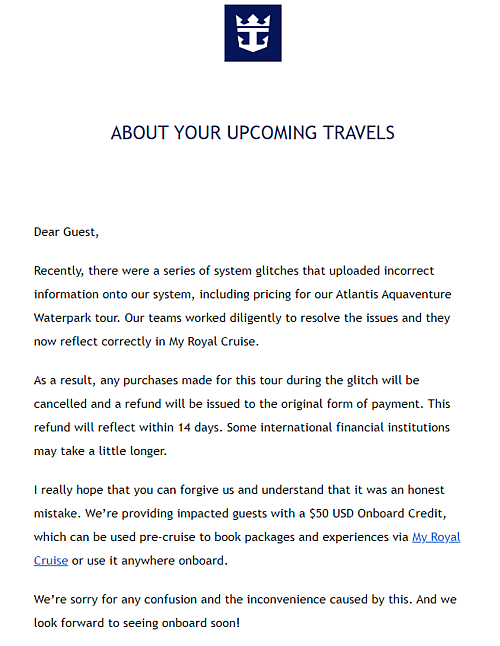 Just like the Premier Pass, anyone that booked the Aquaventure at the mistake price will receive $50 USD Onboard Credit.
Another glitch
This week's issues are not Royal Caribbean's first notable internet sale error.
The most notable one was in 2019 when Royal Caribbean's website listed the Deluxe Beverage Package for $18 per day, per person.
At the time, the drink package was usually listed for $40-50 per person, per day (it now costs significantly more than that).
Royal Caribbean went on to honor that pricing goof.