In:
The Super Bowl is one of the biggest television events of the year, and a must-see event for many Americans.  Just because you happen to be on a Royal Caribbean cruise does not mean you have to miss out on seeing "the big game."
Many people find great deals on Royal Caribbean cruises in early February, because most schools are in session, which means less bookings than other busier times of the year.  So if you find yourself one of those lucky people that can take advantage of these lower fares, here is how you can watch the Super Bowl while on a cruise.
Where to watch the game onboard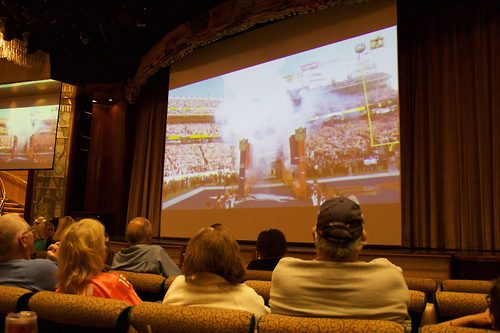 Royal Caribbean is well aware many guests want to see the Super Bowl, and despite the fact the in-room staterooms do not usually carry the local channels at home that air the game, for a special event like the Super Bowl, Royal Caribbean will do a little extra footwork to ensure it is available. It is worth noting that the feed may not include the much-talked about television commercials, because the television feed is different than what you might have at home. In many cases, the game is from an international television feed, so the game might be in English, but the commercials in another language.
Royal Caribbean will show the game in a variety of venues. Depending on your ship, the game can be shown in bars, the pool deck movie screen and even in the Royal Theater. Exact locations will be posted in the Cruise Compass for that day.  
In addition to showing the game in various spots, there will be typical football watching snacks as part of a "tailgate party" offering.  These have included hot dogs, nachos, chips and more.
Stream the game
Thanks to Royal Caribbean's high-speed Voom internet, another option would be to stream the live game.  
Fox will live stream the game on FoxSportsGo.com and its Fox Sports Go mobile app. You'll be able to access Fox's live stream for free, without needing to prove you are a cable or satellite TV subscriber (or needing to ask to borrow a friend's or -- worse -- your parents' pay TV log-in info). Free football for all!
The Fox Sports Go app works with iOS, Android, Windows and Amazon tablets.
For those tuning in more for the Super Bowl commercials than the Super Bowl itself, Fox is integrating local ads into the stream so it'll offer the same or a similar mix of ads as the TV broadcast, which features both local and national ads.
Did you know...
Back in Super Bowl XLV, Royal Caribbean aired its own Super Bowl commercial specifically targeted to viewers in cold markets.  While this old commercial has nothing to do with watching the Super Bowl on a cruise this year, it is still fun to remember that one time Royal Caribbean entered the Super Bowl commercial fray.