In:
Royal Caribbean cruises are designed for all ages, but they can be especially well-suited for cruisers over 60. Cruising is flexible, easy-to-plan, and offers an incredible value, so it's no surprise that it's a popular vacation choice for passengers aged 60 and older.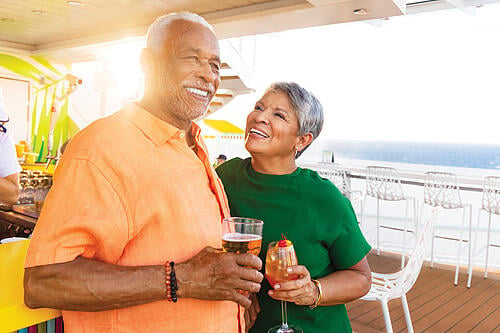 Royal Caribbean Blog reader Brad Whitaker recently shared with us his experience cruising over the age of 60 and why he recommends it to other travelers his age.
After countless years planning elaborate family vacations on land, he quickly fell in love with the relaxing, exotic vacation experience a Royal Caribbean cruise provides, and feels that many cruisers over 60 will feel the same way.
Let's take a look at Brad's top 10 reasons to book a cruise if you're over the age of 60.
Great value
Cruising offers one of the best values in a vacation due to the sheer amount of inclusions in the cruise fare, and Brad lists this as one of his top reasons for booking cruise vacations.
"I recently booked an 8-day cruise on Symphony of the Seas to Aruba and Curacao," Brad explained. "For an ocean view balcony, I only paid $125 per person, per night. If you consider all you get for that, it was a steal. Plus, Royal Caribbean gave me $100 onboard credit for being a shareholder."
Compared to land-based vacations, cruises offer a tremendous value. Accommodation, food, entertainment, activities, and visits to diverse destinations are included in one set price.
Related: What's included in your Royal Caribbean cruise fare
While you can always purchase extras like drink packages, dining packages, and shore excursions, the impressive base value of a cruise vacation cannot be understated, especially for those searching for a vacation with few added fees.
Doing something different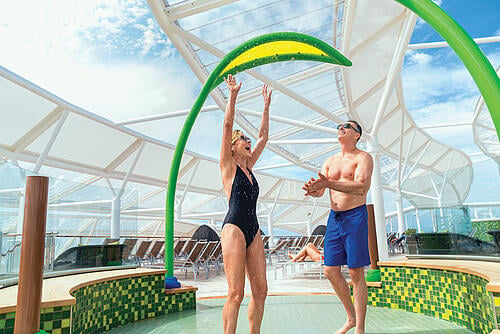 As you get older and retire, you may find yourself following the same routine with little change from day to day. Brad explained how a huge benefit of taking a cruise vacation when over 60 is the ability to do something different.
"Even if you never leave the ship (which is crazy to think you wouldn't), there are tons of things to do and none of them the same. Cruising helps you break your mold and enlarge your variety of life."
Just how many interesting things can you do on a cruise? Royal Caribbean offers an abundance of activities to guests of all ages, from toddlers to those in their 90s!
If you're looking for something more relaxed, attend a trivia session, see a Broadway show, watch live music at the pub, or sign up for a wine tasting seminar.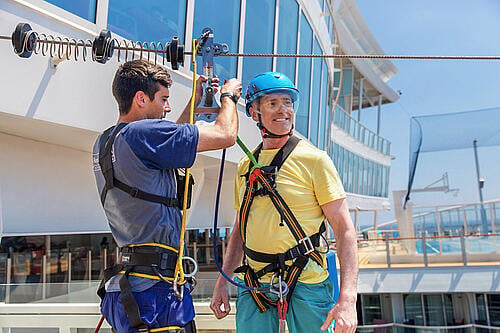 If you're a thrill seeker though, remember that being over 60 doesn't exclude you from the adrenaline-filled activities onboard! Try the rock-climbing wall, waterslides, zip line, or skydiving simulator!
The amount of new things to try on a cruise is nearly endless, and that doesn't even account for the variety of experiences you can have in port, either, such as snorkeling in the Caribbean and visiting glaciers in Alaska.
"The new, bigger ships have so much to do that it's unlikely you can do it all!" Brad exclaimed. "Pace yourself and enjoy. You can do nothing or everything; it really depends on you."
Only unpacking once
One of the biggest struggles with a land-based vacation—particularly those visiting several destinations—is packing and unpacking your suitcase several times.
Brad mentioned only unpacking once as one of the top reasons to book a cruise.
"I hate packing and unpacking. Of course, at some point your cruise will end and you'll have to pack up all your dirty clothes and stuff them back into your suitcase, but it's worth it."
While visiting 10 countries in one week with a backpack may have been appealing in your 20s, most cruisers over 60 are in the market for a more relaxing vacation experience. Only having to unpack your suitcase one time while visiting several unique destinations is a major plus of cruising.
No cooking required
Food is an important part of any Royal Caribbean cruise. Whether elegant dinners in the Main Dining Room or quick stops to the buffet for lunch, dining onboard is a highlight of the experience.
When it comes to food, Brad explained how not having to cook on vacation is a huge benefit for cruisers over 60.
"For many years during the summer, our family of seven would pack up the old family van and head to our houseboat on Lake Powell. It took weeks to plan, prepare for, and make happen. Just the food planning alone was a herculean effort!"
On a cruise, however, Brad does not need to worry about planning meals for his travel party, and that the variety of options works well when traveling with a group.
"There is so much variety onboard the ships that you can literally eat different ethnic food each morning, afternoon, and night. If you want, one person can grab a hot dog and the other something more exotic."
Related: Food on a Royal Caribbean cruise
Of course, a Royal Caribbean cruise provides the opportunity to try cooking styles and dishes you may not otherwise try at home. Because you can ask for unlimited appetizers, entrees, and desserts, you may end up finding a new favorite meal.
"The main dining halls are incredible and they are all part of the cost of the cruise," Brad continued. "All of the food is amazing and there is a LOT of it. Be sure to ask for additional entrees if you want to try new things!"
If you're the family chef back at home, you'll certainly appreciate the break from meal prepping, cooking, and cleaning once onboard a Royal Caribbean cruise.
Cruising is a social environment
Something cruisers over 60 often appreciate is the social atmosphere fostered on a Royal Caribbean cruise. It's easy to meet new people onboard, whether at dinner, on a shore excursion, or during an activity.
"My wife and I have always met and made new friends on cruises," Brad said. "I love asking people if I can take their picture with their camera so I can strike up a conversation! I know it's an over-60 thing, but I do love doing it! Where else can I meet so many people?"
Compared to a land-based vacation, the social atmosphere on a cruise is much more prevalent. Those over 60 who enjoy meeting new people from around the world will love making connections with other passengers and crew onboard.
Choose between adventure or relaxation
Another benefit of cruising over 60 is having the choice between adventure and relaxation. Your travel style at 60 is likely a bit more relaxed than in your younger years, but that doesn't mean you have to deprive yourself of exciting experiences!
"At my age, you may have the energy to be adventurous in the morning, but all you want to do in the evening is relax," Brad explained. "On cruises you can do both, and in no particular order!"
Many older cruisers find themselves enjoying a mix of thrill-seeking and chill experiences on a cruise. You may choose to play pickleball with friends in the morning, try the escape room in the afternoon, and spend a peaceful evening on your balcony.
Or perhaps you sleep in, spend all afternoon on the pool deck, and save your energy for a late night of dancing! There's no wrong way to cruise, whether you're 25 or 75, and having options is what makes a cruise such a wonderful way to vacation.
No cleaning required
Cleaning on vacation? No thanks.
A major benefit of a cruise vacation is avoiding any house chores during your vacation. On a cruise, there's no need to empty the dishwasher, fold laundry, run the vacuum, or mop the floors.
Royal Caribbean's crew members work diligently to make the experience as enjoyable as possible for guests onboard. A stateroom attendant picks up your room twice per day, attentive waiters quickly deliver food, and maintenance crew can handle any potential issues that arise.
Brad enjoys the escape from housekeeping whenever he is on a cruise and joked, "Between no cooking and no housekeeping, these are my wife's favorite things!"
Easy to plan
Brad's aforementioned summer trips to Lake Powell involved a lot of planning.
"I never relaxed the entire trip. I was constantly working on equipment, worrying about various issues with the houseboat, the ski boat, and the jet skis. While I loved being there with my family, I rarely relaxed, and when I got home, I had to take a 'vacation from vacation' to unwind!"
A cruise, on the other hand, involves little planning, which is something Brad loves most about the cruise vacation experience. Royal Caribbean handles the transportation logistics, dining, and entertainment onboard, leaving you with nothing but time to rest and relax.
Brad explained how booking a cruise is easy, too.
"Most cruise lines have really easy to understand websites. They are simple to navigate through. However, if you are not so tech savvy, just call a travel agent and they will do it for you. All you really have to do is pick a date, and maybe a few potential destinations, and they will do the rest!"
Related: Top 5 things to look for in a good travel agent for your cruise vacation
We agree with Brad in that having a good travel agent can make your cruise planning process even simpler. Travel agents can help with the entire booking process; they're available to answer any questions you have, plan travel to and from the port, and handle any discrepancies in the cruise planning process.
Exotic and romantic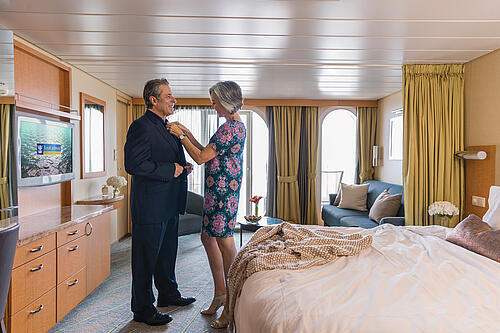 Cruise vacations can offer an exotic and romantic cruising experience for those over 60, whether you sail to the Bahamas, Mexico, or Europe!
"I recently planned a cruise where we are going to celebrate our 49th anniversary, a birthday, and recovery from a liver transplant," Brad explained. "Now that is a lot to pack into one celebration cake, but where better to celebrate than on the open ocean. I can't wait!"
There are plenty of ways to celebrate a special occasion onboard, including:
Booking an intimate dinner at a specialty restaurant
Surprising your significant other with a spa treatment
Upgrading your cabin to a balcony or suite
Planning a private shore excursion
Arranging for decorations or desserts to be delivered to your cabin on embarkation day
Just being onboard is a romantic experience for many cruisers, which is one of the reasons it's so popular for celebrations like honeymoons and anniversaries. Cruising over 60 is a perfect way to make new memories with a loved one in a beautiful and stress-free way.
No responsibilities
Whether you're 30 or 60, life is full of responsibilities. From taking care of grandkids to yard work, a cruise offers an amazing escape from mundane responsibilities back home, and this is the top reason Brad loves cruising with Royal Caribbean.
"I can relax from minute one on the cruise," he stated. "I am totally unplugged for a week or so and don't need to call or follow up on anything! We can come and go as we like, doing as much or as little as we want.
"We can go to bed early or stay up late, it just really doesn't matter. Just about the only responsibility we have is to make sure we have fun, enjoy each other's company, and do it all again the next day."
Are you a cruiser over 60? What are your top recommendations and advice for other passengers over 60 planning a cruise? Let us know in the comments below!