In:
Royal Caribbean took a major stride toward sustainable cruising with its latest announcement.
In conjunction with the Finnish government, Royal Caribbean Group signed a deal with the Meyer Turku shipyard on Wednesday that commits a plan for the production of climate-neutral ships in Finland. 
Both the cruise giant and Finland want to establish a roadmap for a maritime industry green transition as a way forward for innovative and sustainable shipbuilding in Finland. 
The declaration was signed with the Finnish government, represented by the Ministry of Economic Affairs and Employment (MEAE) and Meyer Turku Oy.
Today's announcement also secures the partnership Royal Caribbean Group already has with the Finnish government.
There are six tenants to today's deal:
Preparing a roadmap for the production of climate-neutral ships in Finland. The roadmap is part of the maritime industry's green transition.
Strengthening the innovation of Meyer Turku, Royal Caribbean Group and the maritime industry.
Supporting networking to curb economic challenges, develop new solutions and secure the long-term viability of the maritime industry.
Assembling a digital demonstration of a climate-neutral ship as part of the sustainable maritime industry development program of the Ministry of Labor and Economy.
Strengthening the innovation of Meyer Turku, Royal Caribbean Group and the maritime industry.
Piloting and testing new innovations and technologies on Royal Caribbean Group ships.
"Our partners in Finland have helped us deliver some of the world's most impressive and sustainable ships of their time, including our newest ship debuting in January 2024, Icon of the Seas," said Jason Liberty, president and CEO of Royal Caribbean Group.
"This new partnership sets the stage for future innovations and allows us and the maritime industry to continue pursuing sustainability at the highest level."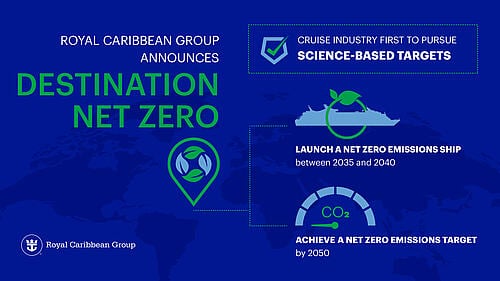 This is yet another step by the Royal Caribbean Group to get to net zero emissions by 2050.
Known as its Destination Net Zero strategy, the company has plans to decarbonize its operations by 2050.
It also aims to reduce carbon intensity by double digits by 2025 compared to 2019 and the introduction of a net-zero cruise ship by 2035. 
What does carbon neutral mean?
Carbon neutral means having a net zero carbon footprint, meaning that the amount of carbon dioxide released into the atmosphere is balanced by the amount removed.
This can be achieved through various methods, such as offsetting emissions through carbon credits or investing in renewable energy sources.
Essentially, it means that an individual, organization, or event has no net impact on the environment in terms of carbon emissions.

As part of Destination Net Zero, Royal Caribbean Group's approach includes:
Modernization of the cruise company's global brands fleet through the introduction of 13 new energy-efficient and alternatively fueled vessels.
 
Continued investment in energy efficiency programs for its fleet, including energy saving technologies, enhanced data systems and digitalization.
 
Development of alternative fuel and alternative power solutions.
 
Optimized deployment and integration of strategic shore-based supply chains.