In:
Today is the first day of my first ever European cruise! Over the next week, I'll be onboard Anthem of the Seas for a 7-night cruise, visiting four ports in northern Spain and France. The next week should lead to some fun adventures in La Rochelle, Bilbao, La Coruña, and Le Havre, so be sure to follow along on this live blog!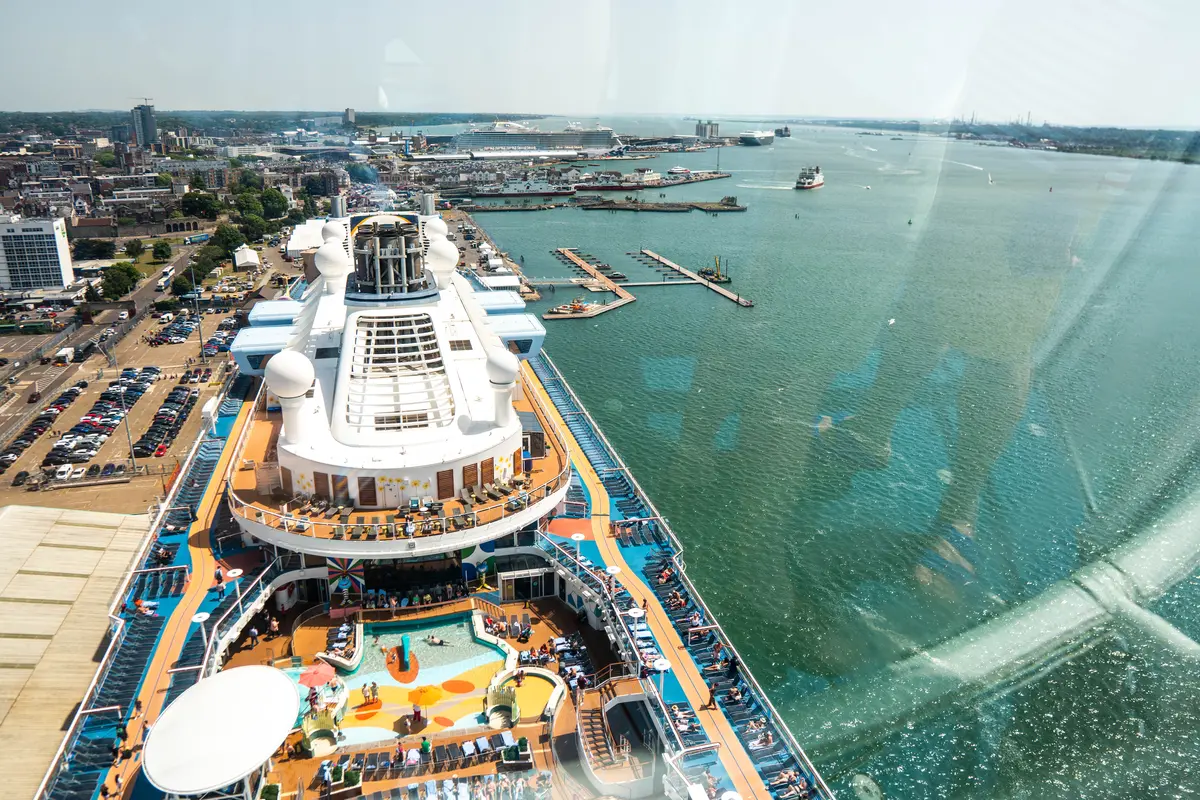 I arrived in London yesterday after spending the previous few days visiting friends in Edinburgh and Manchester. Upon arrival, I checked into my hotel in the city center, the Hilton London Bankside.
Staying the night in London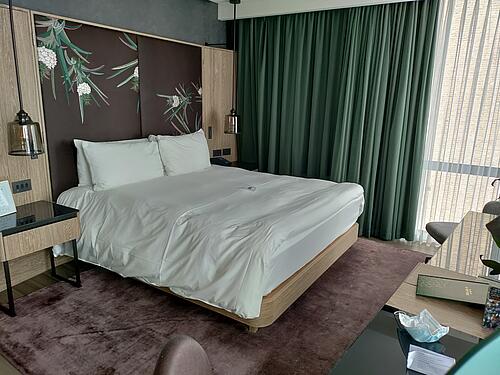 When checking in, I was pleasantly surprised with a complimentary upgrade to a suite! We were placed in the hotel's Vegan Suite, a room made with 100% vegan materials. With one bedroom, a living room, full bathroom, and half bath, it was very comfortable and spacious!
I ended up spending most of the evening relaxing in the suite, as I will be returning to London for sightseeing the weekend after my cruise. I realized it's a good idea that I'm never booked in a suite on a cruise ship. If how much time I spent in my hotel suite is any indication of how much time I would spend in a cruise ship suite... I would probably never leave my stateroom!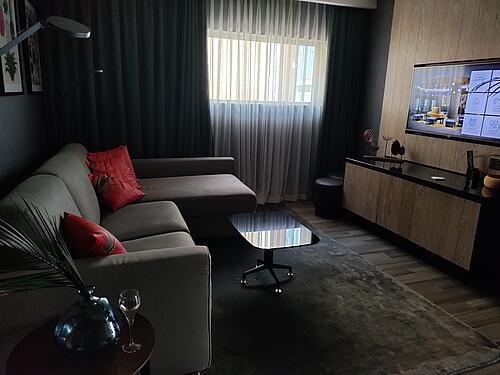 Suites at the Hilton London Bankside also come with complimentary access to the Executive Lounge, similar to the Diamond Lounge on Royal Caribbean ships. Complimentary soft drinks, coffee, and snacks are available throughout the day and a happy hour is served from 6-8PM with alcoholic beverages and a hot food selection.
The hotel had an impressive breakfast selection as well, with both cold and hot foods served buffet style and cooked to order.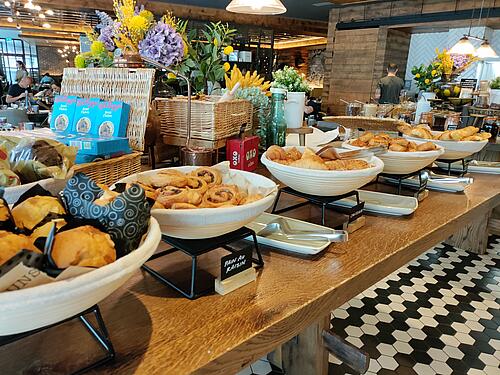 I enjoyed the hotel's location near the river. Tourist sites and plenty of restaurants and bars were just a short walk away, and the hotel was well located for public transit. I'm glad I spent the night in London instead of Southampton, as it was extremely easy to get to the port the next day!
Getting to the Southampton cruise port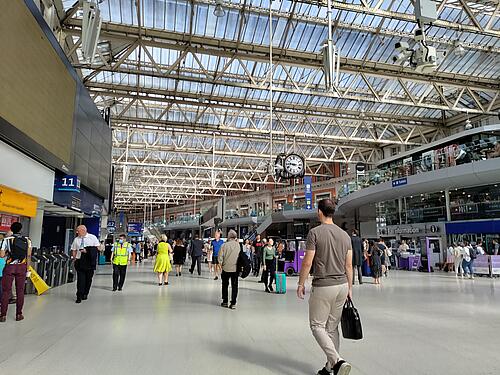 Southampton is around 75 miles from London and is easily accessed via train. I booked roundtrip train tickets on the app Trainline for $70. I booked the "Off-Peak Return" ticket which meant I could take any train during off-peak hours. I liked the flexibility of this ticket as I did not have to rush to the station and I can return to London on any train of disembarkation day.
My friend Samantha and I walked around 15 minutes from the London Hilton Bankside to London Waterloo station. Boarding the train is extremely simple, as there is no security and you simply scan your e-ticket at the appropriate platform. The train was comfortable and air conditioned and it was a brief 80 minute ride through the English countryside to Southampton.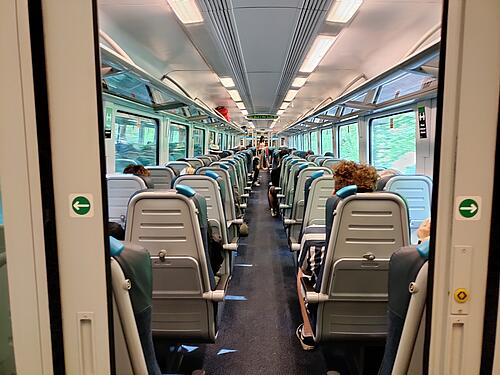 When we arrived, we took an Uber to the port. It would have been about a 20 minute walk, but with luggage we figured it was worth the $6 Uber.
My arrival time was slated for 12:30, but when we got to the terminal no one was checking arrival times. In fact, there was hardly anyone at the terminal when we arrived at 11AM! After the quickest check-in process I've had yet, we were onboard and ready to explore the ship.
First impressions of Anthem of the Seas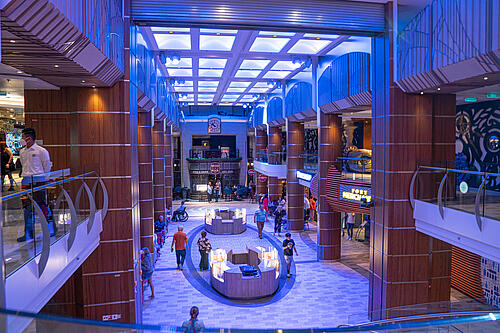 Anthem of the Seas is a Quantum Class cruise ship and was launched in 2015. The ship is in excellent condition and is basically identical to Ovation of the Seas, which I sailed on to Alaska last year.
In an effort to skip the crowds at the Windjammer, we ate lunch at Cafe @ Two70, one of my favorite quick lunch spots on any Quantum Class ship. Two70 is an amazing venue, both for entertainment and lounging during the day, and it's my favorite place to relax so far on Anthem of the Seas.
After lunch we opened the Royal Caribbean app to make show reservations for the week. Surprisingly, the only show requiring reservations was Spectra's Cabaret in Two70. I also made a reservation for the North Star, which is complimentary on port days and $19.99 on sea days.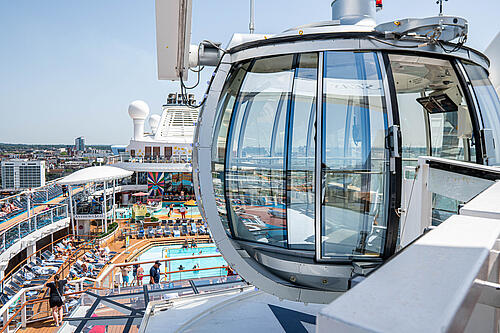 Our North Star reservation was for 2PM, so we headed to the pool deck after lunch to board the 360 degree observation pod that would take us 300 feet above sea level! The weather was perfect in the afternoon, leading to clear skies and excellent views of the ship from above.
Stateroom impressions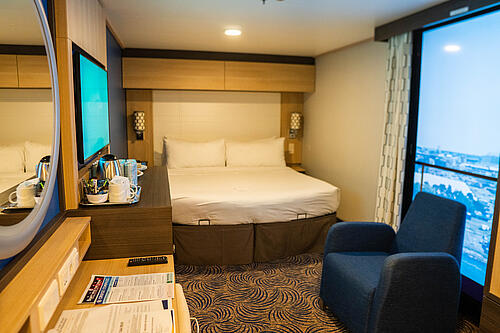 Staterooms were ready at 2PM, so I checked out my stateroom right after finishing the North Star. I booked an interior guarantee stateroom for this cruise and was placed into a deck 9 forward room.
Because Anthem of the Seas is a relatively new cruise ship, the staterooms have plenty of storage and outlets. The decor is modern compared to older ships like Freedom of the Seas, and the room features a virtual balcony, allowing us to see "outside" even from our interior room!
We were able to get our bed separated into two twin beds, which made the room feel bigger due to the extra walking space between the two beds.
Robes, a fruit plate, and San Benedetto water were in the room as a perk of Royal Caribbean's Crown & Anchor Society. A kettle was also provided for tea and coffee.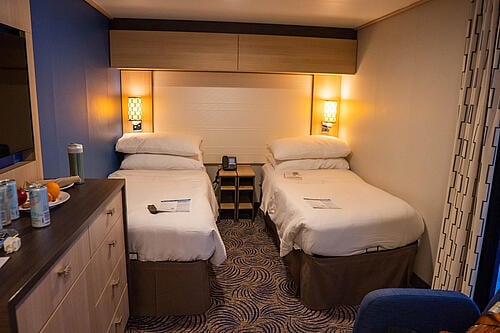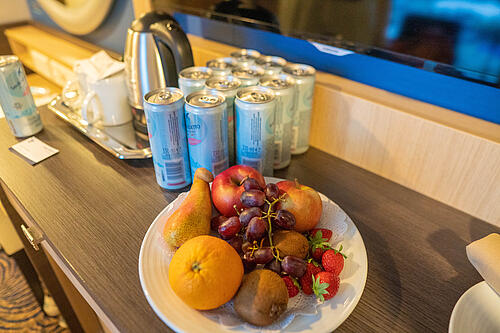 Sailaway and dinner
We spent an hour or so relaxing in the room to unpack and chill before a busy evening onboard.
Sailaway was at 5PM, so we headed to the Solarium bridge wings to watch Anthem of the Seas depart Southampton and begin her journey to La Rochelle, France.
After sailaway, we made our way to the Main Dining Room for our 5:30PM traditional dining reservation. Initially we were going to be seated at a table for 8-10 guests, so I asked if we could have a small table instead. To my surprise, we were brought to a 2-person table right by the window! I couldn't have asked for a better table location, and we spent the meal enjoying views of the Isle of Wight and English Channel.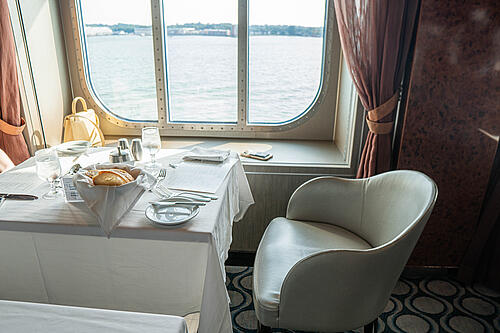 Tonight's meal in the Main Dining Room was really tasty and the service was prompt. I noticed the Main Dining Room menu had an Indian curry option and a more traditional UK option available, with Chicken Saag and Guinness Pie. This is just one of many differences I've noticed on a UK sailing from the US so far!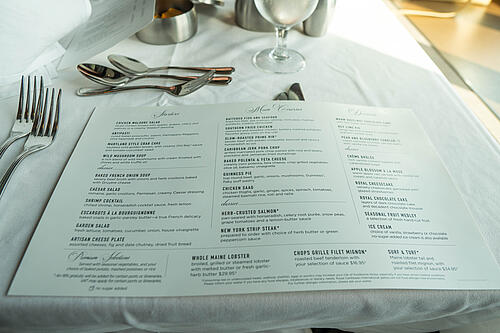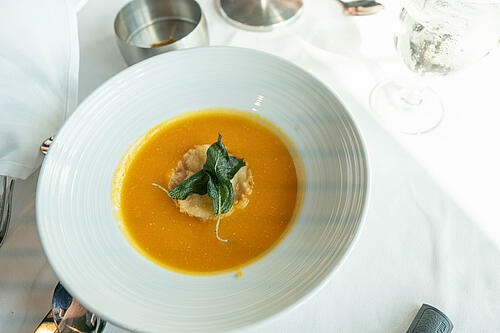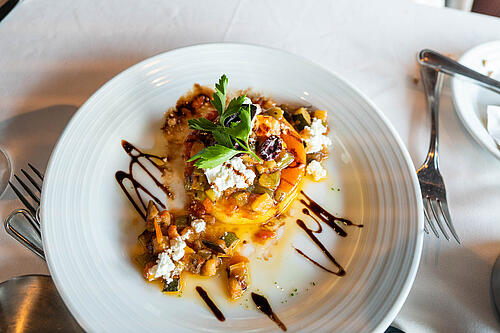 Evening activities
We finished dinner around 7PM and spent some time in the Solarium hot tubs. I love the Solarium on Quantum Class ships; the area is spacious, climate-controlled, and has plenty of pool areas and hot tubs to enjoy.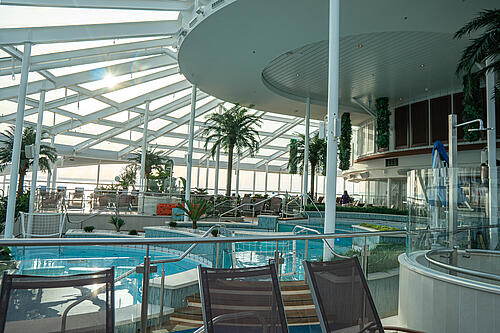 We then spent an hour or so in the pub listening to the live guitarist before heading to Two70 for the venue's signature show, Spectra's Cabaret.
The show was extremely similar to Pixel's Cabaret, which I saw on Ovation of the Seas last year. Combining electronic effects, robotic television screens, projection mapping, dance, and vocals, the show was entertaining… although I could not make out any type of storyline at all.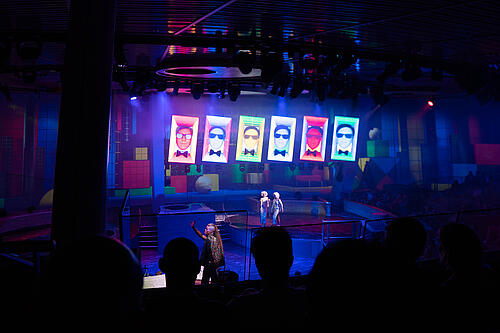 I feel like the Two70 venue has such impressive, immersive technology that a show with a better storyline would be absolutely incredible to watch. The cabaret shows don't make much sense to me, although I did enjoy the performance overall and the crew member who played Spectra was excellent!
As the show ended around 11PM, we headed to bed. Tomorrow is a sea day as we make our way through the Bay of Biscay to France!
Stray observations
There are occasionally rail strikes scheduled throughout the year in the UK. Be sure to keep an eye on if there will be any strikes when you plan to travel to port so you can schedule a backup option for arrival to Southampton.
While I frequently encounter small businesses that do not take card payments in mainland Europe, paying with contactless debit or credit cards is the norm everywhere I've been in the UK. Therefore, it is not necessary to take cash out in pounds when cruising out of England.
From my initial observations, I would say the guest makeup is at least 80% guests from the United Kingdom. I didn't see any UK outlets, so be sure to pack either a mainland European or American-style converter if you're coming from the UK.