In:
Today is the fourth day of my 7-night Spain & France cruise on Anthem of the Seas. We docked in Bilbao, Spain this morning and I woke up eager to explore the largest city in the Basque Country.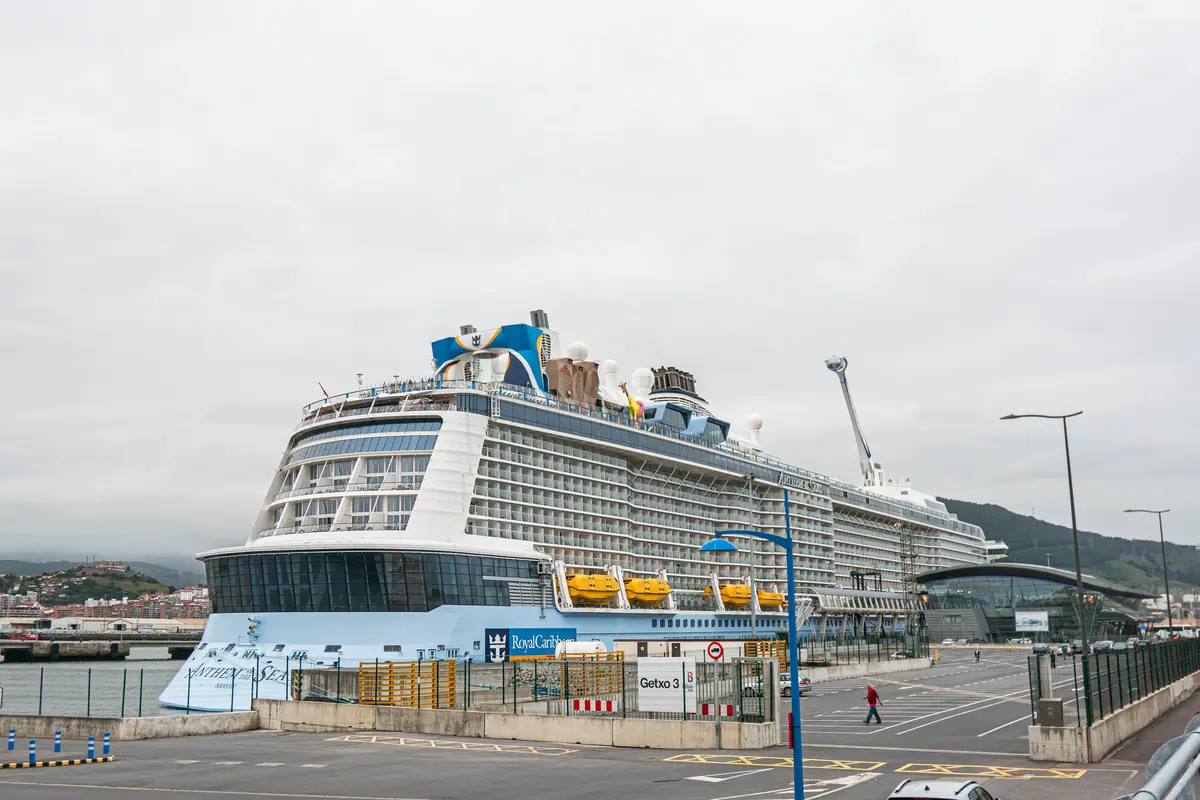 What is Bilbao?
Bilbao is the most populous city in Spain's Biscay province, located in the north-central part of the country. Bilbao is located in the Basque Country, an autonomous community in northern Spain and southern France (near the Pyrenees), and is one of the oldest ethnic groups in all of Europe.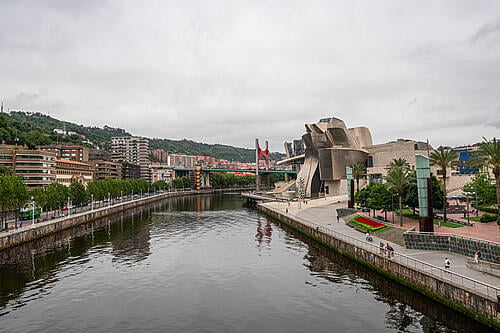 It's said the Basque people arrived in Europe around 5,000 years ago, and they have maintained strong cultural identity and culture despite countless invasions and outside influences over the years.
In fact, Basque language (called Euskara) is a language isolate, meaning it has no relation to any other known languages spoken around the globe today!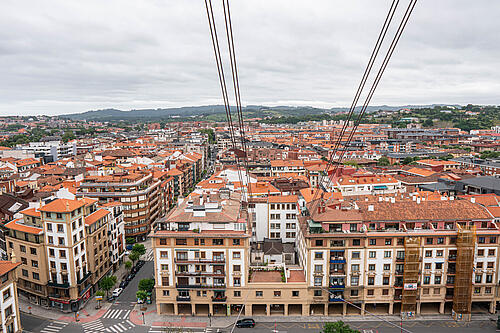 While technically the Bilbao cruise port, cruise ships actually dock in Getxo, a city on the coast just eight miles from downtown Bilbao.
Surrounded by lush green mountains, my first glimpse of Getxo made me even more excited to see what northern Spain has to offer.
First impressions of Bilbao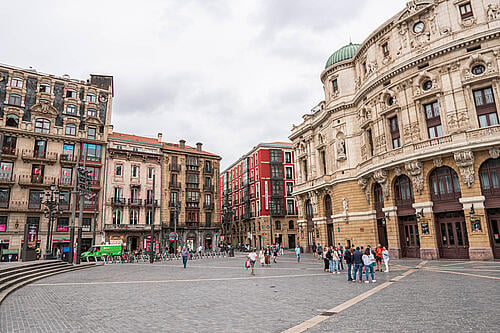 I disembarked the ship around 8:45AM and boarded a shuttle bus that would bring passengers to Bilbao's city center. The shuttle bus was €10 for roundtrip transportation (payable in cash) and left directly from Bilbao's cruise terminal. While it's possible to reach Bilbao via metro from Getxo, the shuttle bus was very convenient and took around 25 minutes to reach the city.
Upon arrival in Bilbao, I walked a few minutes to the Estuary of Bilbao, a waterway flowing through the city center.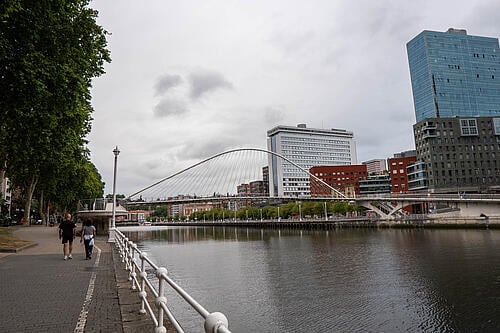 The first thing I noticed was the Guggenheim Museum, a contemporary art museum known for its otherworldly architecture, which is one of the main tourist attractions in Bilbao. While I did not go into the museum, I was certainly impressed by the look of the outside!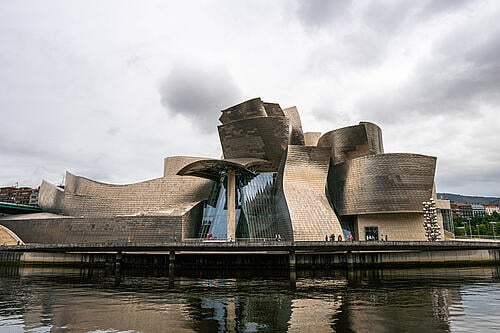 The pathway along the Estuary of Bilbao is really nice, with wide walkways, cycle paths, and plenty of spots to sit and enjoy the view. I walked along the path until I arrived in Casco Viejo, Bilbao's historic old town.
Casco Viejo adventures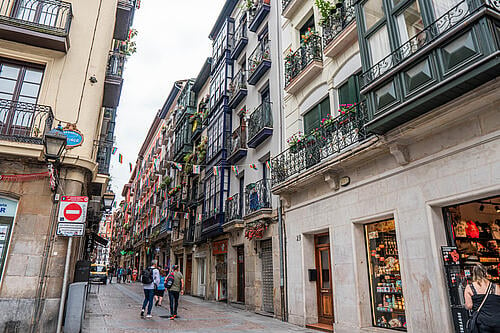 Quite different from the modern architecture found at the Guggenheim museum just a short distance away, Casco Viejo was lined with narrow streets packed with restaurants, shops, and bars.
I stumbled across Mercado de la Ribera, a two-story food hall and market in Bilbao. While I wasn't feeling particularly hungry, the local dishes looked too amazing to pass up.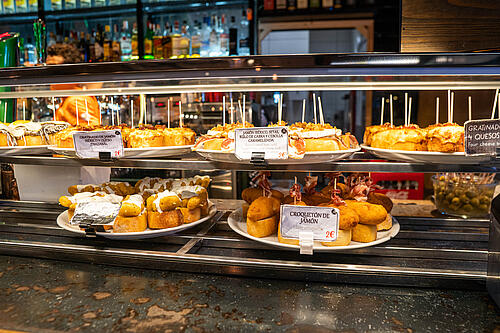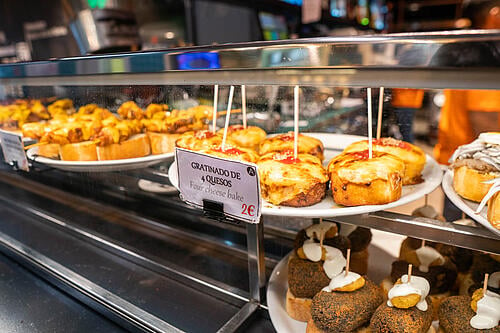 Spain is known for tapas, but in the Basque Country these small plates are known as pintxos. Pintxos are traditionally designed to be eaten with one hand, with a toothpick placed in the center of each pintxo. As opposed to tapas, which are generally part of a larger dish, pintxos are a miniature dish of their own.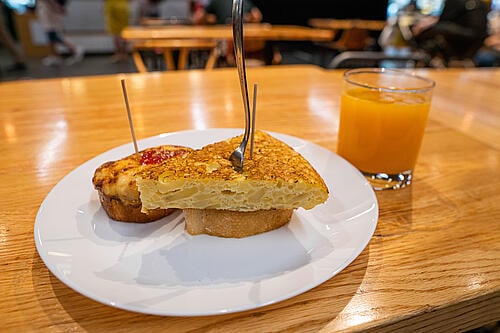 All the pintxos looked divine, but I ordered the classic tortilla de patatas (potato omelette) and gratinado de cuatro quesos (4 cheese bake). The cheese pintxo was my favorite of the two, and it had such a robust and unique flavor that I wished I had been hungry enough to order another!
I enjoyed the pintxos with a glass of fresh squeezed zumo de naranja (orange juice).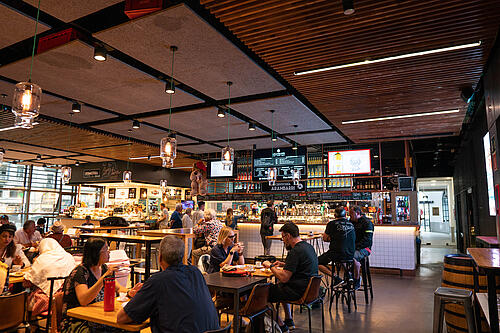 I also walked around the market, which is set up with plenty of stalls selling produce, meat, breads, and pastries. As someone with a huge sweet tooth, I could not pass up the dessert stall.
After walking around Casco Viejo for another hour or so, I decided to head back to Getxo.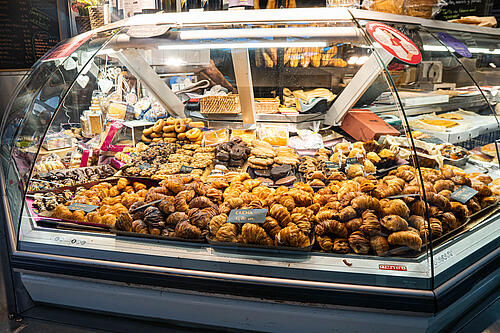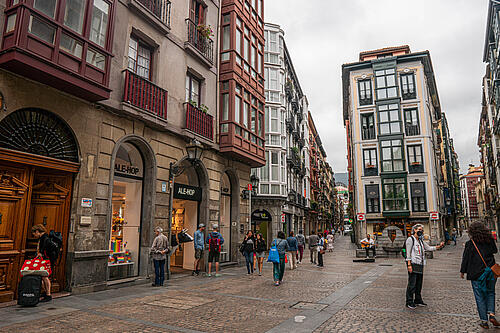 Discovering Getxo
Bilbao's city center is connected to Getxo via a direct metro line, so I decided to take the metro back instead of the shuttle bus. While I had already paid for the shuttle, I did not want to wait around for the bus to return. The metro would also drop me off directly in Getxo's city center as opposed to the ship.
After a 25-minute metro ride (€1.90), I arrived in Getxo for the second half of my day exploring northern Spain.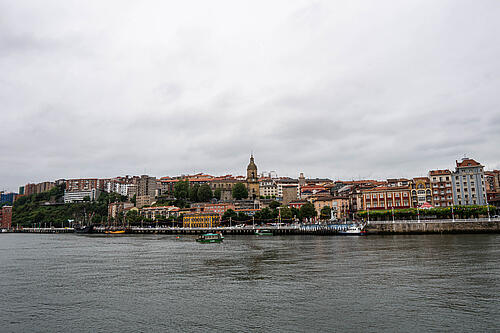 Getxo is known for the Bizkaia (Vizkaya) Bridge, a 148 ft. transporter bridge and UNESCO world heritage site. Built in 1893, it is the world's oldest transporter bridge, which connects the towns of Getxo and Portugalete without disrupting ship traffic.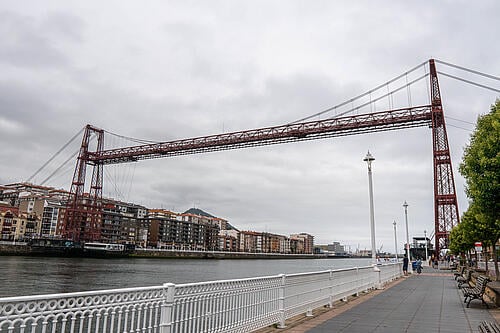 You can cross the bridge two ways: through a large moving platform (for pedestrians, cars, bikes, etc.) or through a pedestrian walkway at the top of the bridge. For €10, I purchased a ticket to visit the top of the bridge for a scenic walk across the water.
The tickets are roundtrip, but are just one-way for the upper walkway. Therefore, I first traveled on the bridge from Getxo to Portugalete via the larger platform. Upon arrival, I enjoyed a tasty snack of churros con chocolate.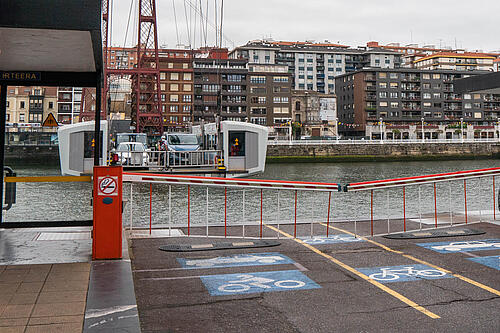 My return journey was nothing short of exciting. After an elevator ride up the bridge, I admired the views, architecture, and history of the structure, which is unlike any bridge I've seen before. The views of Getxo and Portugalete were amazing from up high, and I even caught a few nice views of Anthem of the Seas.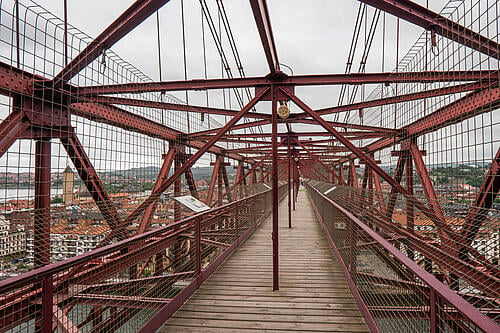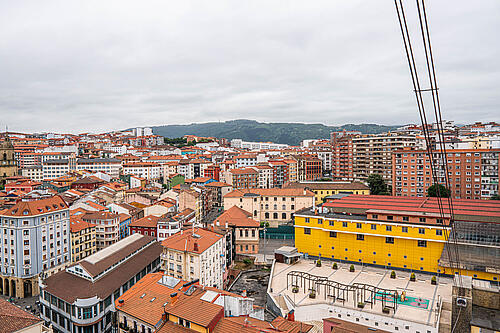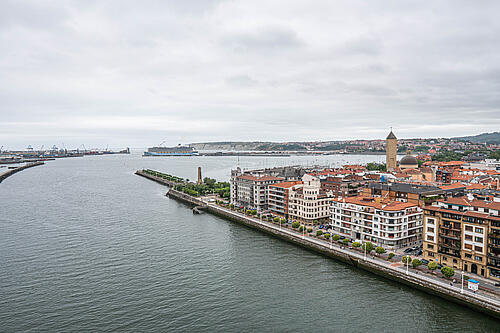 I spent the rest of the afternoon relaxing in Getxo's harbor enjoying the comfortable (while slightly chilly) weather. Walking back to the ship from downtown Getxo was a breeze, with a pedestrian pathway along the coastline.
I also got to chat with an Anthem of the Seas crew member, Fernando from the Philippines, on my walk back! He was filming a video for his YouTube channel.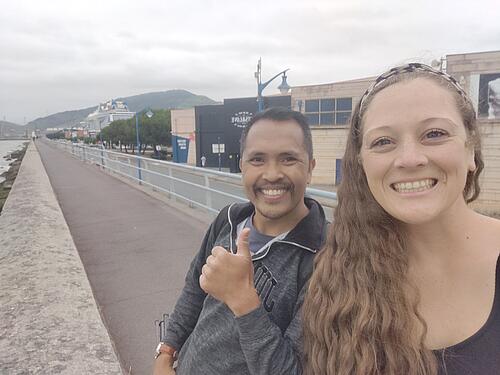 An evening onboard
Having multiple port days in a row is definitely tiring, so I took a short rest in my stateroom once I got back before getting ready for dinner.
Samantha and I enjoyed another meal in the Main Dining Room tonight and the quality and service were up to par. My one "complaint" with the Main Dining Room is that I have absolutely no self control over the bread basket and tend to get full before my main course even arrives!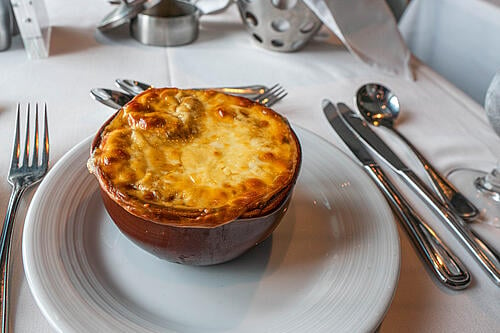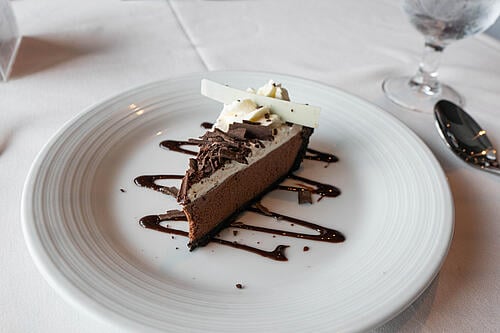 I was feeling super tired from my day walking around Bilbao and Getxo, so I spent the rest of the evening relaxing in the Solarium and catching up on Royal Caribbean Blog work at Vintages (yes, a wine bar makes for a great office) before heading to bed.
Tomorrow we are in La Coruña, another Spanish port, which is located in the country's Galicia region! I am loving this itinerary so far, so I can't wait to see what the other ports have in store.