In:
Today marks the start of a new adventure: my first Royal Caribbean cruise on an Oasis-class ship. I am onboard Harmony of the Seas this week for a 7-night Eastern Caribbean & Perfect Day cruise. Harmony of the Seas is currently, as of January 2022, the second biggest cruise ship in the world.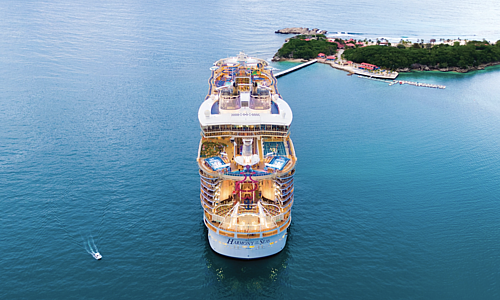 To say I was excited before the cruise is an understatement. After five sailings on Voyager, Freedom, and Quantum Class ships, I couldn't wait to try out the ship class everyone talks so much about. As I planned my cruise, though, I wasn't sure what I would think of Harmony of the Seas.
Read more: What's the differences between each of the Oasis class ships?
It seems many cruise fans love the Oasis-class because of the seemingly endless places to go and things to do onboard, but there are others who much prefer to cruise on smaller ships. Needless to say, I was ready to get onboard this morning and finally explore Harmony of the Seas.
First Impressions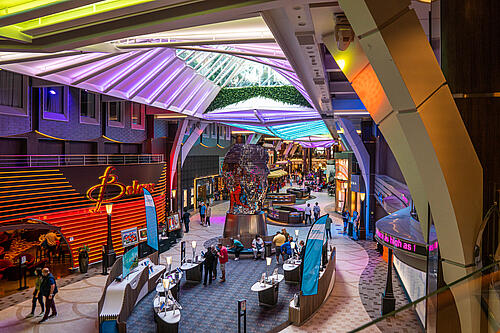 The first difference I saw before boarding Harmony of the Seas was the amount of activities in the Cruise Planner. While all Royal Caribbean ships have an elaborate list of activities and events, I was shocked by the amount of programming listed in the Cruise Planner. From multiple dance classes per day to ziplining sessions and countless choices of live music, I was almost overwhelmed by options!
There is no shortage of things to do on any Royal Caribbean ship, but this is especially true on an Oasis-class ship.
When I got onboard, the first thing I noticed was that everything is bigger on an Oasis-class ship. The Royal Promenade is bigger, the spa is bigger, the pool deck is bigger, and even the elevators seem bigger!
I spent most of the day checking out venues that are only available on Oasis-class ships. First I tried a fresh smoothie at Vitality Cafe and later in the day I listened to live music at Jazz on 4. I always try to see the jazz shows on any ship, but having a special venue focusing only on jazz music is awesome! So far, it seems like there is something for everyone on Harmony of the Seas.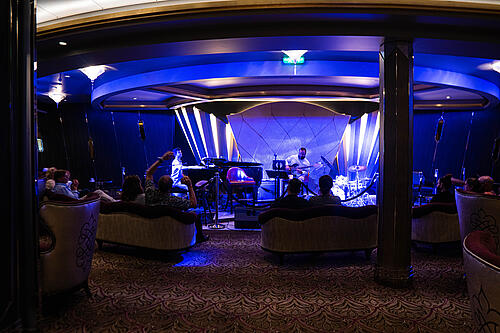 The sheer size of an Oasis-class ship really hit me, though, when I walked to the boardwalk. Seeing the ship's aft split in two sides and the massive Aquatheater stage was unbelievable. I could not believe the scale of the ship and I found myself saying "Oh my gosh" over and over as I explored Harmony of the Seas.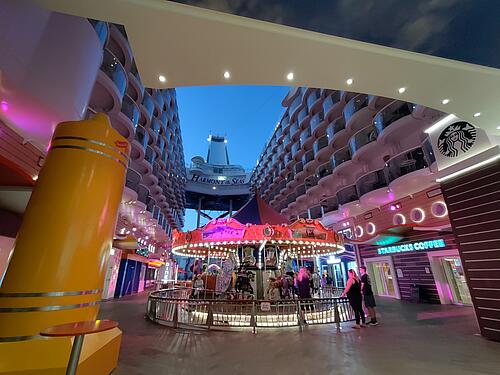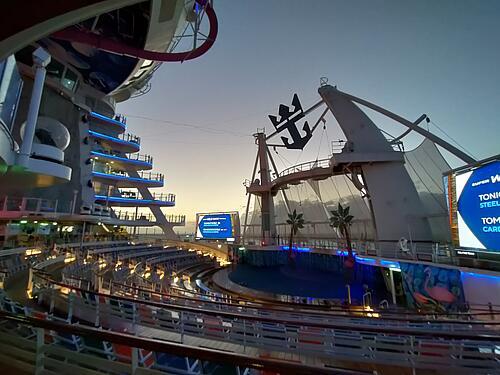 Speaking of unbelievable, I had the chance to watch one of the ice shows, 1887: A Journey in Time, and it was also extremely impressive. The way that the show utilizes lights to create different scenes on the ice, such as traveling through space and being in the ocean, is unlike anything I have seen before.
While it's been a wonderful first day onboard, I cannot say yet whether I prefer the Oasis-class over another class of ship. Thus far in my cruising experience, I have not disliked any class of ship, but it's hard to pinpoint which class is my favorite. The Voyager-class will always have a special place in my heart due to the fact that my first cruise was on Mariner of the Seas. That being said, I've also come to appreciate the expanded range of activities you will find in bigger ships like Odyssey of the Seas.
Harmony of the Seas is proving to be an incredible ship thus far, though, and I am excited to see what the rest of the week has in store.
The upcoming week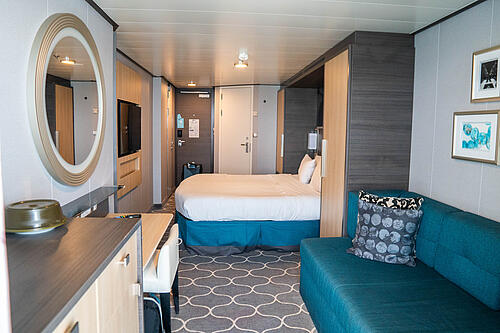 I will be staying in a balcony stateroom on this sailing. I had originally booked an interior cabin, but was upgraded to a balcony due to cabins being switched around due to distancing protocols. I'm definitely happy about the upgrade, and I even got $100 extra onboard credit for the "inconvenience"! Plus, it feels extra spacious after my small interior cabin on Independence of the Seas last week.
The only problem with having a balcony on a cruise with so much to do is that it is extremely tempting to spend the whole day relaxing on the balcony!
I will not be doing a live blog every day of this cruise, but will instead focus on highlighting activities, tours, and events throughout this sailing. Harmony of the Seas is set to visit St. Maarten, St. Thomas, and Perfect Day at CocoCay this week. While I'm not sure we will make the stop to St. Thomas (several ships have been denied entry there recently), I am confident we will be able to make the other two stops.
Here are my plans for this cruise:
Try complimentary onboard activities only offered on Oasis-class ships like the Ultimate Abyss, Zipline, and extra-high rock climbing wall
Explore everything St. Maarten has to offer via a bicycle rental
Try scuba diving for the first time in St. Thomas on the "Discover Scuba Diving" excursion
Read more: Top 25 free things you can do on Royal Caribbean's Oasis Class cruise ships
Covid protocols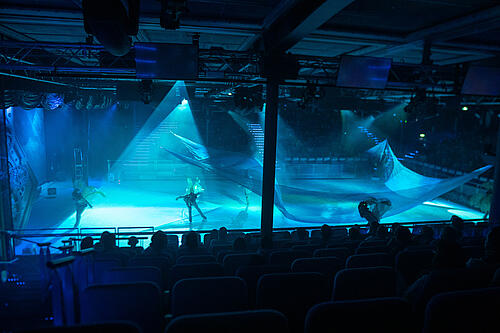 As I am cruising in January 2022, things can be a bit unpredictable. Harmony of the Seas is operating at around 50% capacity with 2500 passengers onboard. So far the ship does not seem very crowded and everyone seems to be following mask protocols well.
There are a few changes to the week's entertainment programming, though. Grease: The Musical will not be performed this week and only one Aquatheater show, Hideaway Heist, will be performed.  As of now it appears that both iSkate Showcase and 1887: A Journey in Time will be performed in Studio B.
Other than that, it appears that the Solarium Bistro is closed, and that only the bar at Sabor is open on this sailing. The Escape Room doesn't appear to be open, either, but that has been the case on every ship I have been on since the restart.
While reading this may seem like a lot is closed onboard, it is just a tiny fraction of the venues available on an Oasis-class ship, so it is barely noticeable. I did plan to try Sabor, but I will have to do that on a future sailing.
Regardless, I feel safe onboard with the strict protocols in place and am looking forward to the rest of the week on Harmony of the Seas.