In:
Royal Caribbean announced it has changed its mask rules aboard its cruise ships due to the surge in Covid-19 cases due to the Omicron variant.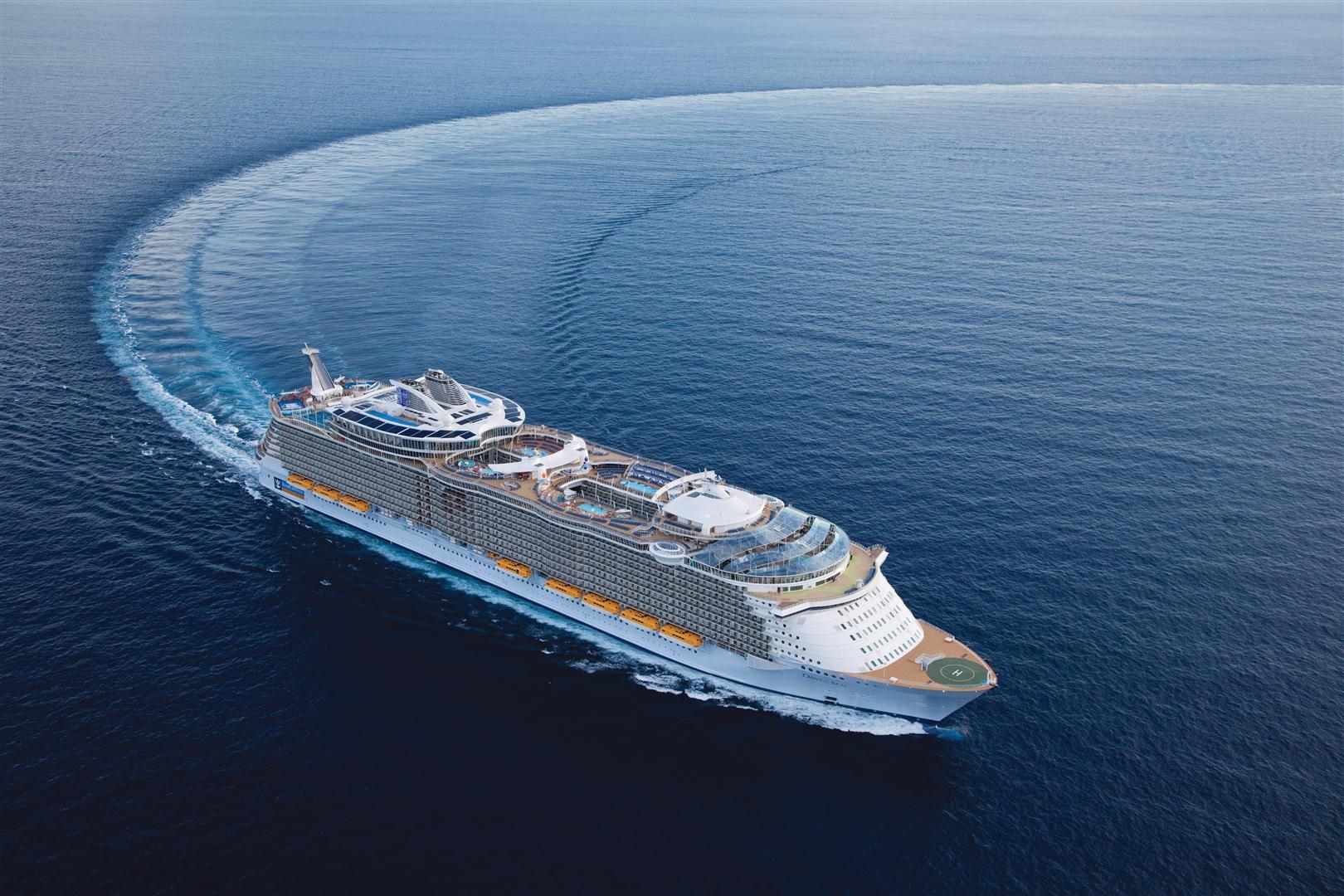 In an email sent to guests, for sailings departing through January 5, 2022, face masks will now be required to be worn indoors at all times, unless actively eating or drinking. This new update also applies to vaccinated areas and venues.
This policy is in place for all sailings departing before January 5, 2022, at which point it will be reevaluated.
Masks are NOT required to be worn:
In open-air areas of the ship, unless you are in a crowded setting.
In the pool or any activity where they may become wet.
In your stateroom when you are with your traveling party.
While visiting our private destination, Perfect Day at CocoCay, unless you are in a crowded setting.
By any guest under the age of 2.
Masks ARE required to be worn:
While indoors in public areas of the ship, unless seated and actively eating or drinking.
While visiting public ports of call, where local regulations may require them.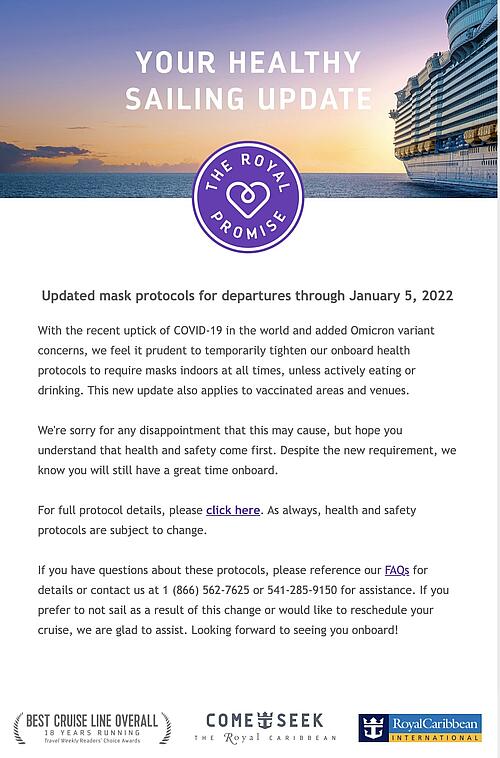 Royal Caribbean says they consulted with their Chief Medical Officer, public health experts and governments to come to this change.
Royal Caribbean will notify guests booked on these sailings
Guests booked on these sailings are being reached out to and made aware of the change.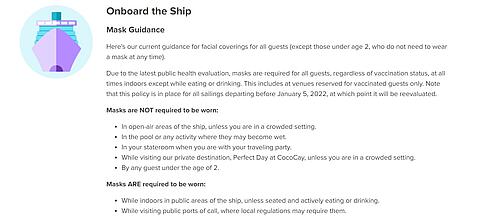 The cruise line apologized for having to make this change, "We're sorry for any disappointment this may cause, but hope you understand that health and safety come first. Despite the new requirement, we know you will still have a great time onboard."
Prior to this change, vaccinated guests were able to remove their masks in certain indoor areas of the ship designated for fully vaccinated passengers, such as the casino, and certain bars and lounges.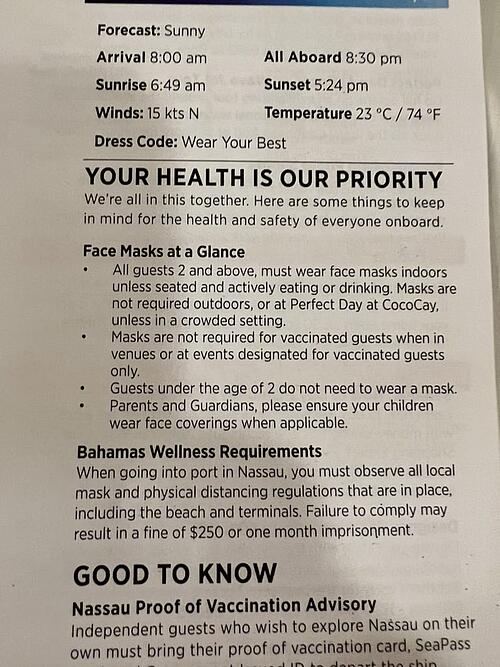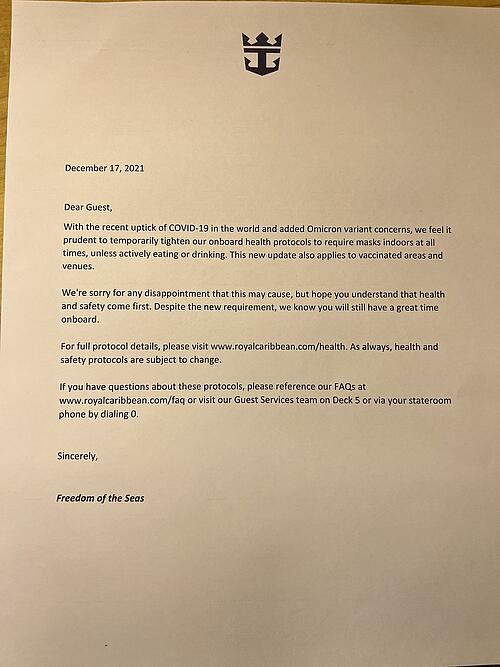 In addition to Royal Caribbean, Norwegian Cruise Line also changed their mask policy.
NCL informed guests sailing that masks will be required indoors on its ships when not actively eating or drinking.
In an email sent to passengers, NCL said, "We are asking guests to wear masks onboard while indoors, except when actively eating or drinking or when in their stateroom; wear masks outdoors when social distancing is not possible; and adhere to local regulations when visiting ports of call."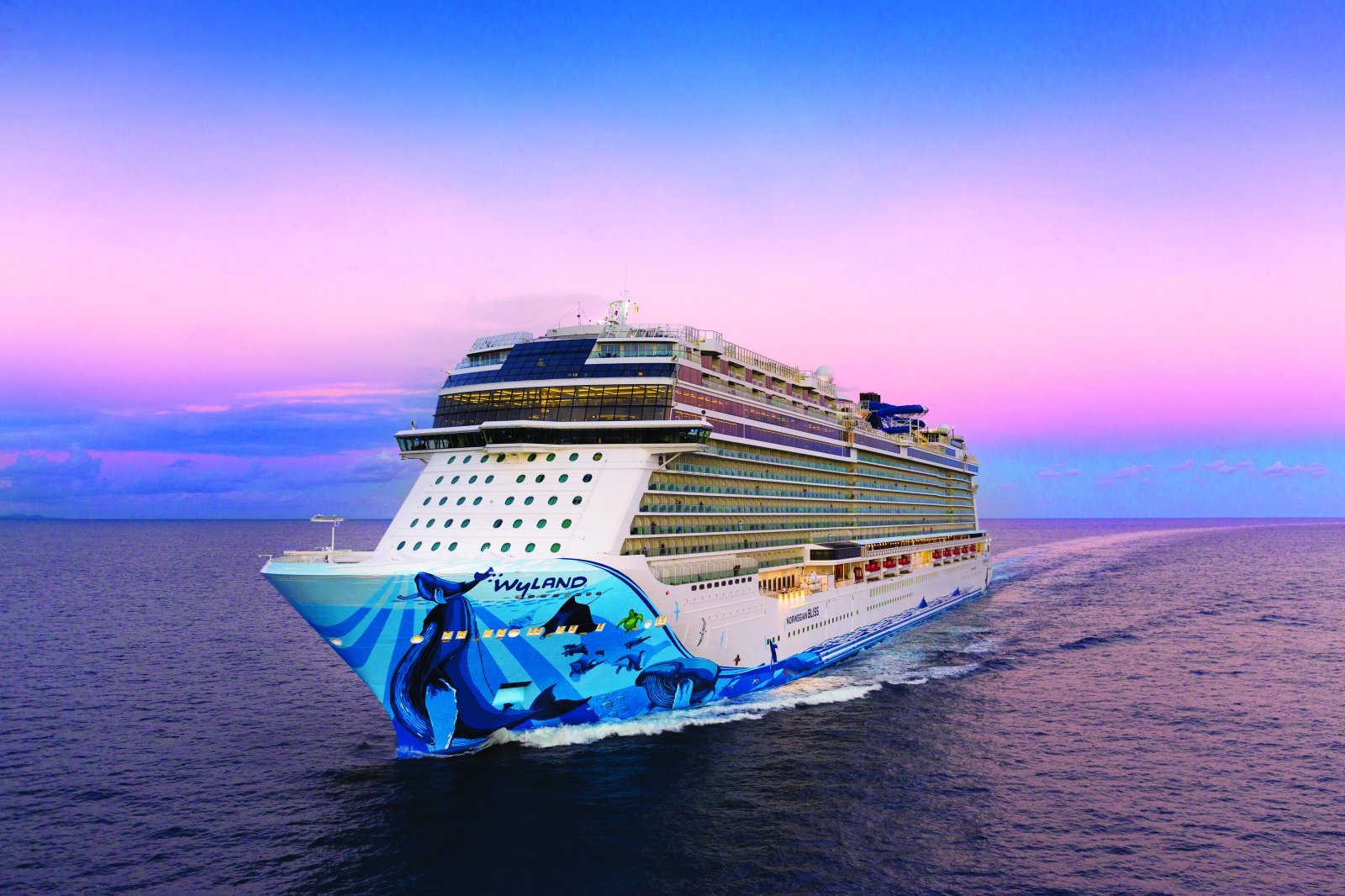 The uptick in Covid cases is not just a cruise ship problem.
The NFL announced today three Week 15 games have been postponed due to COVID-19 surge.
The NBA and NHL both announced postponements as well.