In:
Innovation has been a major part of what separates Royal Caribbean from other cruise lines, and that tradition continues with the cruise line's latest public filing.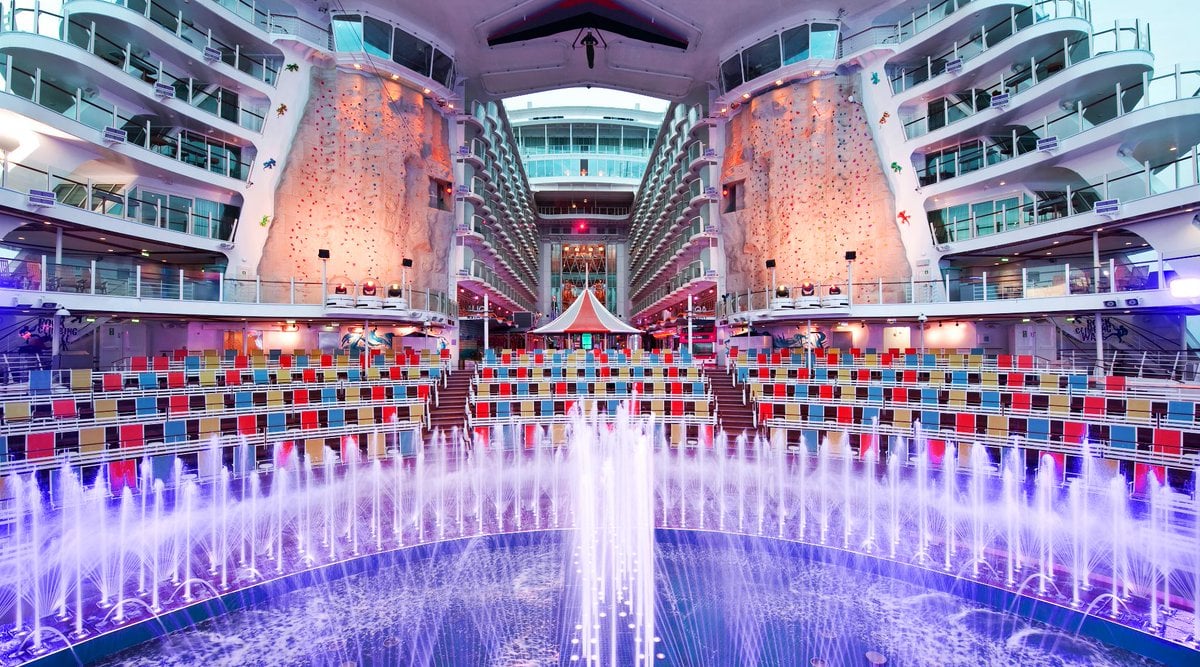 The entertainment onboard a Royal Caribbean ship has always been a focal point for trying to push the envelope, and a new patent application points to something cruise ship passengers are likely to see onboard soon.
The United States Patent and Trademark Office reports a filing by Royal Caribbean for something called a "Water-based Pyrotechnic Illusion".
Among the four patent authors is Royal Caribbean's Senior Vice President of Entertainment for Royal Caribbean International, Nick Weir. It is also credited to Daniel Comins, Zachary Cook, and Steven Michelman.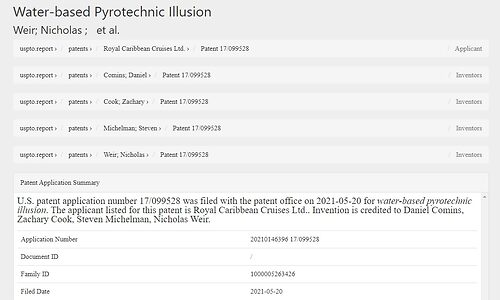 What exactly is this thing that Royal Caribbean patented?
Based on the patent application, it sounds like something meant to look like fireworks, but utilizing high speed water and lights to create the effect.
Systems and methods for firework water illusions are disclosed. In one aspect, a device for creating an illusion of rotary pyrotechnics includes at least one nozzle configured to rotate about an axis of the device and spray water in a radial direction while rotating. The device can also include a water supply configured to provide the water to the at least one nozzle and a lighting system configured to illuminate the water sprayed from the at least one nozzle to create an illusion of rotary pyrotechnics.
Basically, making something that looks like fireworks without actually using fireworks.
Specifically, they aimed to recreate a Catherine wheel, which is a pinwheel type of firework that when ignited, the energy of the fireworks not only create sparks and flame, but cause the wheel to quickly rotate, making the display much more spectacular.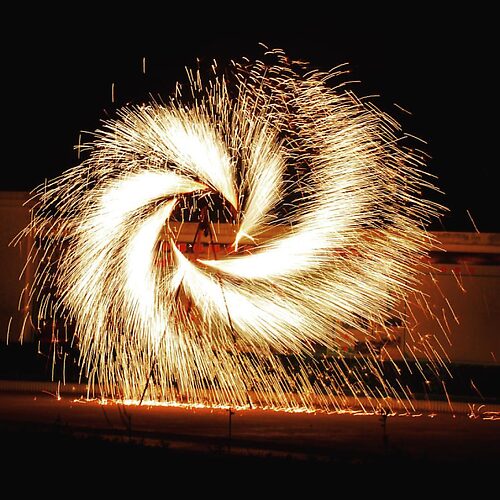 Example of a typical Catherine wheel
Fire is a major concern for cruise ships, and its use onboard is usually prohibited, so creating the illusion of fire would be an important asset.
The use of fireworks in such performances, particularly in the cruise ship environment, may be relatively dangerous and/or prohibited. Thus, there is a demand for the recreation of fireworks using an illusion to recreate at least some of the effects of fireworks without the drawbacks, such as the fire hazard associated with traditional fireworks.
A few different configurations are possible with this patent, and the use of a mister or multiple water nozzles can provide different effects when the light shines on the water droplets moving at a high speed.
They even outlined using a fog machine to further enhance the look.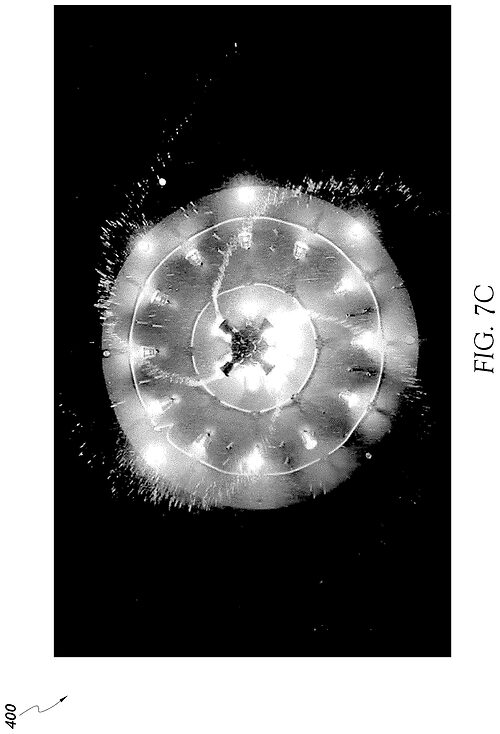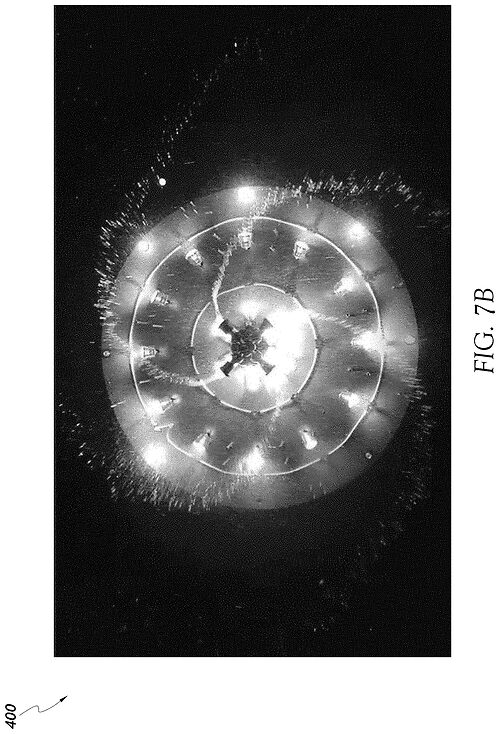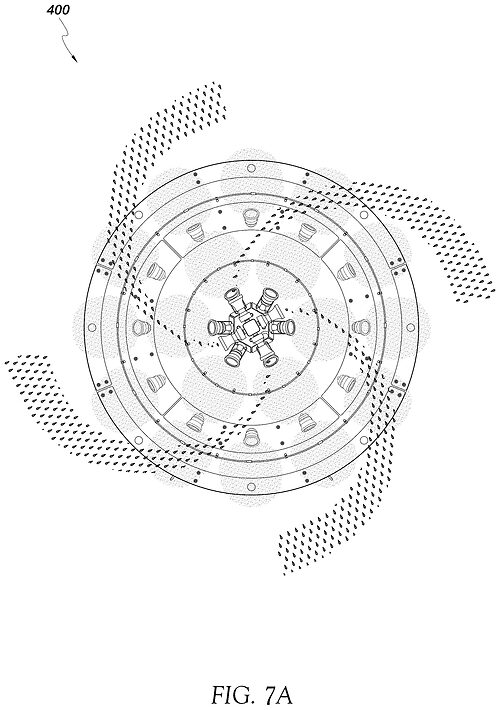 Whenever water is mentioned in the context of entertainment, Royal Caribbean's signature AquaTheater space usually comes to mind as the likely setting for it.
In fact, the patent talks about the patent being utilized in the AquaTheater without actually naming the venue.
Aquatic shows, which are traditionally performed in a permanent theater, are being adapted for performance on cruise ships due to their continued popularity.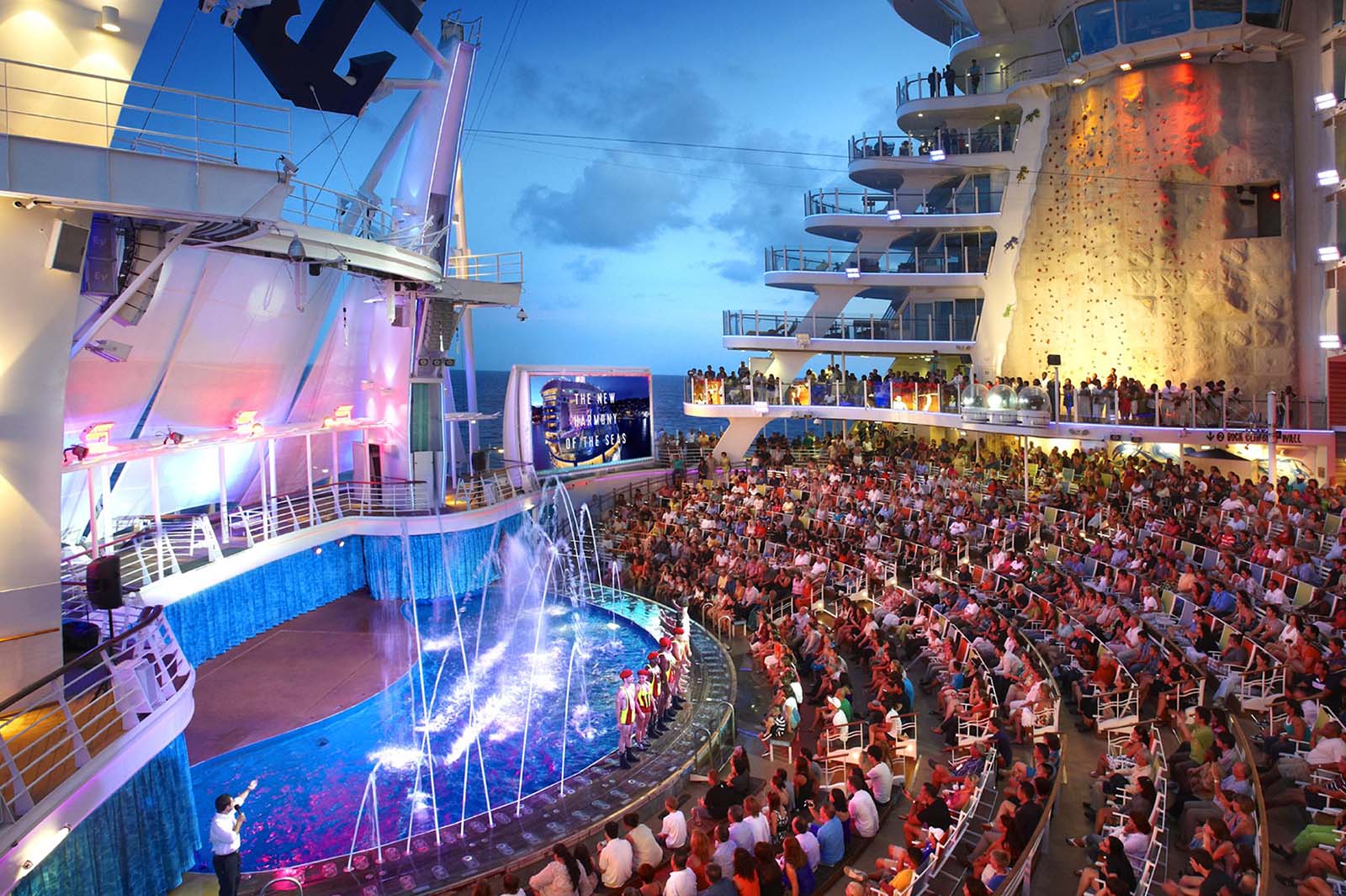 The patent says that a water-based illusion has an advantage since aquatic shows already have the necessary hardware support in place, as well as being more engaging to an audience compared to a simple visual projection of the image of fireworks onto a screen.
Interestingly enough, the patent also mentions this water-based pyrotechnic illusion could even be used by Las Vegas.
 Yet another environment in which such a water based firework illusion may be so-called "pool parties" which are popular in entertainment centers such as Las Vegas. These parties may include live music, DJs, numerous swimming pools, etc. In this setting, the use of fireworks may also be a fire hazard, and thus, the use of a water-based firework illusion may be desirable.
Whether Royal Caribbean uses this technology on its next Oasis Class cruise ship, which is currently under construction, or on existing ships in the fleet remains to be seen.