In:
Royal Caribbean has built a reputation for itself in being a technological leader when it comes to the technological advancements it brings to its cruise ships and on Harmony of the Seas, guests can expect the very latest innovations.
Technology will be at the heart of what Harmony of the Seas offers, so here is a look at what guests can expect to find at their fingertips when they get onboard the largest cruise ship in the world.
True high speed internet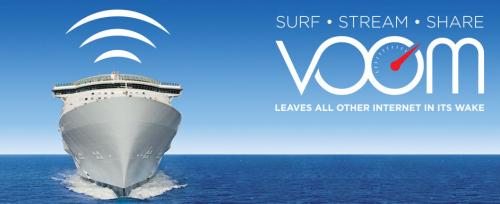 When folks think of using the internet on a cruise ship, there is usually a groan and sigh involved because traditionally internet at sea has been mid-1990s slow.  
On Harmony of the Seas, guests can enjoy the high-speed internet experience known as Voom.  
Voom is Royal Caribbean's new satellite internet service that allows guests to post to Facebook and Instagram, post videos on YouTube, tweet about your shore excursion, and have face-to-face conversations via Skype and Google Hangouts. Plus, you can even stream movies, games and apps via your personal accounts with Hulu, Netflix, Amazon and more.
The Voom speeds are the real deal and Royal Caribbean even says if you need to do business work onboard, with Voom you can check email, transfer files, host video conferences, Skype and more, just as if you were on land.
Everything on your wrist
An undeniably cool innovation coming to Harmony of the Seas are the RFID bracelets known as WOW Bands.
WOW Bands give guests everything they have been accustomed to having in a SeaPass card, on their wrist.  This means getting access to staterooms, making purchases and checking in for entertainment has never been easier.
Guests can use their WOWband to enter their staterooms, purchase beverages, merchandise and anything else Royal Caribbean sells. Plus, WOWbands serve as an easy way to distinguish which muster station each guest is assigned to.
WOW Bands are an optional feature but once you try the WOW Bands, you will likely be leaving your SeaPass card behind in your stateroom.  
Get drinks made by robots
What happens when you mix your favorite beverages with cutting-edge robotics? You get the Bionic Bar on Harmony of the Seas.
Makr Shakr created Bionic Bar for the Quantum class ships and they have brought this impressive creation to Harmony of the Seas, where guests can order drinks from iPads and then marvel in the spectacle of robotic arms creating the drink on the spot.
Combining robots and mixology, Bionic Bar is something you have to see to appreciate because every time you walk by, it is so tantalizing to watch the robots in action.
The single armed robot will get the ice, mints and lemon and then squeeze and shake them to make your drink. Eventually, there wont be a limit on what the drinks the robots can make. The customization is what Royal Caribbean is aiming for.
A room with a (virtual) view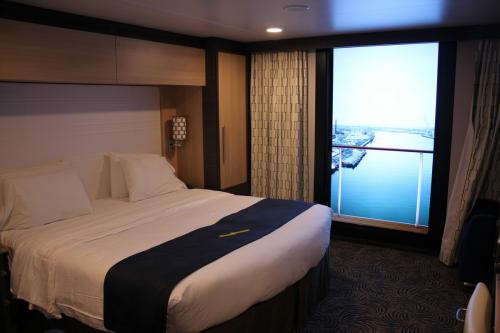 Staying in an inside stateroom does not mean you do not have a view anymore. On Harmony of the Seas, guests will be able to enjoy virtual balconies in their inside staterooms.
What is a virtual balcony?  Inside staterooms on Harmony of the Seas offer a floor-to-ceiling high-definition LED screen that shows real-time views from specific points on the ship.  
Royal Caribbean designed the virtual balcony to look (and sound) like the real thing, so guests can see everything going on in a port or just the vast serenity of the ocean passing by.
Guests can turn the virtual balcony off at any time, especially at night when sleeping but it's available anytime they want.
There's even natural sounds that are piped into your stateroom to provide as authentic an experience as possible.
The only thing missing is the balcony stateroom price tag!
There's an app for that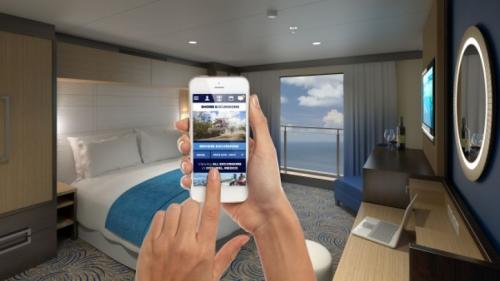 With the Royal iQ smartphone app, everything is easier to do onboard Harmony of the Seas.
Royal iQ allows guests to track their luggage as it comes onboard the ship, book shore excursions and dinner reservations as well as chat or call friends and family onboard.
Available for iPads, iPhones, and Android phones, Royal iQ gives you the flexibility to decide what to do and when to do it.
Royal iQ allows guests to manage details during the cruise, includes a convenient calendar that provides at-a-glance views of the cruise or conference program.
If you prefer not to carry a phone or tablet with you, Harmony of the Seas will offer eight freestanding iQ stations at Guest Services that give you the same functionality as the mobile apps. You will also find roaming Guest Services staff to assist as well.
Get to the fun faster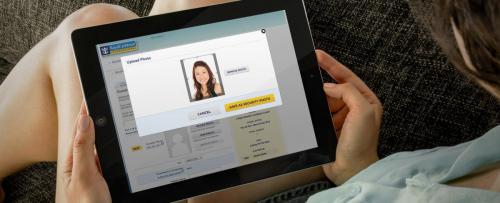 Royal Caribbean wants the boarding process for Harmony of the Seas to be the simplest yet.  Why waste time in the pier doing paper work?
Guests sailing on Harmony of the Seas can take care of all necessary documentation online including uploading your own photo and receiving digital boarding confirmation.
Without a check‑in counter, there aren't any forms to fill out or lines to wait in.
All of this means less time spent waiting in lines and filling out forms and a quicker way to get onboard and having vacation start a whole lot sooner.
Which tech innovation excites you the most? Tell us in the comments below!