In:
Royal Caribbean announced its second cruise ship to restart North American cruises will be Vision of the Seas from Bermuda.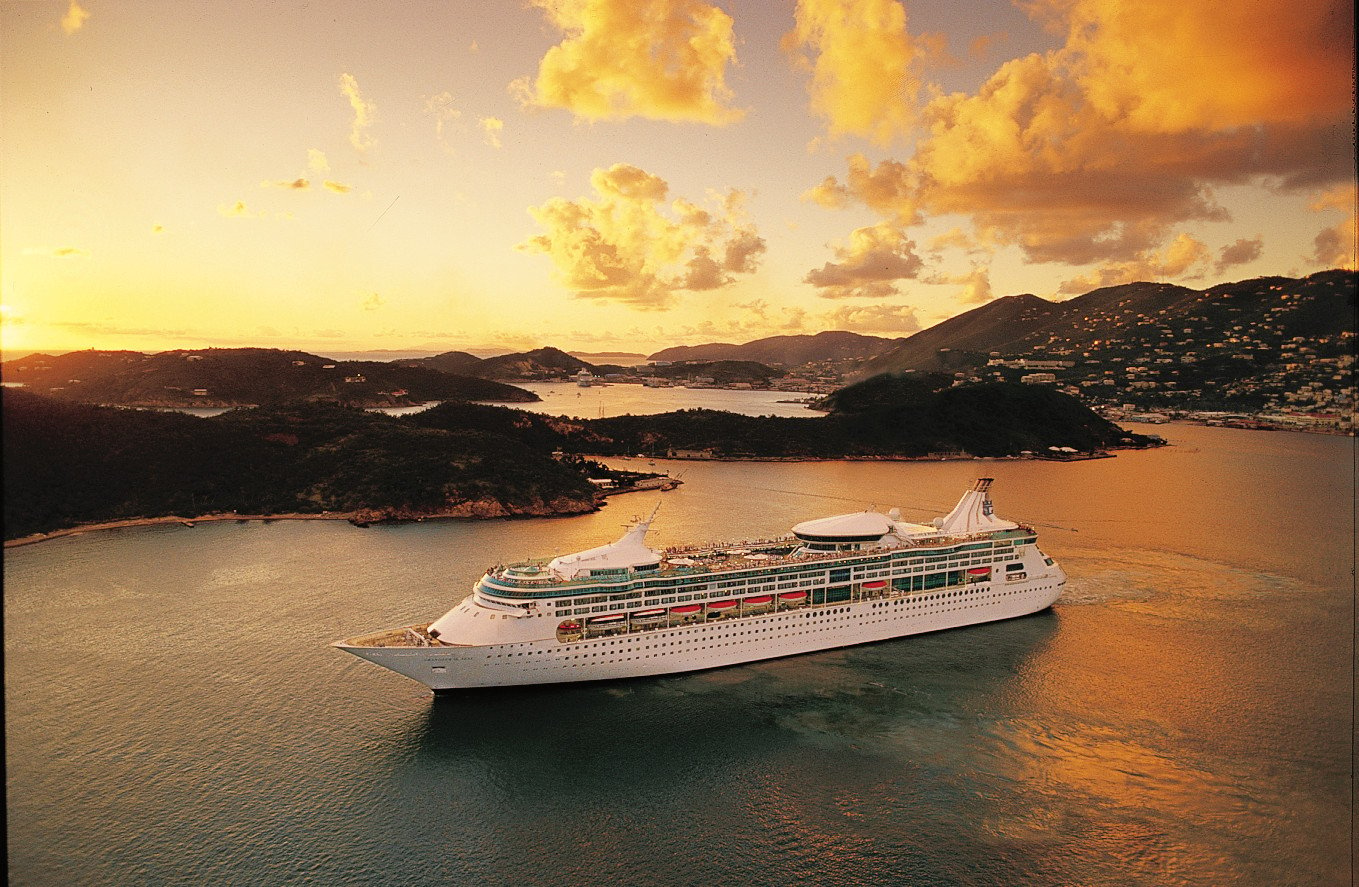 Similar to the cruise line's announcement last week that Adventure of the Seas would restart cruises from The Bahamas, Vision of the Seas will sail from outside the United States so that it can offer cruises sooner and without approval from the U.S. Center for Disease Control (CDC).
Building on the cruise line's slow and calculated return to service, Vision of the Seas will begin sailing from Bermuda and offer cruises that visit Perfect Day at CocoCay.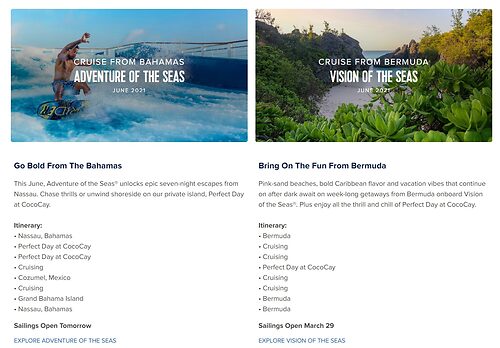 Just like Adventure of the Seas, sailings on Vision of the Seas will require all adults above the age of 18 to be fully vaccinated for COVID-19.
The cruise line also said current health and safety measure, like others, may evolve as they are evaluated on an ongoing basis.
In addition, travelers must meet the travel requirements of Bermuda. This currently includes receiving a negative PCR test result before traveling, testing upon arrival into the country and filling out appropriate entry forms. The most up-to-date policies can be found on Bermuda's website.
Guests under the age of 18 will need to provide a negative RT-PCR test result.
The itinerary will be:
Bermuda
Sea day
Sea day
Perfect Day at CocoCay
Sea Day
Bermuda
Bermuda
Vision will begin sailings from Bermuda as soon as June 26, 2021. Vision will be offering a summer season between June through August 2021.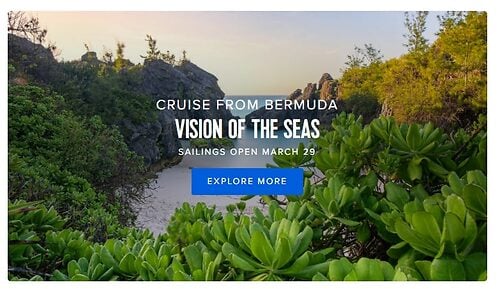 The new sailings open for booking on March 29.
As a result of this redeployment, previously scheduled Vision of the Seas sailings departing from San Juan, Puerto Rico are cancelled.
Those guests currently confirmed on impacted sailings departing June 6 — August 29, 2021 can choose from one of the following compensation options:
A refund of all funds paid
An elevated 125% Future Cruise Credit to sail with Royal Caribbean at a later date
All impacted guests and associated travel agencies will soon receive an email notification to present a more detailed version of these compensation options.
In the meantime, cruises lines continue to wrestle with the CDC for progress at a glacial pace that will hopefully allow cruise ships to begin offering test sailings.
Right now, Royal Caribbean is waiting for technical instructions from the CDC on what ships need to do in order to be ready for the simulated voyages need to prove cruises can restart safely.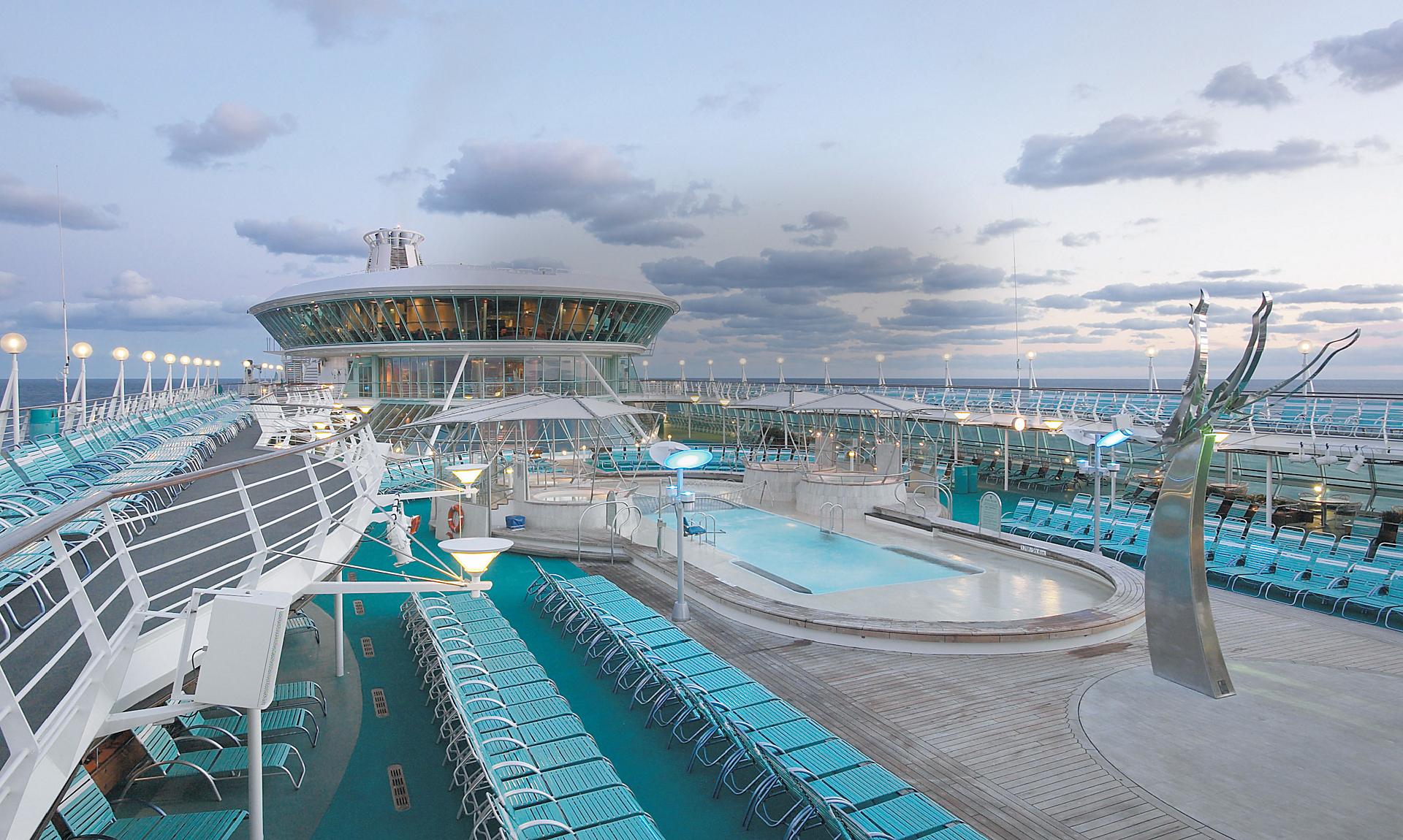 Royal Caribbean Group Chairman and CEO Richard Fain said earlier this week that he still doesn't know when cruises will restart in the US.
"As most of you know, the order called for several phases and for the CDC to issue detailed technical rules for each phase. The first of such technical rules was scheduled to be released in December, and many of you was asked when we expect to receive them. In fact, I would answer that the pace of science has simply overcome that process."
"We don't know what the CDC is contemplating to address this very different set of circumstances. But just as they and other public health officials are doing elsewhere, we expect they will all adjust to the changes that have been and are taking place today."
"The Conditional Sail Order was a very positive step at the time, but that time has passed. We look forward to a constructive dialogue with health officials in the United States and elsewhere for the path forward under these new circumstances."