In:
No one likes to think about when your cruise vacation will come to an end, but inevitably planning for that last morning is a necessity to ensure you can get to work, school or flight on time.
The docking time listed is not the time you get off the ship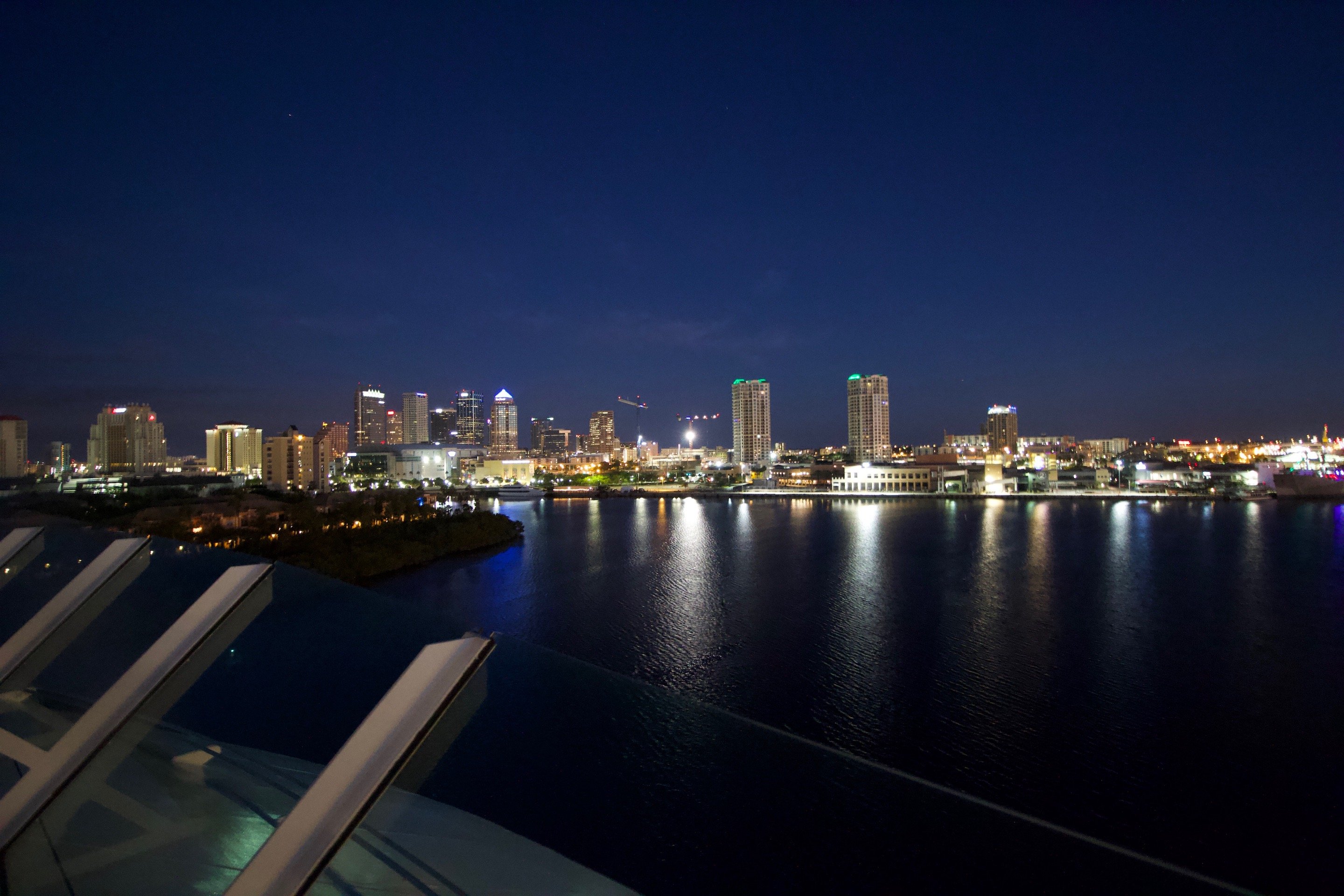 A very common misconception among first time cruisers is looking at the scheduled time a ship returns to port and assuming that is the first opportunity to disembark their Royal Caribbean ship.
Often, Royal Caribbean ships return to port in the early morning, around 6:00am or so.  Just because the ship returns at this time, does not mean it is ready to let passengers off the ship.  A couple steps need to be completed first:
The ship must dock at the pier and be tied up properly.
Local officials must inspect and clear the ship
There is no set time how long each of those steps can take, and that is why answering the question of what time someone can disembark the ship is so difficult. Moreover, the inspection by local officials is completely out of Royal Caribbean's hands.
Disembarkation process
There are two main groups who can disembark from a cruise once it is over: guests carrying their own luggage and guests picking up their luggage.
Carrying own luggage
The first group who may disembark the ship once the ship is cleared by local officials is guests who carry their own luggage off the ship (sometimes referred to as Express Departure). This means anyone that elects to not rely on Royal Caribbean to deliver their luggage to the cruise terminal and is capable of carrying their own luggage may disembark the ship. Guests who elect to carry their own luggage off the ship will be required to take their luggage from their stateroom, and take it all the way off the ship and through customs.
Most often, the Express Departure option is preferred by guests who want to depart as early as possible due to travel plans, work requirements, or other needs.  However, if you opt to carry your own luggage off the ship, you may depart at any time.  On disembarkation day, an announcement will be made once the gangway is opened and cleared by local authorities, and at that time, guests carrying their own luggage may depart the ship.
As stated earlier, the exact time of when self-assist begins will depend on certain factors, but usually it will commence around 7:00 or 7:30am. Keep in mind these times are generalizations and it will vary.
Luggage Pickup
To make things easier and simpler for guests, Royal Caribbean offers to deliver guest luggage to the terminal for pickup.  This is a very popular option, and most guests elect for this option.
Royal Caribbean gives every cruiser luggage tags with a number at the end of the cruise in sequential order.  The number corresponds to what time your luggage will be ready for you to  get off the ship.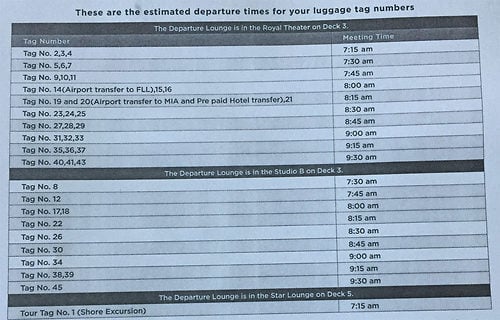 Do not worry if your number seems high because you can always go to Guest Relations and get a lower number if you need to be one of the first off the ship.
If you elect to have Royal Caribbean take your luggage, you need to have your luggage packed and in the hallway outside of your stateroom by a certain time (usually 11:00pm).
The advantage of picking your luggage up in the terminal building is it makes the disembarkation process simpler.  Guests can enjoy breakfast on the last morning and wait comfortably in a lounge or restaurant until their luggage tag number is called.
Just like guests carrying their own luggage off the ship, the exact time luggage pickup begins will vary, but it usually begins 30-60 minutes after guests carrying their own luggage are able to start walking off the ship.  Keep in mind that it takes time for Royal Caribbean to deliver all the luggage from the ship to the cruise terminal.