In:
The Holiday Inn Port Of Miami-Downtown is located just a mile and a half from PortMiami, making it an extremely convenient place to stay before or after a Royal Caribbean cruise.  This review features photos of the room & hotel, thoughts on the amenities, and our experience in staying here during our recent visit to the Miami area.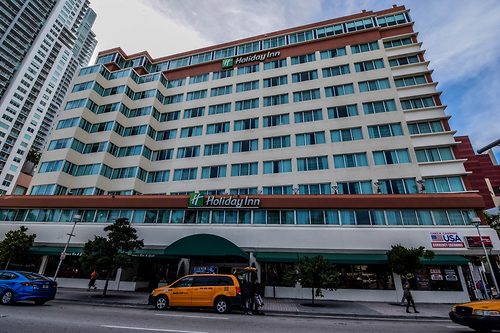 The primary rationale for picking this hotel is simply its location.  Being right on Biscayne Boulevard means you can practically see the cruise ships from the hotel's higher floors.  In fact, step outside the hotel in the afternoon and you are likely to hear a ship's horn as it conducts muster drill.  The proximity to PortMiami makes this Holiday Inn an appealing choice.
The hotel offers 200 rooms, including eight "Bayview" suites, and is located in the heart of Downtown Miami.  You can easily walk outside the hotel and check out various shops, hop on the Metro Mover (the city's monorail), or walk across the street to the Bayside Market.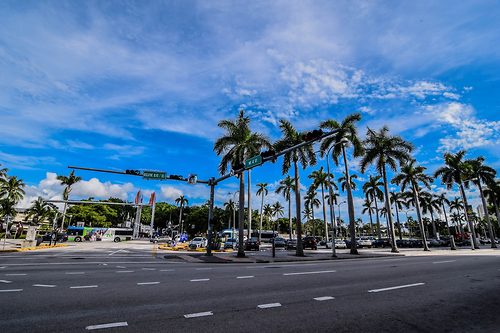 In my opinion, being downtown is a double edged sword.  You are incredibly close to the cruise port, and there is lots around you to explore.  However, downtown Miami like so many major cities has its share of issues.  In the grand scheme of neighborhoods in and around Miami, downtown is not necessarily the most tourist-laden spots you will find.
Being a Holiday Inn hotel, walking into the lobby reminded me of so many other Holiday Inn hotels.  It features a lot of characteristic greens and other Holiday Inn decor.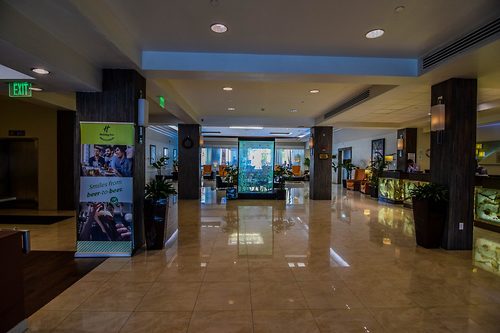 Anytime I walked past the Front Desk or had a need to stop by, there seemed to be little to no lines.
This location offers an outdoor pool, business center, complimentary health & fitness center, WiFi (free for IHG members, which is free to sign up for) and daily housekeeping.
I booked a King Suite Nonsmoking room for my stay.  It was located on the third floor at the end of the hallway. The rate for the first night was $179.55 and the second night was $231.83.  If you had booked a regular room, you can easily find rates closer to $110-$150 per night.
Upon walking into the room, it is indeed quite massive.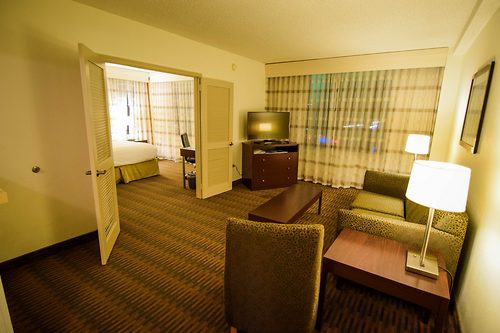 There is a very large living room, small kitchenette, sprawling bedroom, bathroom and closet.
The living room has plenty of space, and would be great for kids to sleep on the pull out couch.  I like the fact the living room and bedroom are separated by a set of doors.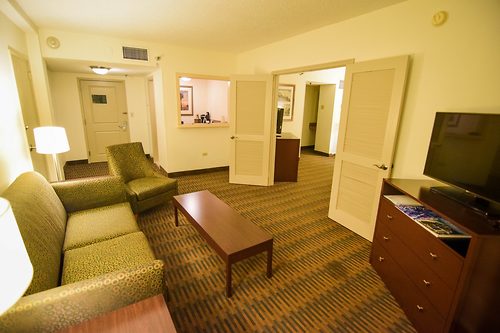 The kitchenette is quite small, but functional.  There is a fridge, freezer, sink and microwave.  Perfect for storing and reheating food that you will likely get if you are staying a few nights.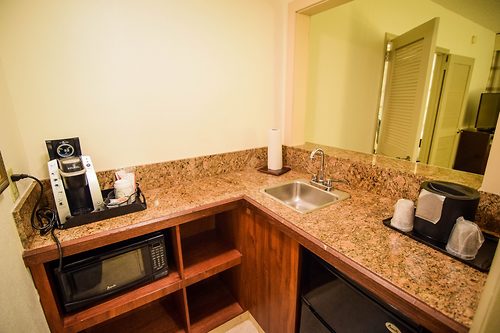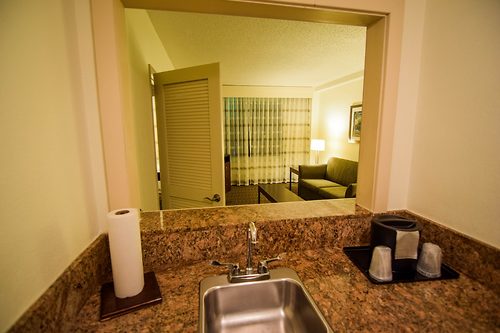 The bedroom has a king size bed, along with a large desk area that was perfect for doing work.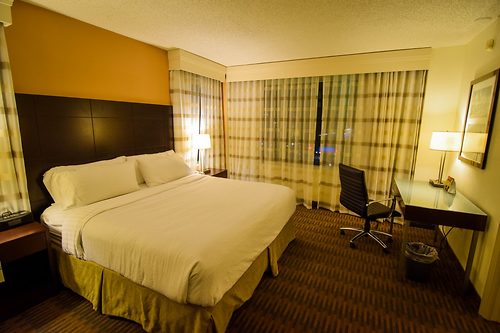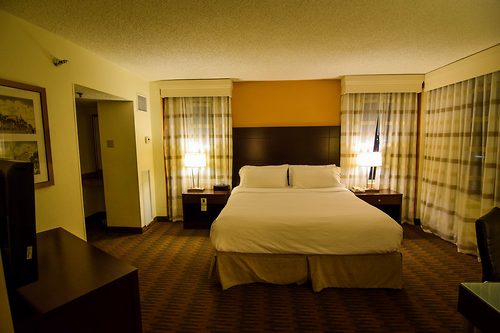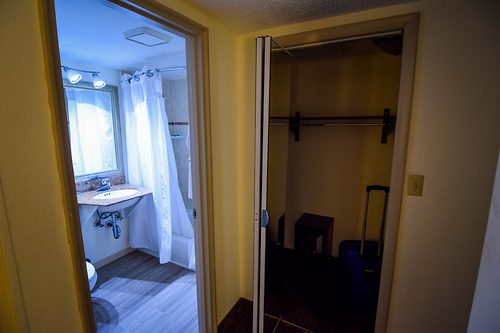 The bathroom seemed to have been more recently updated than the rest of the room.  Its lights were brighter, and the floor and tub appeared to have been replaced.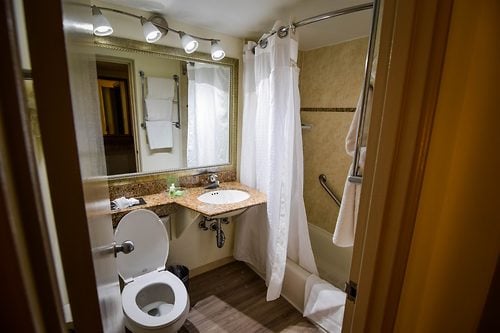 The room offered a lot of living space and was clean.  It is worth noting that there was an odd smell to the room, which I never complained about because within a few minutes I stopped noticing it.  But anytime I left the room and came back, I would note the smell.  If I had to describe the smell, I would probably peg it as a putrid, but I seemed to adjust quite quickly.  I also have no idea if any other rooms had this experience, but I figured I would note it.
I would also note that the room felt a bit old.  It was well maintained and certainly clean, but you can tell this is not a new construction hotel.  Some of the room walls had that look and feel of being repainted a few times. This is by far not a problem, but I know some people prefer newer hotels.
Overall, the Holiday Inn Port Of Miami-Downtown hotel fit the bill of what many look for in any pre- or post-cruise hotel, which is somewhere clean, safe and moderately priced. It is a very utilitarian spot to stay that will get you about as close as you can get to PortMiami.  
If you are just staying one night, I think this hotel is just fine for a place to rest and relax until you depart on your cruise. 
Your thoughts
Have you stayed at Holiday Inn Port Of Miami-Downtown? Are you a fan of it? What did you think of the suites? Is this a hotel you'd consider? Please share your thoughts or questions in the comments section below!