In:
The Holiday Inn Club Vacations Cape Canaveral Beach Resort is just about the closest hotel you can stay at to where the cruise ships dock in Port Canaveral.  This review features photos of the rooms & resort, thoughts on the amenities, and our experience in staying here during our recent visit to the Port Canaveral area.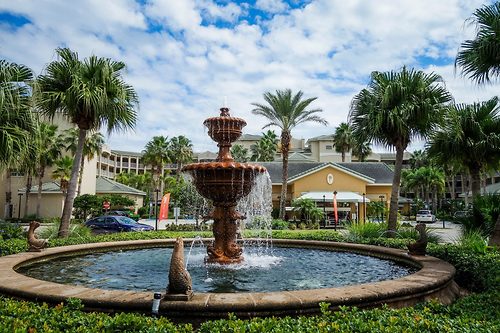 The appeal of this resort is for families that want to stay as close to Port Canaveral as possible, while enjoying resort accommodations.  Most hotels near Port Canaveral are further south on route A1A in the Cocoa Beach and Merritt Island areas.  Those hotels are not only geared towards people going on cruises, but mostly geared towards guests who are visiting the Space Coast of Florida.  
The Holiday Inn Club Vacations resort is a sprawling 10-acre resort adjacent to Jetty Park Campground and is perfectly situated to provide perfect views of cruise ships, NASA rocket launches and of course time at the beach.
The resort features spacious hotel-suite/condo-style 1 and 2 bedroom accommodations from 414 to 1,224 square feet. The rooms here are more than just a typical double set of beds and bathroom.  Ideally, guests staying here will make this resort a multi-day pre- or post-cruise stop.  To that point, families (especially larger families) will enjoy the sheer amount of space provided in each room as well as the resort amenities provided.  Staying at the Holiday Inn Club Vacations resort is best enjoyed if you have at least a full day to take advantage of everything it offers.
Since this is a resort, very likely the price of this hotel will not be among the cheapest options in the area, but then again, it offers a lot more to do than just a hotel pool.  There is direct beach access at Jetty Park, four-story water slide, lazy river, splash zones, and kiddie pool.  In addition, there is an arcade, movie theater, mini golf course, plus basketball, tennis and shuffleboard courts.  
Starting in the lobby, the hotel is comprised of a few different buildings across the 10-acres.  The lobby is part of the main building, which additional buildings a short walk and/or shuttle drive much closer to the beach.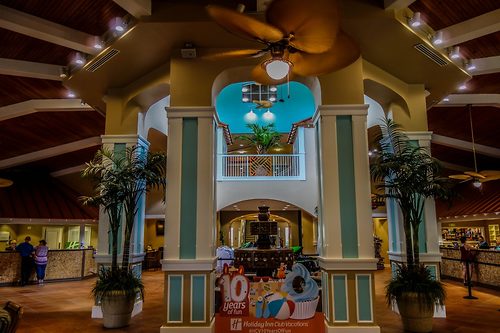 The pool area is one of Holiday Inn Club Vacations Cape Canaveral Beach Resort's biggest selling points, and this thing is huge.  There is a giant main pool, sprawling kiddie pool area, lazy river and water slide.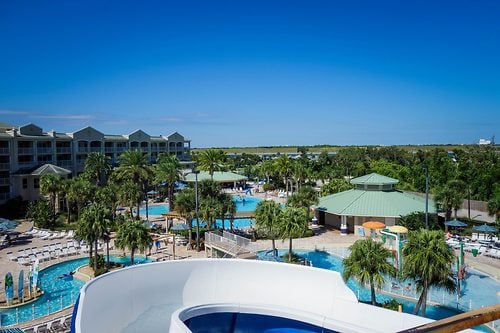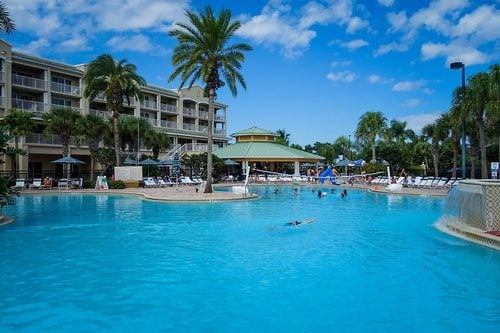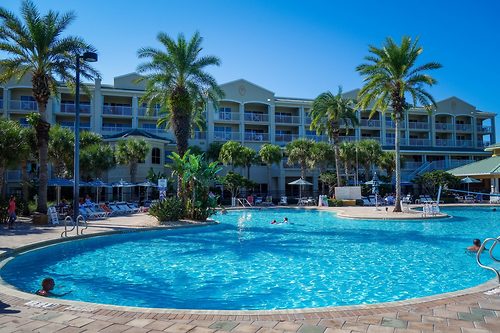 There is ample seating all around the pool, and we were able to find seats with no problem. 
Adjacent to the pool area is a nice little bar. This place was fairly popular most of the time during our visit, and seemed to have a decent drink menu. The bar not only served drinks, but also offered lunch and dinner.  In addition, each day there was a live band performing throughout the day.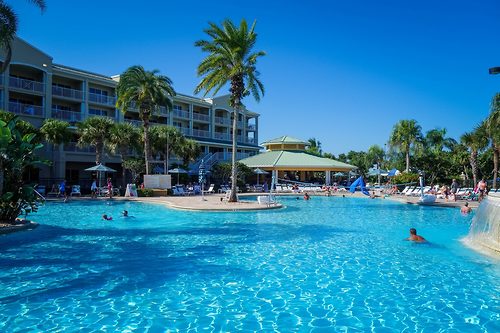 The lazy river and water slides were big hits with my kids.  There is no additional charge to use either, so just grab a tube for the river or head up the stairs to the slide.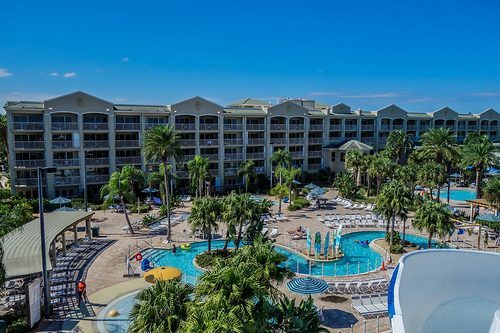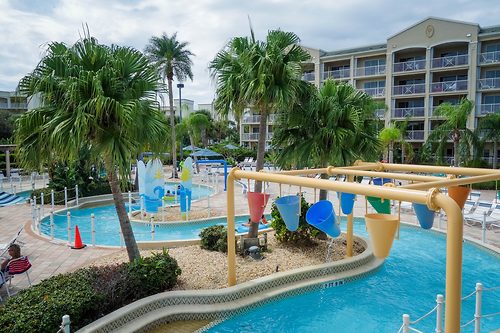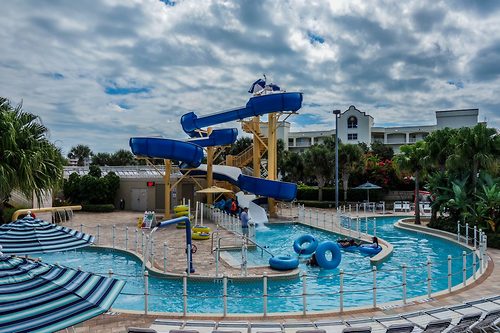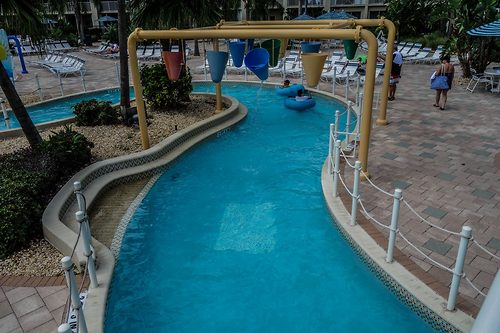 It is worth noting guests must be 42 inches tall to go on the slide.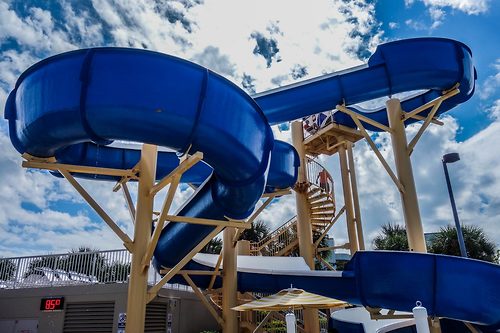 I could spend this entire review talking about the pool area, because it is the best thing about this resort.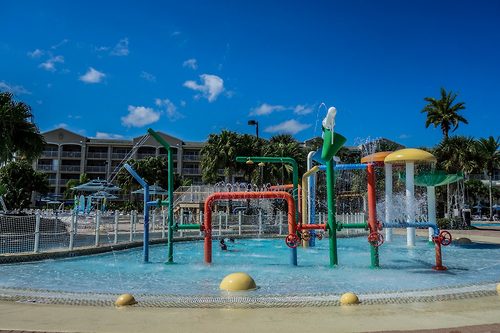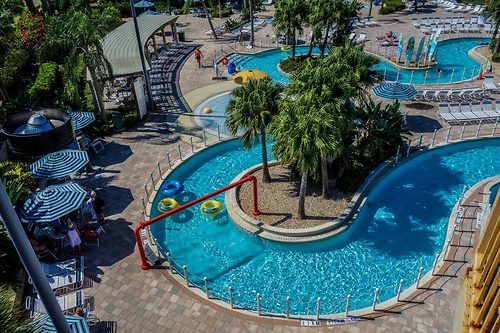 There is still plenty more activities in the resort to keep you busy.  My kids relished their time in the giant indoor play area, which is akin to a play area you might find at a fast-food restaurant, but on a giant scale.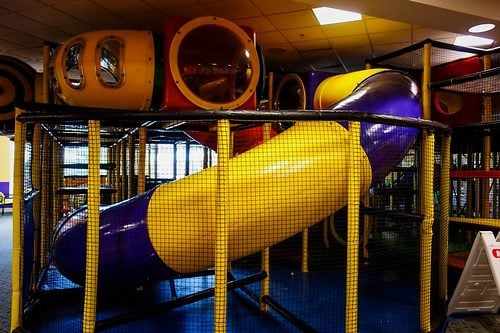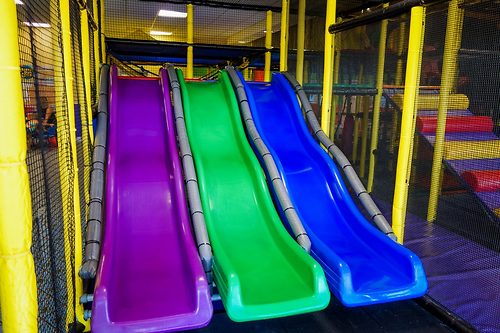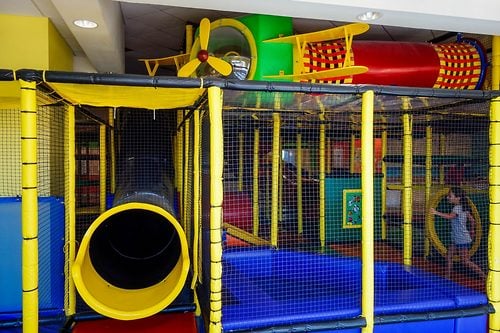 Slides, tunnels, ropes and obstacles galore are enough to keep most kids busy for hours.
There is also a movie theater that has no additional cost and shows three to four movies a day.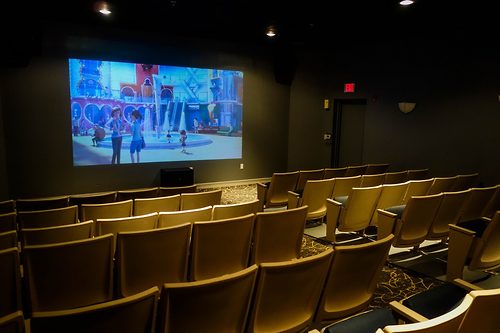 Holiday Inn advertises its rooms as hotel-suite/condo-style, which means you get a lot of space and more.  Rooms feature a kitchen and in-unit washer/dryer.  Plus, Wi-Fi and parking are free to guests.
We chose a 1 bedroom unit for our stay.  We ended up being assigned a handicap accessible room, but I do not think it was a problem at all.  The rate for our first night was $290.03 and the second night was $189.05. With taxes and fees, the average rate we paid per night came out to $268.29. I could have gotten it a bit cheaper if I had committed to a non-refundable rate.
Our room featured two double beds in the bedroom, a large bathroom, giant living room, kitchen and of course a balcony.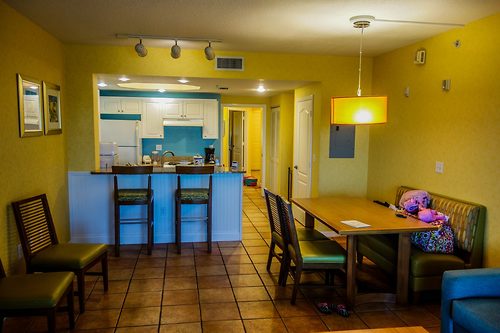 For the four of us, there was more than enough room.  The resort also offers two bedroom units, which would have been nice to have, but our kids slept fine on the pull-out sofa bed in the living room.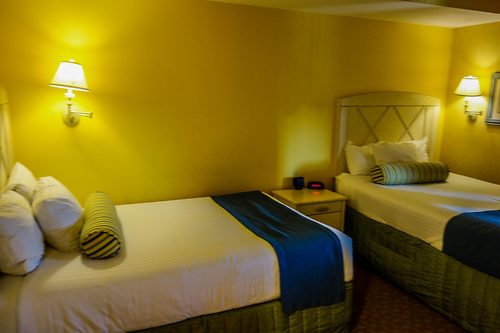 The room was clean and reasonably well-maintained.  You could make an argument that they could benefit from a refurbishment update to make it feel a bit more contemporary, but by no means did the room feel dirty or old.  It certainly felt familiar considering we have stayed in enough resorts around Florida.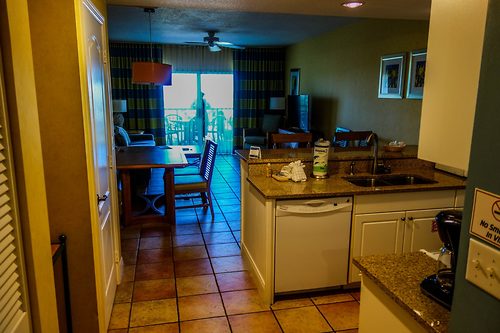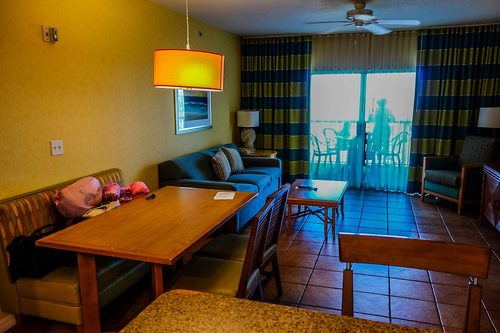 Likewise, the unit's regular bathroom was basic and on the smaller side. Absolutely nothing wrong with it.  Keep in mind we were in an accessible room, so the shower may look different in other rooms.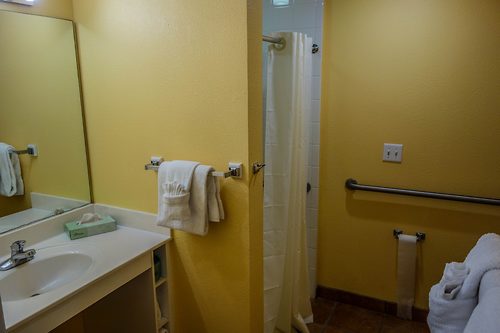 The full-size, fully-equipped kitchen is nice, and will certainly be appreciated by those on a budget who use the room to prepare their own meals.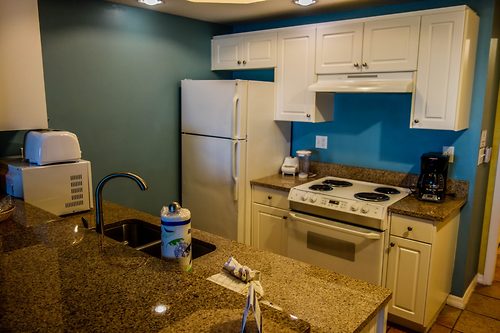 For cruise fans, some rooms face the Port Canaveral channel where the cruise ships enter and leave from, which provides absolutely stunning and unmatched views anywhere else in Port Canaveral.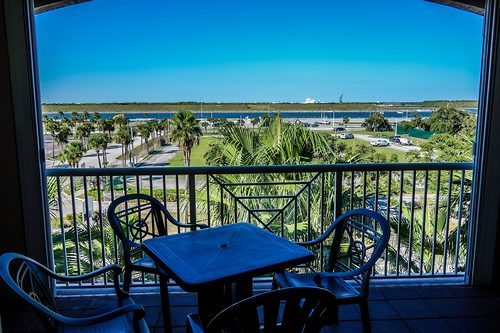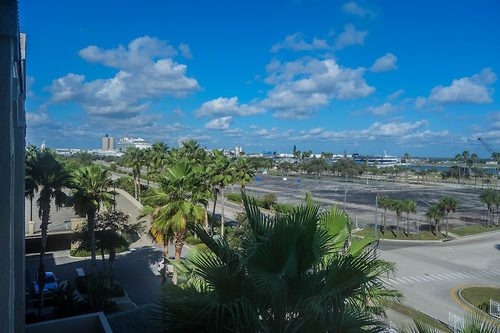 Since the hotel is perhaps a mile from Terminal 1, views of the cruise ships abundant.  We requested a room that faced the channel, while most rooms face the pool area, ocean or a parking lot.  We called a week ahead of time to make the view request and had no problem having the resort take care of it for us.
Being able to watch the cruise ships depart was a real highlight of our stay.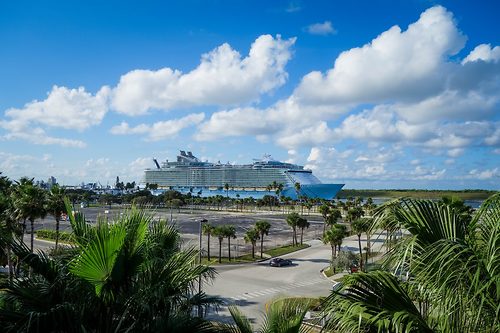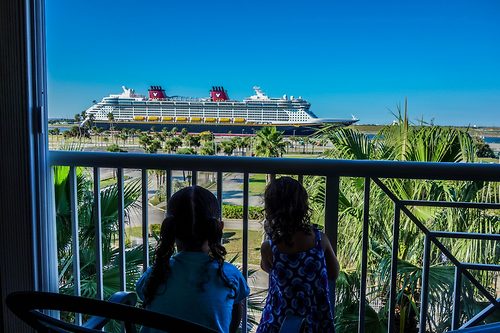 Speaking of the cruise ships, Holiday Inn offers a third-party service that can take you to the cruise terminal for $25 up to 4 people, and $5 for each additional guest.  My advice is use Lyft or Uber, since a ride to the terminal from our hotel came in at $6.
Of course, there is beach access with the hotel. Guests can take a private boardwalk-style path from the resort to the beach at Jetty Park.  Chairs, umbrellas, bikes, surfboards and boogie boards are available to rent on the beach for an additional cost.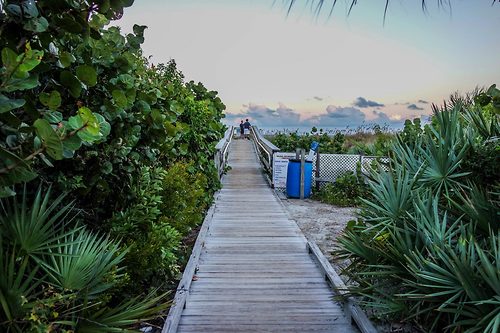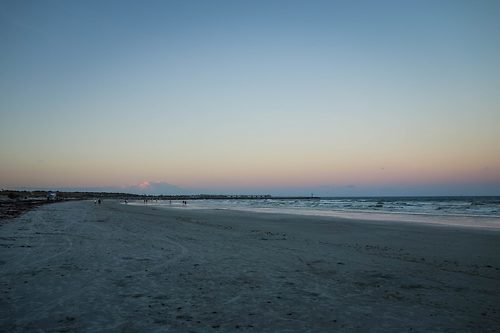 The biggest drawback to Holiday Inn Club Vacations Cape Canaveral Beach Resort is also its greatest benefit.  Since the resort is so close to the cruise port, there is really nothing you can walk to in terms of dining or entertainment.  A car or taxi is pretty much required if you want to venture off property.  In my opinion, that's not a terrible price to pay, but something you should be aware of before booking. Other hotels in Cocoa Beach are much closer together and there seems to be more opportunity to walk around in Cocoa Beach.  Since we had our own car, this was not a problem for us and Lyft/Uber/taxi rides are quite inexpensive and plentiful.
Overall, Holiday Inn Club Vacations Cape Canaveral Beach Resort is a great choice for families that want to tack on a pre- or post-cruise stay in resort accommodations. The pool area and other resort amenities are perfect for families.  The rooms are spacious and provide some great nice to haves.  The larger the family, the more compelling this resort can be to choose.
If you are coming just for the night before your cruise, staying here might be overkill (depending on price), but if you can get at least a full day to take advantage of the resort, then it can make a lot of sense.
Your thoughts
Have you stayed at Holiday Inn Club Vacations Cape Canaveral Beach Resort ? Are you a fan of it? What did you think of the suites? Is this a hotel you'd consider? Please share your thoughts or questions in the comments section below!