In:
If you ask anyone that is looking for a hotel before or after their cruise, they usually want a clean, safe and reasonably priced hotel. Getting all three of those requirements is no simple task, but I may have just found that with the Holiday Inn Express & Suites Miami Airport East.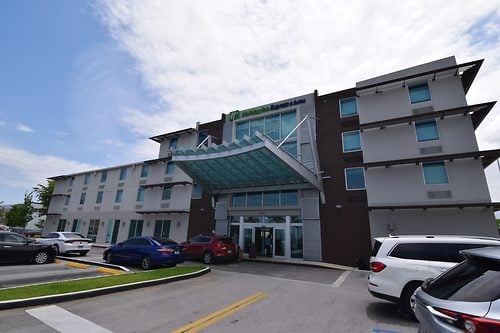 Prior to a recent Royal Caribbean cruise, I needed a hotel for two nights prior to my sailing.  I usually stay near downtown Miami, but I spotted a brand new hotel that seemed to offer a great value.  Plus, the Holiday Inn Express & Suites Miami Airport East is located right near Miami International Airport.  This means the drive from the airport to the hotel is a mere couple of minutes, and the drive to PorMiami is about 10-15 minutes.
The Holiday Inn Express & Suites Miami Airport East is one of Holiday Inn's new "Formula Blue" properties.  Formula Blue is meant to appeal to Holiday Inn Express's target guest—the "smart traveler."  The hotel is designed so that public space is wide open, so guests can immediately scan the area when they walk into the hotel and understand where everything is without having to ask for help. Another design element that supports the smart traveler is a headboard that minimize noise transfer between rooms, ensuring this busy demographic is able to get a restful night sleep.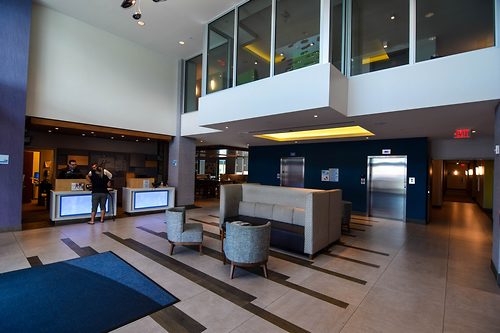 Walking into the lobby of the hotel, you can see exactly what Holiday Inn was planning, with an open lobby area that you can easily spot the elevators, kitchen area, seating and more.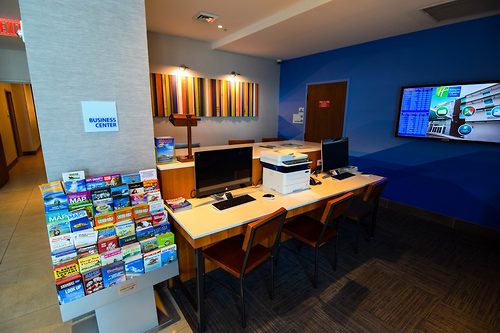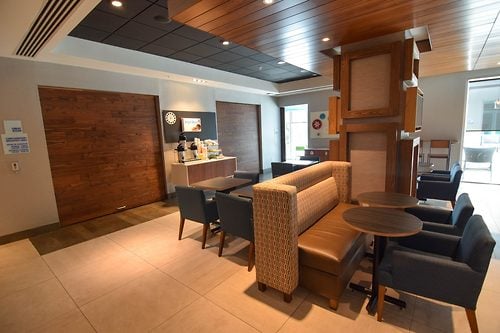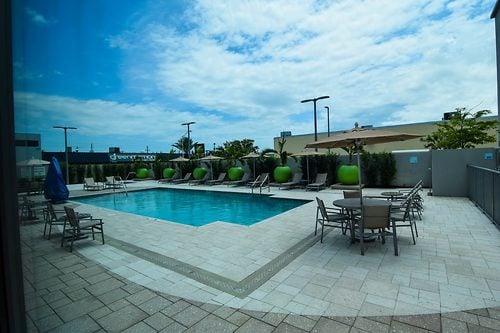 The hotel offers an outdoor pool, fitness center, continental breakfast each morning, and complimentary coffee throughout the day in the lobby.  The hotel does offer a shuttle service to PortMiami at regularly scheduled times for a price per person.  In my opinion, you are better off using a ride-share service like Lyft for value and convenience.
For my stay, I reserved a standard King-size bed for $80.75 for the first night, and $84.55 the second night.  That is an incredible price for a name-brand hotel.
Walking into my room, I found a very large amount of living space.  There was even a coffee nook, complete with Keurig machine available for my use.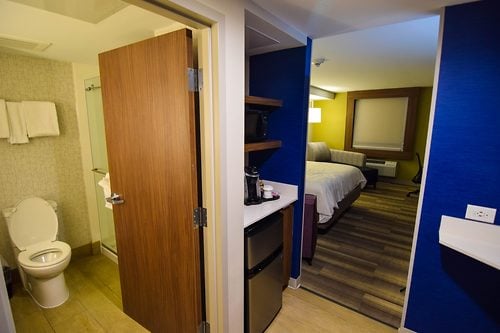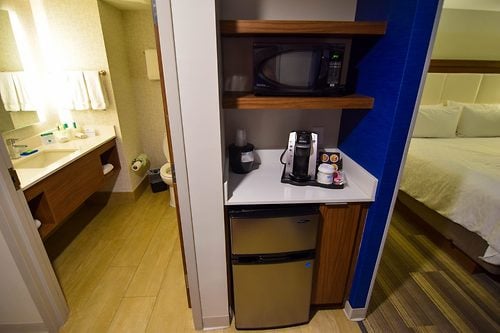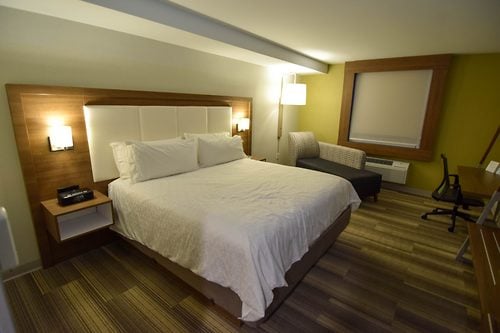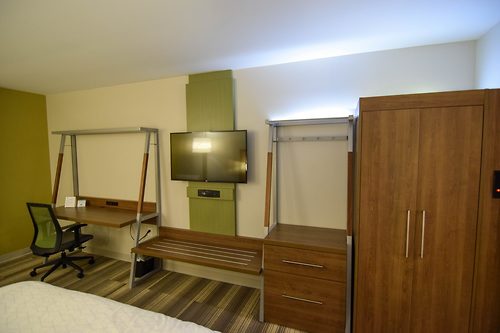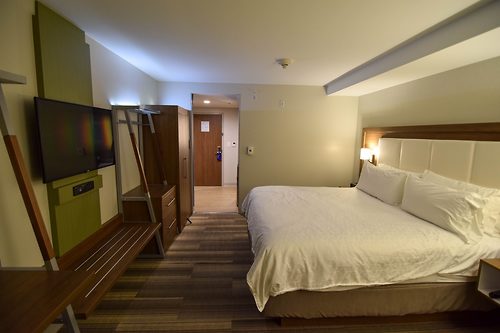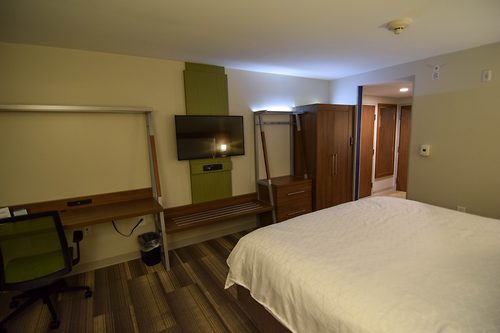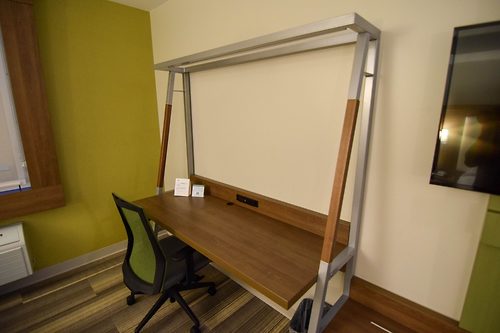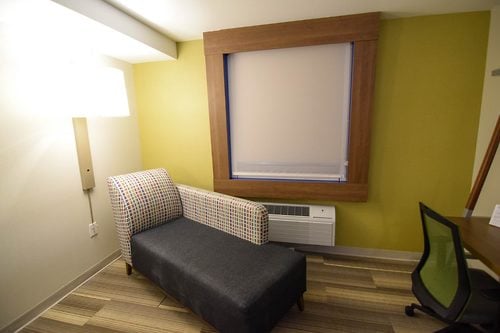 The bathroom is large as well, which means there is plenty of space for two people to get ready in the morning.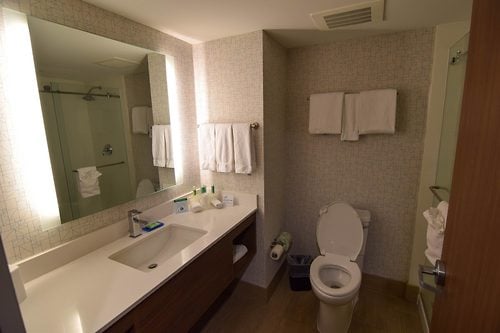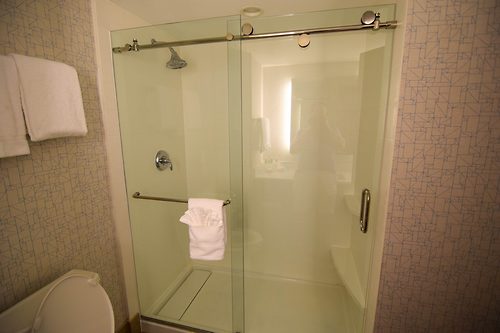 One thing I loved about this room is how many outlets there are around the room. In fact, there are USB outlets, in addition to electric outlets, on each side of the bed and at the desk. This is incredibly convenient.
Overall, the Holiday Inn Express & Suites Miami Airport East is exactly as advertised: a convenient hotel that is well-priced, clean and safe to stay in. The worst thing I can say about this hotel is that you cannot walk anywhere nearby for dining or entertainment.  You will be dependent on taxi or a rental car to get to the fun things to do in Miami.  Of course, a lot of people that want a pre-cruise hotel are only really looking for somewhere to spend the night, and you can always order delivery to the hotel.
What is truly compelling about this hotel was the price combined with the well-kept rooms and building. If you can snag a rate of less than $100 per night (or closer to my $80/night rate) then it becomes an absolute steal compared to paying one or two hundred dollars more per night to stay in downtown Miami.
Your thoughts
Have you stayed at Holiday Inn Express & Suites Miami Airport East? Is this a hotel you'd consider? Please share your thoughts or questions in the comments section below!