In:
In our ongoing search for great hotels to stay in before or after your Royal Caribbean cruise, we spent a couple nights at the Westgate Cocoa Beach Resort after noticing it offered amenities that directly appealed to (large) families.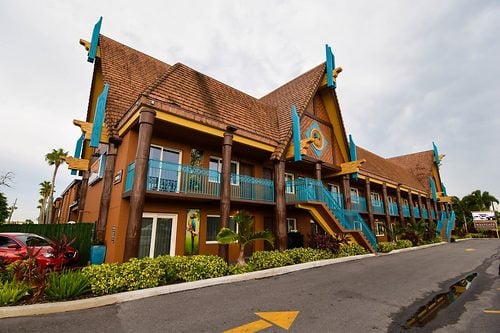 There is no shortage of hotels in the Port Canaveral area, but the Westgate Cocoa Beach Resort (previously Wakulla Suites) features luxurious two-bedroom suites along with a water park, situated within a short walk to the beach. Families looking for a pre- or post-cruise stay are sure to take notice, and it certainly caught my attention.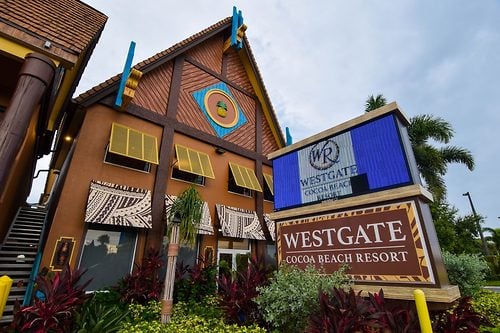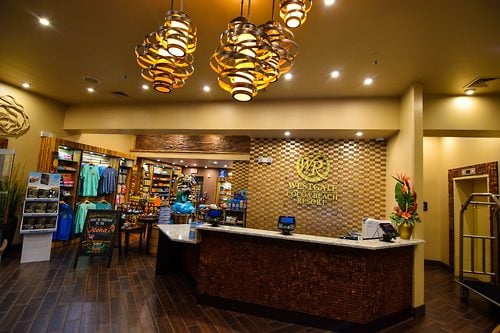 Renovated in 2018, this resort offers 120 two-bedroom villas in the heart of Cocoa Beach.  In addition to offering access to the beach, it stands out for its Polynesian theme and aqua park.
The true appeal of this resort is the aquatic experience, between its pool area, splash pad and lazy river features.
The pool is rather large and deep, maxing out at 7 and a half feet at its deepest point. There is also a splash pool for young children and a hot tub.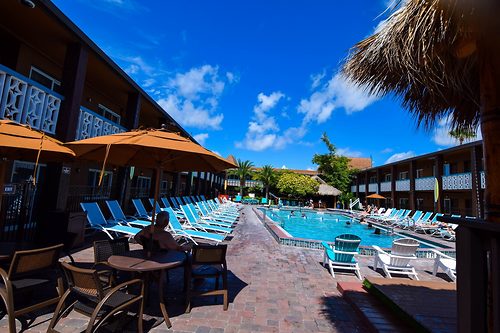 The Wakulla Falls Water Park (named after the resort's former name) features a large splash pad, and reminded us quite a bit of Splashaway Bay on Royal Caribbean ships. It has a large drench bucket, geysers, sprays, (very tame and small) water slides and pretty much any other way to hose yourself down.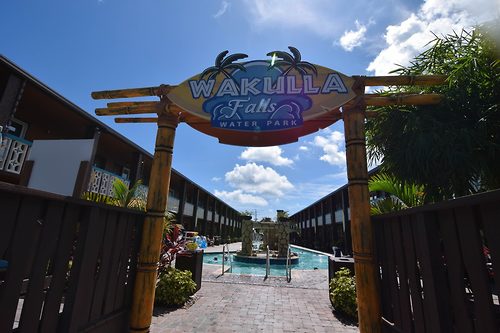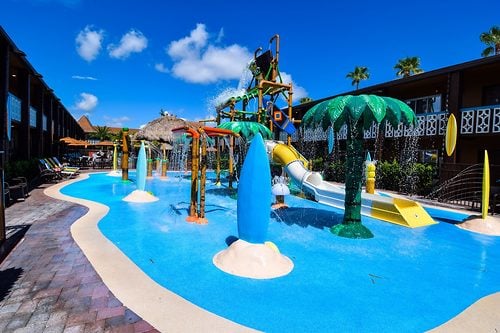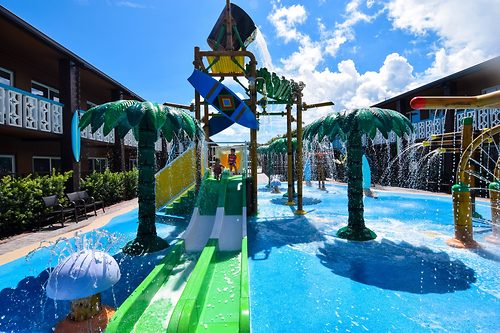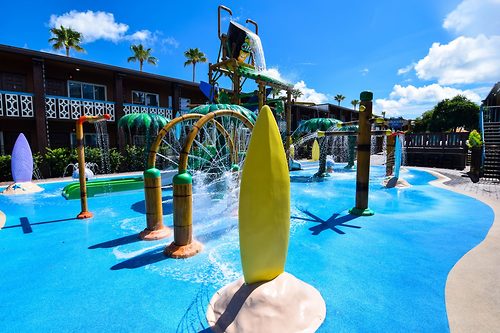 At the rear of the pool area is a lazy river complete with floats and a few ways to get wet along the way.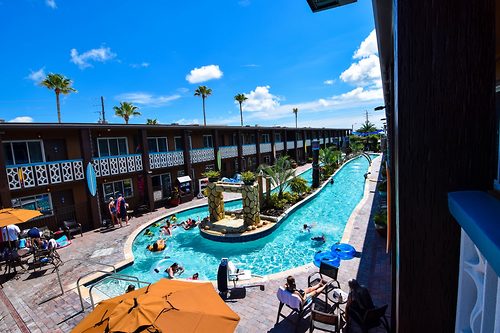 Both the lazy river and splash pad is included with your hotel admission.  The resort says each room qualifies up to six guests admission into the water park. Wristbands are distributed and requested to be worn, although during our stay no one checked if we had them on.
The pool area features a tiki bar, which serves drinks and food.
We booked a two-night stay at the Westgate Cocoa Beach Resort, and were greeted to one of the most well appointed hotel rooms I have stayed at that were not a villa or apartment. The 2018 renovation clearly resulted in upgraded furnishings that present a very contemporary feel.
The hotel is in a "U" shape, with all rooms facing the pool and aqua park areas. Even the most remote room is a very quick walk back to the lobby, so getting around is super simple.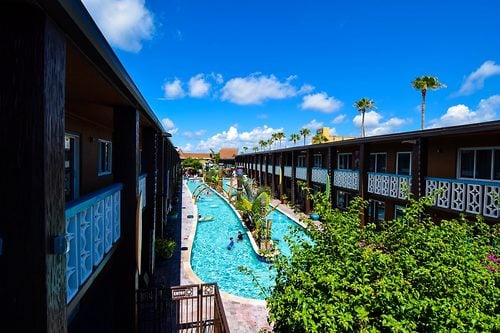 The two bedroom unit has a large living room, kitchen and dining nook, two bedrooms and two bathrooms. The room measures 812 sq feet of space. There are not laundry machines in the room, but there are self-service laundry machines in the resort.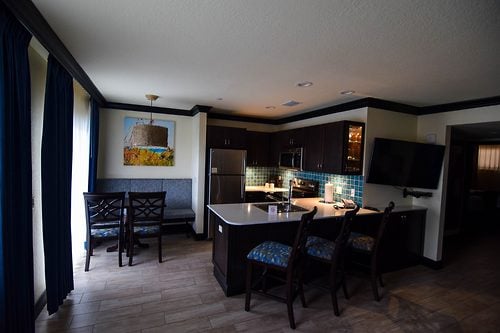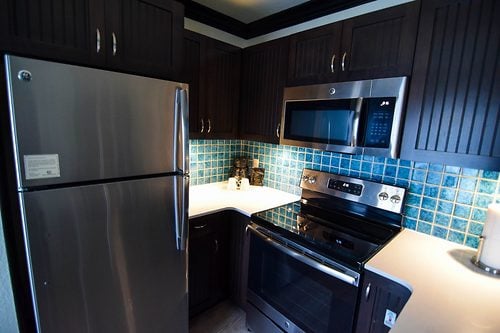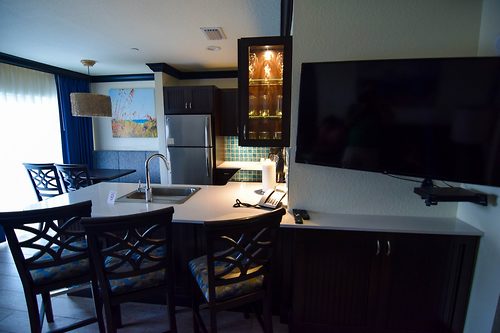 The master bedroom has a king size bed, along with master suite bathroom.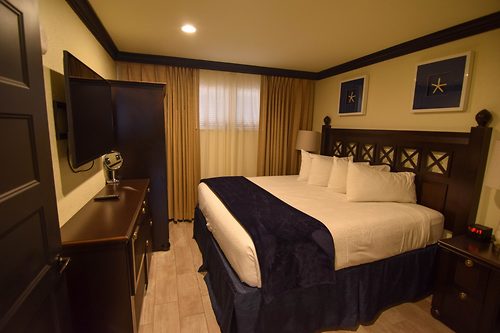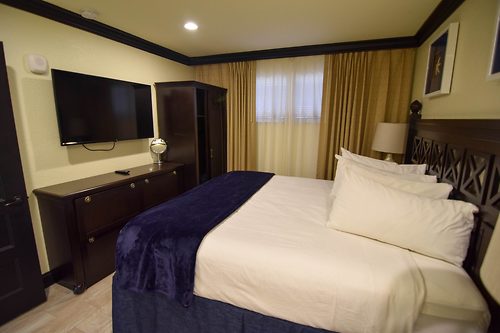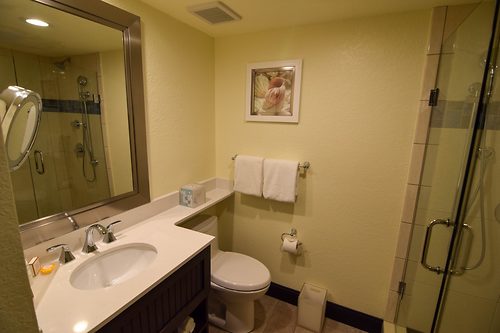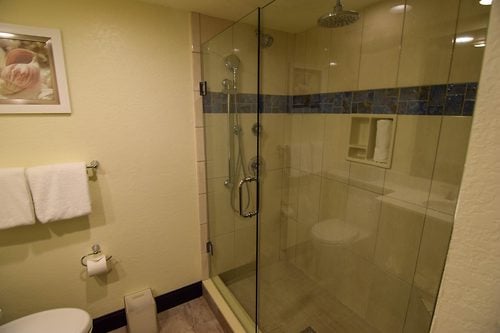 The shower features three(!) different shower heads: traditional, rain and hand-held.  You can only use one at a time, but there should be no issue satisfying the most ardent shower head aficionado.
The other bedroom has twin beds, along with a connecting bathroom.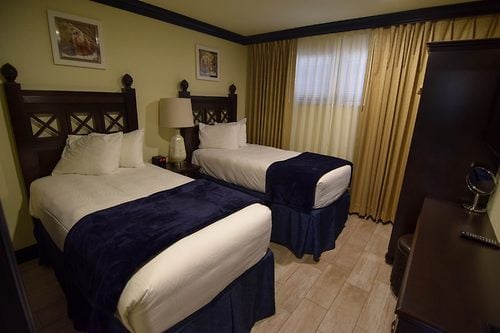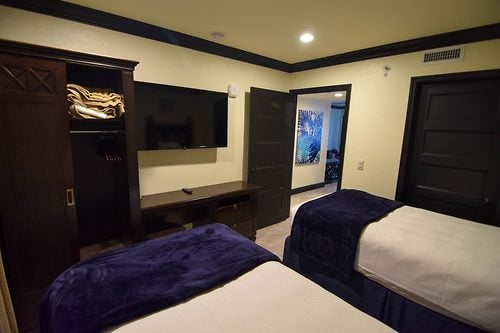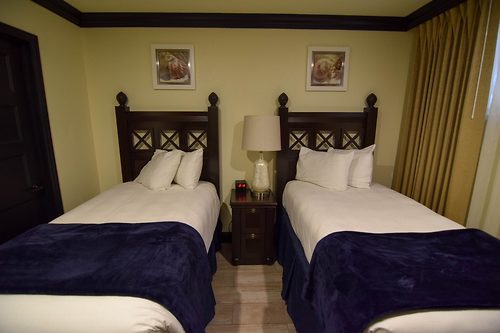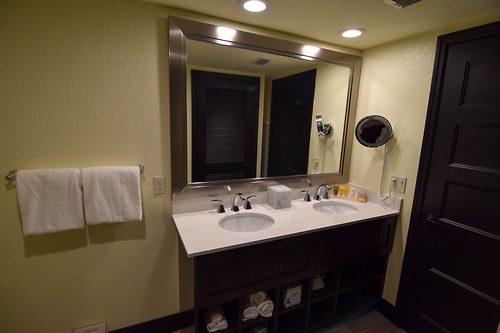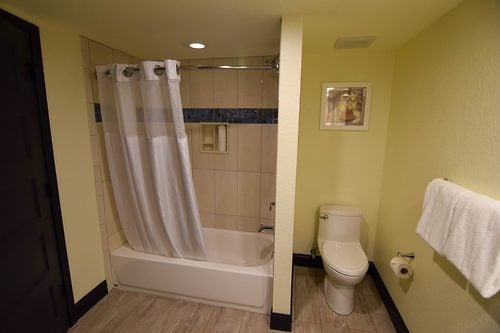 We enjoyed the large amount of space to sprawl out, and the fact each bedroom and the living room had a large television set meant there was not much competing for personal space.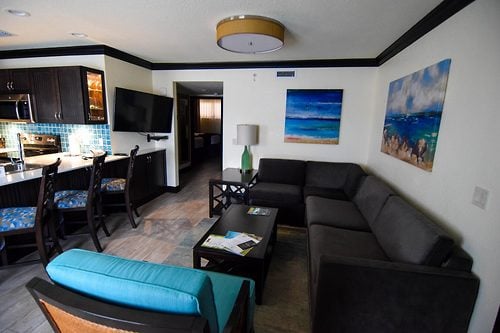 The resort does offer direct beach access, which is a very short walk to the beach from the hotel.  Umbrellas and chairs are available to rent upon request.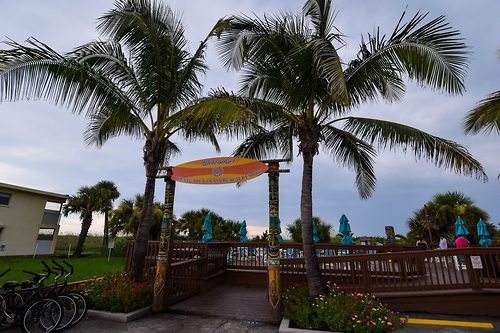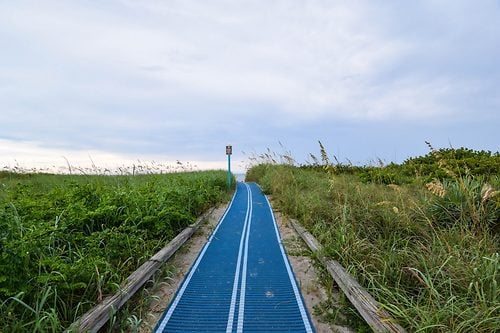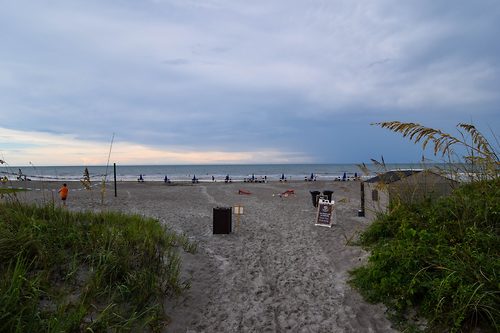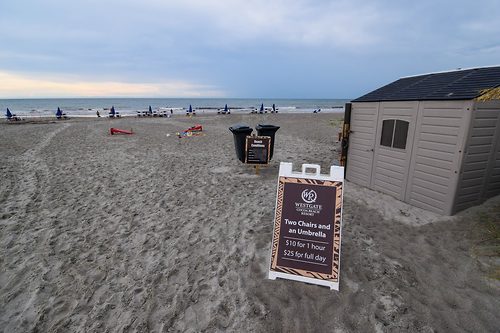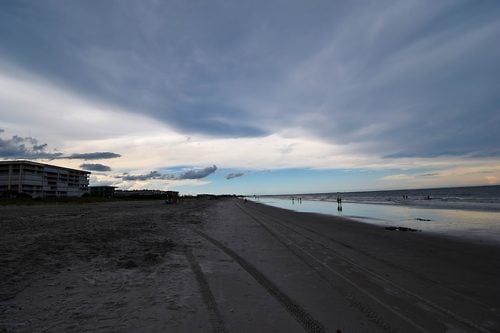 The hotel does not provide complimentary or for-pay shuttle service to the port, but there are a variety of third-party options, including ride sharing services.
Of course, we need to talk about price and a resort with these kind of ammenities and location will not be a bottom-barrel value by any means. We stayed two nights, Saturday and Sunday nights, with the rate being $519 and $309 each night respectively. Again, not cheap, but then again we did get a two-bedroom unit and one of the best pool/aqua park features near Port Canaveral, along with direct beach access. 
The best part about the Westgate Cocoa Beach Resort is the room, both in living space and looks, along with the pool and water park. 
The price is what gives me the greatest pause about recommending staying here, and you may find better prices during other times of the year. We picked a random weekend during summer, which is high season for Cocoa Beach. 
While the water park was nice, I believe the Holiday Inn Club Vacations Cape Canaveral Beach Resort offers a superior pool and aqua park, and we paid less on our last visit to stay there. Granted, the Westgate Cocoa Beach Resort Hotel is located much more centrally in Cocoa Beach, and it is very easy to walk to nearby attractions, restaruarants and more.
Just like the Holiday Inn Club Vacations resort, there is a low-pressure sales pitch to attend a timeshare presentation.  Regardless of whatever they offer you for the tour, do yourself a favor and skip this at all costs.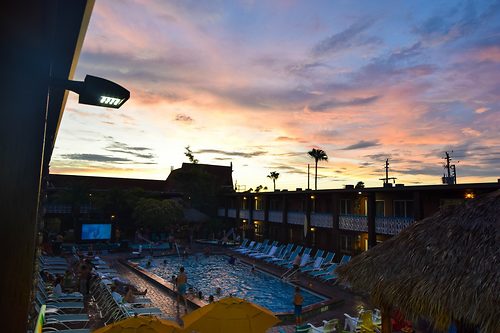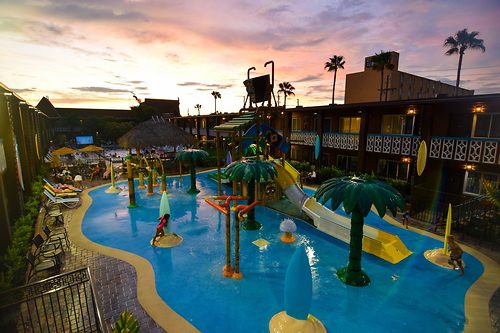 Overall, the room and pool area were up to our liking and it was a fun weekend in Cocoa Beach. The room update looks great, and the pool area was a focal point for my family during the weekend. While far from inexpensive, the Westgate Cocoa Beach Resort is a great choice if you are looking for a lot of living space in a hotel in the middle of Cocoa Beach that does not compromise on resort amenities.
Your thoughts
Have you stayed at the Westgate Cocoa Beach Resort? Are you a fan of it? Is this a hotel you'd consider? Please share your thoughts or questions in the comments section below!