In:
The InterContinental Miami Hotel is located in Downtown Miami, just across the bay from PortMiami and where Royal Caribbean sails its cruise ships.  This review covers our stay at the hotel, featuring room photos, thoughts on the InterContinental's amenities and our general thoughts for anyone considering staying here on their next pre or post-cruise visit.
The InterContinental is directly downtown and overlooks Biscayne Bay.  It is a 35-story tower on the eastern edge of downtown Miami, near Bayfront Park.  According to the hotel's website, it was built in 1982 by famed architect Pietro Belluschi and has 641 guest rooms. The hotel's exterior, porte cochere and lobby were redesigned by architect Thomas Roszak, of Lohan Anderson + Roszak in 2012.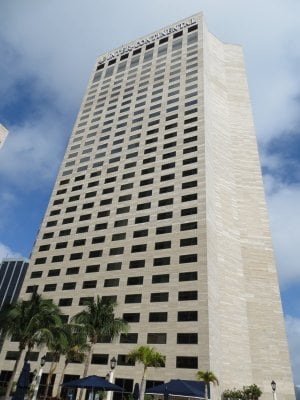 We selected the InterContinental primarily for its proximity to PortMiami.  You can not only see PortMiami quite well, but Royal Caribbean's corporate headquarters faces the hotel from across Biscayne Bay.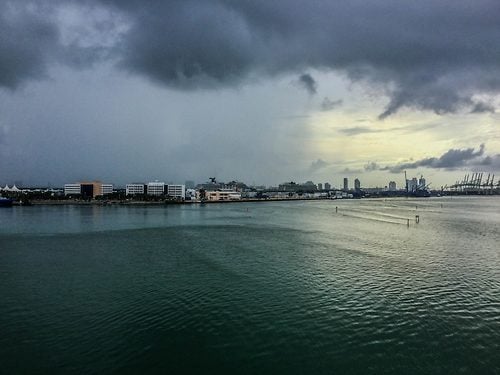 We also picked the InterContinental because it offered suites in addition to standard hotel rooms, which was important to us because it meant our two children could sleep in a seperate room from us.  Moreover, the suite included concierge lounge access for happy hour drinks each evening (5pm-7pm), as well as a complimentary breakfast set up in the morning from 7am to 11am.  We considered other hotels too, but either the price was higher, location further away, or simply sold out.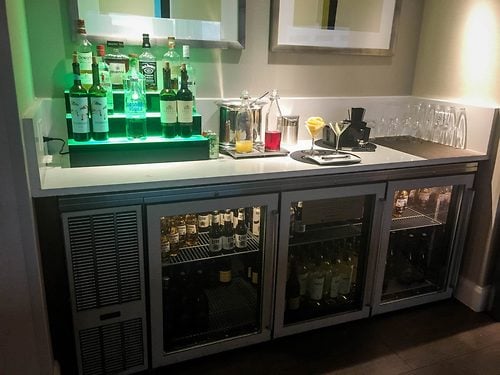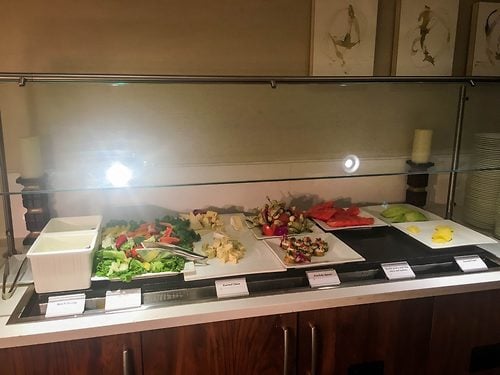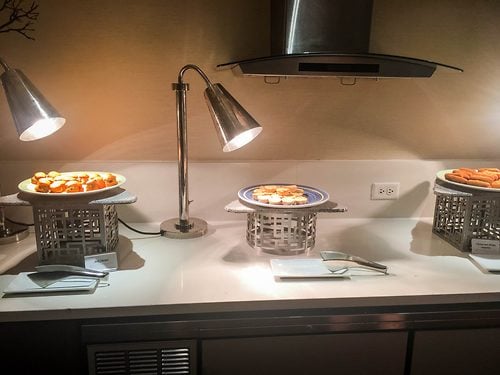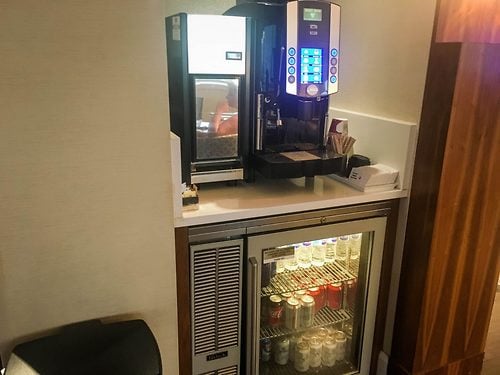 We drove to the hotel from Central Florida, so getting to Miami was easy enough via the Florida Turnpike.  Once in Miami, you take the appropriate exit and drive into the city to the plaza that the InterContinental is located.  Like any major American city, once you are in the city, there are many intersections and streets to navigate. More than likely if you are flying into Miami or another nearby airport, you will be taking a taxi or ride sharing service to the hotel, which means navigating to the hotel is someone else's problem.
Overnight valet parking is available at the hotel, as well as street parking nearby.  We used the valet parking option for simplicty and the service was prompt and efficient. It cost about $38 for 24 hours, and that is about what valet parking at any hotel in a city costs in my experience.  
We booked a Club Intercontinental Suite 1 King room. With taxes and fees, it came out to $324.17 for a one night stay.  Not the cheapest hotel we have ever stayed at, but it did include concierge lounge and most importantly, provided us with two sleeping areas.  All suites include high-speed Wi-Fi, Health & Spa Access, and Club Lounge Access.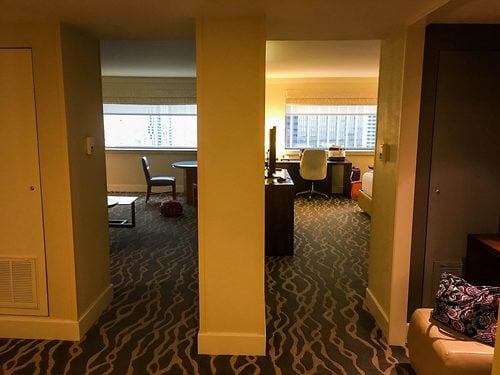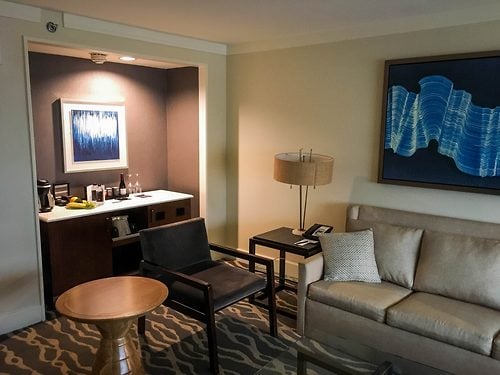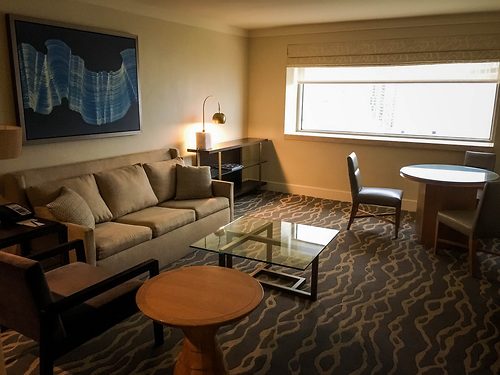 Speaking of the room, the room was massive. It features a living area with pullout Queen sofa bed, as well as a bedroom and 1.5 bathrooms.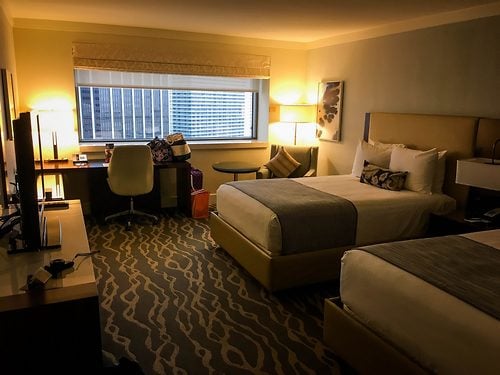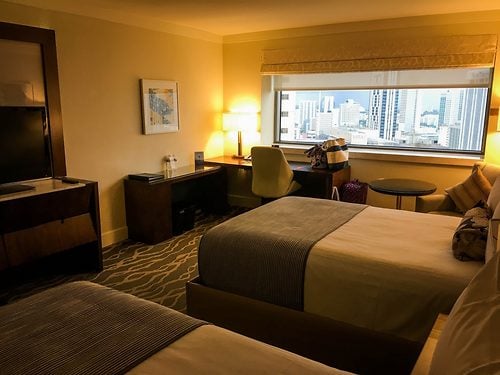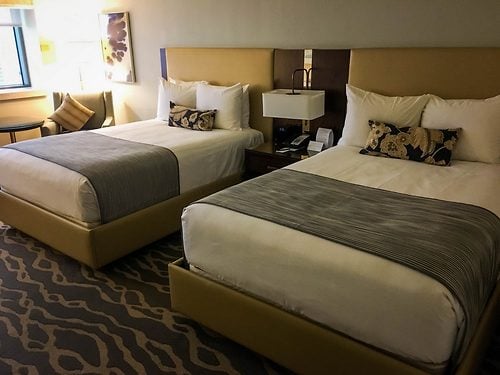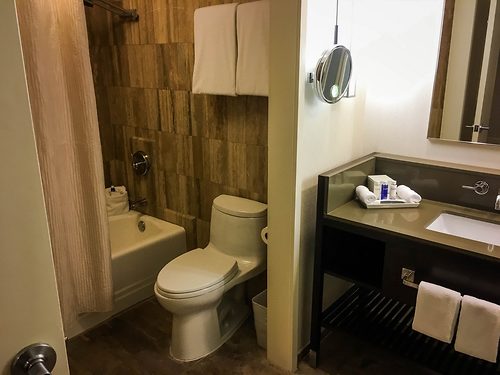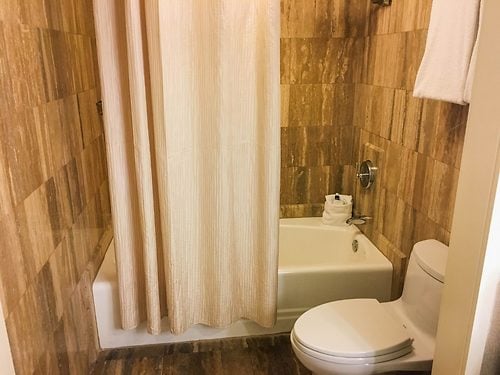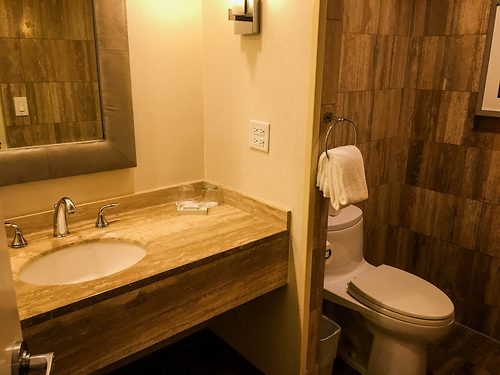 Depending on your room location, you will either have a view of Biscayne Bay or downtown Miami.  My kids loved watching the bustle of the city from our 31st floor vantage point.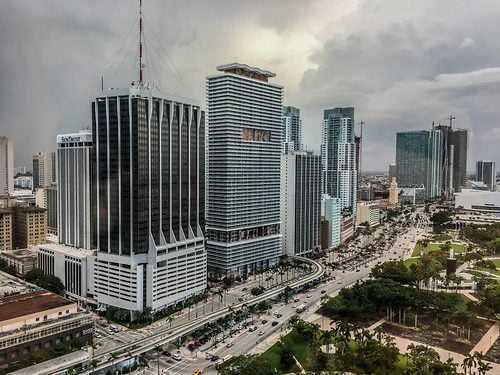 Each room had a flatscreen television, which meant the kids could watch whatever weird shows they were into and I could watch something that would result in my feeling less inclined to claw out my own eyes.
The room was immaculate and we had no concerns about anything there.  Being a building built well over 30 years ago, you can tell the building is older, especially if you have stayed at the current generation of suite hotels around the country.  However, the hotel is well-maintained and showing no signs of its age. I felt like the age of the hotel meant that we got more square footage for the room compared to hotel suites I often find in hotels built much more recently.  
The InterContinental has a large pool area with ample seating all round.  In fact, the sheer amount of seating is quite impressive.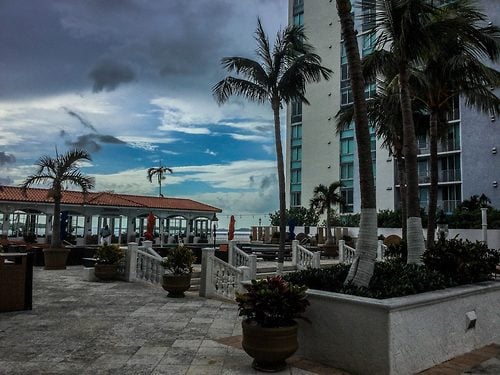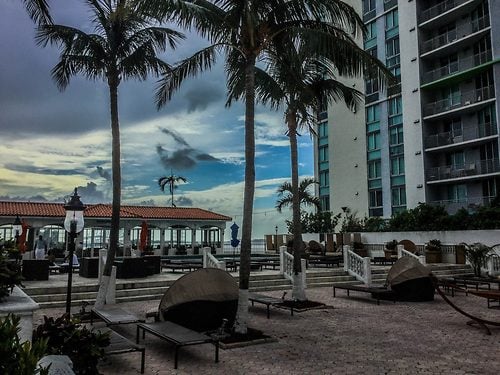 The only complaint you could make about the pool is that being in South Florida, passing thunderstorms and rain showers are quite common and there is little to no cover when one rolls past. 
In the morning, breakfast is served in the concierge lounge from 7am to 11am.  In the grand scheme of complimentary hotel breakfasts, this was pretty darn good.  The selection of hot food, cereals, breads and fruit was wide enough to satisfy our family.  In fact, I was impressed by how much was offered.
Overall, we really enjoyed our stay at the InterContinental Miami since it provided the sleeping arrangements we wanted along with some nice extras in the form of concierge lounge. The location of the hotel and its proximity to PortMiami make it a fabulous hotel for before or after your cruise, especially if you enjoy watching the cruise ships leave.
I felt like the InterContinental is a safe bet for somewhere reliably upscale and well-maintained to stay in downtown Miami.  I might have been able to get another suite hotel for slightly less per night, or I could have compromised on the location of the hotel or certain amenities included.  Part of the appeal of the InterContinental it being a solid choice for somewhere to stay.
Your thoughts
Have you stayed at the InterContinental Miami? What did you think of the experience? Is this a hotel at which you would consider staying? Any questions we can help you answer? Hearing feedback about your experiences is both interesting to us and helpful to other readers, so please share your thoughts below in the comments!