In:
Royal Caribbean has quietly added Brilliance of the Seas as one of the ships in the fleet to be able to use the cruise line's new smart phone app.
While the app has not been updated, the list of supported ships in the app does now list Brilliance and we were able to pull up an upcoming Brilliance of the Seas sailing for use in the app.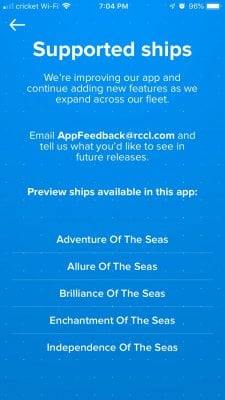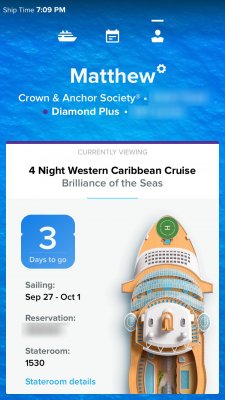 Royal Caribbean has been expanding the apps to include more ships recently, with Independence of the Seas, Adventure of the Seas and Mariner of the Seas all added recently.  Moreover, Allure of the Seas is currently testing a new chat feature.  
There are currently nine ships supported by the new smart phone app, with each ship offering varying feature sets.  These include:
Adventure of the Seas
Allure of the Seas
Brilliance of the Seas
Enchantment of the Seas
Independence of the Seas
Mariner of the Seas
Oasis of the Seas
Serenade of the Seas
Symphony of the Seas
The new app is being actively developed, which means not all features area available on the app yet.  Moreover, the cruise line is slowly rolling out support for more ships.
The app is available on the iTunes App Store and Google Play Store.