In:
Please welcome Kathy Constantine as our guest blogger today! She took a previous blog post we did and is providing her own look at the total cost of a Royal Caribbean cruise.
Inspired by Matt's post sharing the cost of his sailing on the Brilliance earlier this year, I thought we would share with everyone the cost of sailing with four adults on a seven night cruise onboard Royal Caribbean's Adventure of the Seas.
Cruise Cost Summary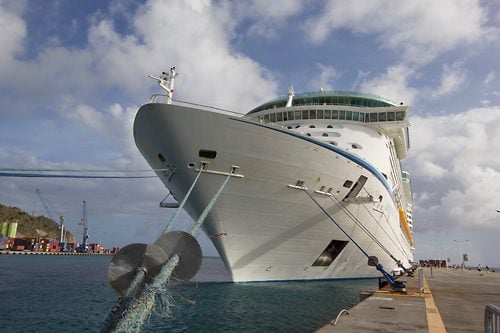 Adventure of the Seas May 18, 2018
Cruise length: 7 nights
Stateroom category: J3 Junior Suite 
Passengers: 4 adults
The travelers:  Myself, my husband, and our two college-aged sons.  My in-laws also joined us on the cruise. 
Cruise fare total (including pre-paid gratuities): $4282.88
Pre-cruise purchases:  $450 (bungalow, BCH dep, arcade, Voom, coffee card) 
Onboard spending: $390 (Izumi, drinks, clothes, pictures)
Cash spending onshore: $300 (BCH final, Grills)
Cash spending onboard: $110 (slot pull & additional gratuities)
Miscellaneous at port: $150 (parking & porter gratuities)
GRAND TOTAL: $5682.88
How did we spend that much? Outside of accommodations, we feel like really did not spend much at all.
Stateroom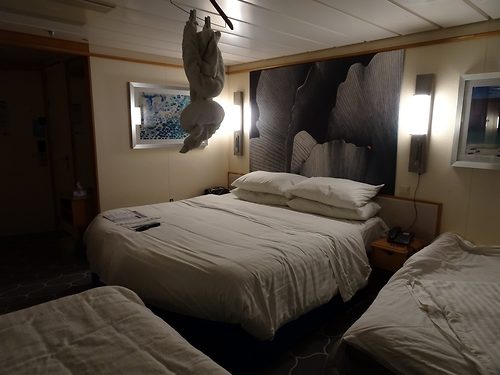 Junior suite: worth it or not?  We originally had booked two connecting panoramic ocean view rooms for the four of us but on a whim decided to have our travel agent price a Junior Suite instead.  For approximately $100 less, we got to try out the bigger room and gained a coffee maker & kettle, big closet, and a bathtub. Oh, and double Crown & Anchor points.  All good, except did not love the bathroom. 
Prior to the cruise, our travel agent tried to request a cot but apparently our room category does not have room for one.  We asked onboard, and our stateroom attendant was happy to oblige.  There was more than enough room.  Only disadvantage was that the chairs from the seating area blocked the balcony door, and we have to wiggle them around to get out at night.
Onboard Expenses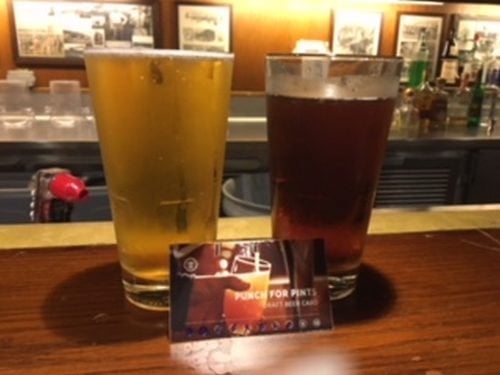 Adult beverages: We wanted to see exactly how much we would spend on drinks without a drink package to gauge its worth to us.  We drank freely, ordering what we wanted when we wanted it, and quickly realized that a drink package was not a good fit for us as we could not justify the cost over seven days.
We waited patiently for a drink card to appear, and on day 3, the draft beer for $57.82 (including gratuity) showed up on one of the ad boards.  We grabbed one.  We did learn afterwards to ask what was on draft before purchasing, as there was only three options at the pub and two options in the Schooner Bar. While each option was tasty, we got tired of those choices by the time we reached the final punches. 
The full drink card did not appear until day 7 so at that point was not worth it.  Since we did not have a drink package, we also brought on two bottles of wine.  Looking at our statement, we spent about $67 on drinks, plus an additional $6 for the boys BOGO milkshakes.  
Prior to the cruise, we purchased a coffee card.  My family enjoys our Starbucks, and since Adventure has premium coffees available at Cafe Promenade on board, we decided to pick up this shareable item before the cruise. 
For the low price of $31 (plus gratuities) = $36.58 you get 15 punches on the card.  On this sailing (as it seems to vary by ship) you got one punch for a tall or grande, and two for a venti. Frozen drinks were two punches.  
Between three of us, we had a hard time using all 15 punches. Not sure we'd purchase again on a seven night sailing.
Sushi making class: $35 pp plus gratuity times three people = $123.90
My husband, Tony, participated in this class on Harmony of the Seas and loved it, so he wanted to do it again with our boys. The amount of sushi you get for the money is amazing, and none of them could eat it all.  In fact, the staff at Izumi encourage you to have family members join you afterwards to help eat.  My mother-in-law happily obliged and even with a fourth person they each left rolls on their plates. 
Arcade: $40 
Those two college-aged boys I mentioned earlier?  They each asked for arcade credit as you cannot be separated from video games.  In advance, I paid $20 each and they received $25 arcade credit.  They were not at all thrilled with the options and many of the games were never working.  There is also no way to know how much of your pre-paid credit you have used, without keeping a mental tally. It does not show up anywhere.  
Voom: 2 device Surf & Stream package = $186.06
Since I would be Periscoping during our voyage, and my college boys needed to keep in contact with the girlfriend and friends at home, a minimum of a two device package was required.  We purchased the Twangster-recommended travel router for the cabin but I did not include it in my costs, as it is for all cruising and not specific to this one.  Voom was very cooperative most of the trip, only a few times the connection was too poor to periscope, but we could easily get online. 
Slot pull: $60 in, $32 back out.  
Our Meet & Mingle group organized a slot pull.  Since my boys are legal to gamble on the ship (and not here in NJ) they wanted to participate too.  $15 each was the buy in, and we all got $8 back.  
The only other onboard purchases were a shirt each, Tony bought a hat, and family photos. $65
Shore Excursions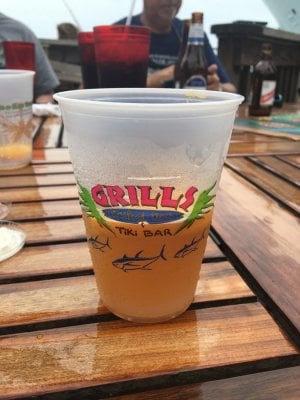 We had three stops on this sailing. Port Canaveral, CocoCay & Nassau.
In Port Canaveral, we met up with fellow Periscopers for drinks & apps at Grills. $53 for the four of us, drinks & food.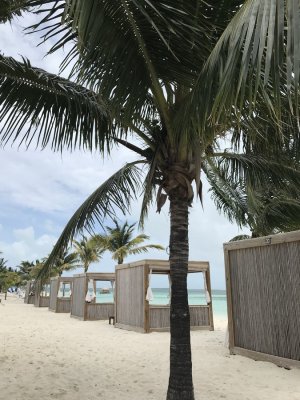 CocoCay was our next stop.  Since there was six of us, we rented a bungalow.  We secured a great price during a Cruise Planner sale of $209.  Includes four bottles of Evian water, two floating mats, transportation all around the island (they are a bit far from the main area) and towels so you don't have to lug them off the ship. Also included is food brought to your bungalow so you don't have to go to the main BBQ area.  Well worth the price for six.  
We had reserved ahead of time jet skis for our boys, but it was too windy so that got canceled.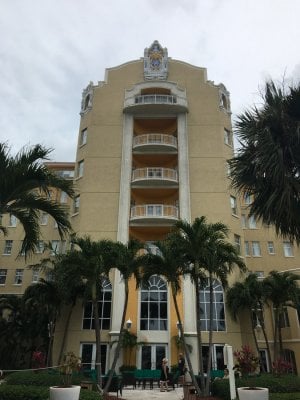 In Nassau, we made reservations for day passes at the British Colonial Hilton.  Based on recommendations from Matt & other cruisers we booked ahead of time using resortforaday.com, which offers discounted passes.  You pay a small deposit per person when booking, then the remainder by credit card when you arrive.  Our deposit was $17 per person then $62 per person upon arrival for a total of $79 each = $316. You got a $40 food & beverage credit as part of that, and we left about $4 on our account.
That's about it.  Parking for the week was $140, and we gave the porter $10 tip on arrival for a grand total of $150 miscellaneous.  
So overall, we spent about $1,400 per person all-inclusive for a 7 night vacation.  When thinking back about how much food alone my own two boys consumed during that time...we got our money's worth!  After putting this together I went back to compare what we spent to what Matt & his wife spent on their, four night cruise, and it looks about comparable.  $400 more per person for three extra nights.