In:
Today was our second port stop and the reason many of us booked this sailing, Havana, Cuba.
We were scheduled to arrive from 8am-8pm and they encouraged the guest to watch us sail in port from the top deck. They had a table set-up with coffee and water so you could relax and take in our first views of Cuba. I'll be honest; it was one of those moments that are hard to explain in words. There were around 100 guests up watching us arrive, everyone taking photos and video, really a magical experience. It's a must if you are cruising to Cuba. So plan on an early night the night before and make sure you are up there no later than 7am.
The night before, you will receive a letter in the cabin explaining where you need to meet, based on the excursion you book. They do this to help with the traffic flow trying to exit into Havana.
Since we had no excursion booked directly through Royal Caribbean, they let us leave at 7:50am or 11am. We met at the schooner bar, and walked right off in less than a minute. They really have this process down to reduce the lines backing up.
Havana, Cuba - Terminal
First you walk through their customs, they had 10 agents working and this took 3-5 minutes. You must have the Cuba Visa completed prior to this step and if you make an error filling it out, that's another $75, so read everything first prior to putting an ink pen on it. They stamped my United States Passport and said, "Welcome to Havana, we are glad you are here, & enjoy your day!"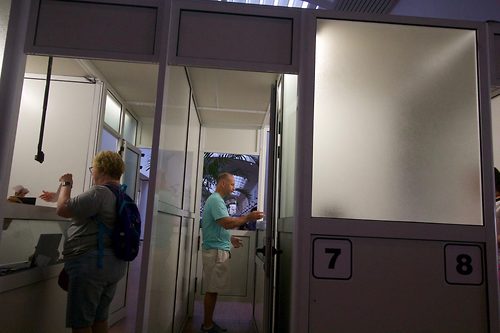 The next step was going through Cuba security checkpoint. Just like any scanning process, put items on the belt and you good to go. They are checking for weapons, as owning a gun in Cuba is not allowed.
The final step in the terminal was the money exchange. I was surprised to see no line for this, but they had about 10 windows open. I exchanged $200 US dollars for $174 Cuc's. This is the Cuban convertible currency for travelers to use while in port. The exchange rate is .87Cuc to 1USD. Feel free to get more than you need, because when you come back you can simply transfer any funds back to US dollars.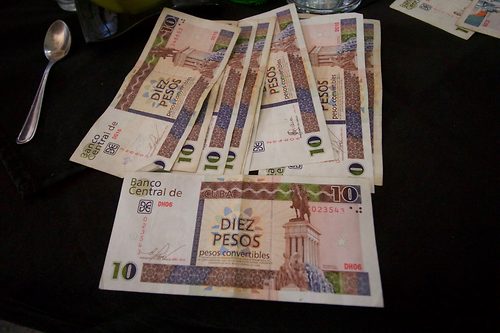 Day in Cuba
My friend Nick used a private tour guide here before so we booked him again. I really feel like this is the best option to dive more into Havana. The cost was $120 CUC's and that covered 2 hours walking into town, followed by 5 hours of car access to travel around with a driver. We tipped the driver and tour guide for a total cost of $160 Cuc's (which was split 3 ways). For this cost you simply can't beat it and really the only way to see non-tourist parts.
First, we walked through town and it felt like Old San Juan to me. Very old historic buildings everywhere and built very close together. But remember the Government owns these, so they have been well taken care of.
We continued to walk, and started getting into streets where citizens live. This was very eye opening to see, no A/C, wires running all over their house, and some homes falling apart. We walked into one of the homes to look around and it was in very poor condition.
At this point we met our driver to head over to Ernest Hemingway's house. I don't think I've ever been so happy to have air-conditioning! The drive here was 15-20 minutes, but once we arrived we noticed they were closed for repairs. Now we had to come up with a new plan.
We had heard of an old bar in the fishing village that Ernest Hemingway would visit. This drive was 20-25 minutes out that required us to get on their highway.
We noticed people walking up and down the highways, trying to get from point A to point B. In Cuba, the government "helps the people", so they will often stop and give people rides. Remember owning a car here is almost unheard of for 95% of the citizens.
Okay back to the bar, it was called La Terraza in Cojimar – fishing village. They had Hemingway's table roped off where he would always sit. It was also right on the ocean, so we enjoyed some really nice views while enjoying a few local beers. The cost of a beer was $1.5 Cuc's, so a little under $2USD.
After a few beers we were ready for lunch, as it was after 1pm. Our tour guide recommend this place that was downtown Havana in someone's home. It was considered very "upscale" for locals. The cost is $18Cuc's to dine here, which is almost what locals make in a month. This is another perk of using a private tour guide, because we would have never found a place like this down in a residential area.
The name was "La Casa Restaurant" I highly recommend this place. It comes with a welcome drink (you pick), starter, main course, desert, and coffee for $18Cuc's. I had a chicken soup for starter, chicken with rice and black beans for my main course. Really authentic meal, once we were finished our waiter set a bottle of rum on the table and said enjoy some our rum on me. In Cuba they usually sip on some rum after their meal, so we just helped ourselves.
After lunch, we headed into some shops to pick up rum and cigars. I couldn't believe how cheap their rum was. They had some starting at 3 CUC's and the famous Havana Club rum was 6Cuc's. I picked up a variety of bottles to take home to enjoy. They do let you carry them back to the cabin once on board, so feel free to sip right away!
Our final stop was where local's shop, it wasn't pretty. People were coming in just to buy rice or bread, because they couldn't afford to get both. I also saw their meat being sold that was just sitting on the counter, remember no A/C so just imagine the smell of this place.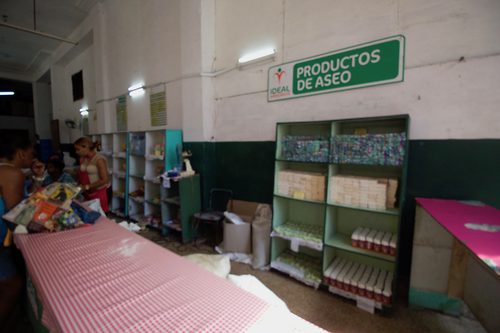 Recap of Havana
My day here was very enjoyable and I'm very happy I came to Cuba. I felt like we were able to see the good, bad, and ugly parts of the city. We did bring supplies with us to hand out, such as soap, toothbrushes, and toothpaste.
My recommendation is, if you bring items don't let them see the source where you pulled them out. Just grab the item out of your bag first, then walk over and hand it to them. We opened up our bag and people started flocking over to us, which was a little uncomfortable.
It was eye opening to think about the daily things we use at home, they are in great need of. Another thing that made me think about is we plan our vacations a year or more out and they are just focused on how am I getting food tonight. Its very much survival mode here, but everyone helps each other out. The government says they help their people, but could you live off 5 eggs, 1lb of rice, and a chicken for a whole month? That's what they get here, but since the hurricane they haven't received any of their eggs.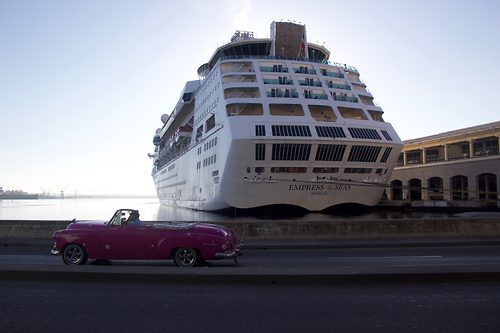 I would like to come back here for the overnight cruise and enjoy some nightlife in Havana. Surprisingly, they are offering guests on board to stay on for the next cruise at a discounted priced. For $299 per person (taxes included) they will put you in a junior suite for the 5 nights – overnight sailing to Havana. I wanted to do this so badly, but I already have Enchantment of the Seas booked for Friday the 13th.
Dinner tonight we dined in the main dining room. This was my first time eating in this dining room out of my 3 times on board Empress. I was really impressed with the food quality. I ordered the French onion soup and it was exactly like the one I used to order in Chops before it was removed from the menu. For the main course I had the prime rib and lobster. Our waiter just brought us two tails each to enjoy, I certainly didn't turn them away! We were using my time dining and arrived at 8:45pm so they were finishing up with the night.
I know I didn't cover everything, but I hope that gives you a good overview of my experience in Havana. Please feel free to comment below with any questions and I'll be sure to respond. Next up we have a sea day as we head back to Tampa, Florida.