In:
It's boarding day of my Empress of the Seas cruise to Cuba and Key West. In all my sailings, this morning was so different. I woke up very early and decided to go outside and watch Empress pull into the Port of Tampa. I hadn't packed anything until this morning, so I took care of that. But I was able to leave my home and walk to the port in 11 minutes. I think it's time I book more sailings out of my back yard.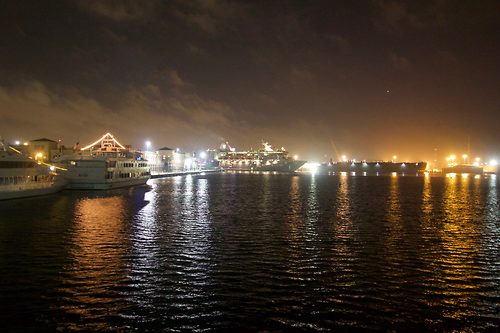 Boarding itself was very easy, I arrived at 10:45AM and they had just started letting passengers board. They do require you fill out a Cuba Visa form and health form prior to approaching the counter. This is the help reduce the amount of time you are actually with the agent. Once I was on board I just explored the ship, and skipped my day 1 lunch at the Windjammer. I was started to get hot, so I thought why not just go for a swim. I carried my swim gear in my carry on bag and changed in a public restroom, since cabins didn't open up until 1pm.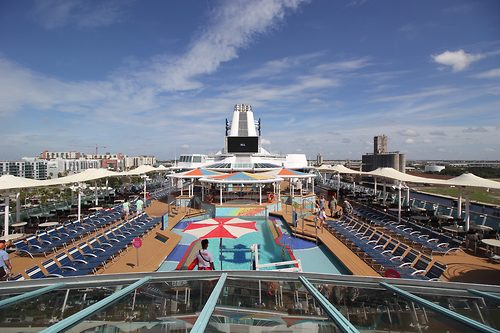 Right at 1pm they made an announcement that our cabins were open. Mine was on deck 4 – 4038. I had a standard ocean view cabin, which is fine for myself. When I arrived my luggage was already there. It was very nice to get settled in and unpacked.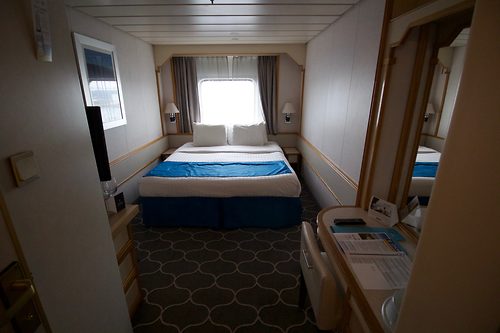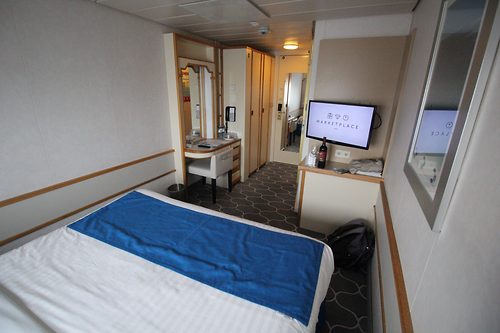 The muster drill was at 3:30pm; it was a simple process and didn't last too long. They do have you stand outside shoulder to shoulder, but it's not too hot in Florida right now. Right after the muster drill they have a private sail away party for those Diamond Plus, Pinnacle or in a suite. This is an added perk on Empress, since they don't have a diamond lounge. At the party they had cocktails and live music, but no food.
Since I have no drink package I made sure to use my 3 drink coupons at the schooner bar, while sitting there enjoy the ocean I saw the bridge! I jumped up and watched us sail under the Sunshine Skyway Bridge. Those of you wondering, it takes about two hours after sail away to reach this bridge.
Dinner tonight was in Chops Grills; this is the only specialty restaurant on board. They do have a small section in the corner of Chops for Chef's Table. Our reservations were at 8:30pm and it's $35 per person. From the start I could tell how enjoyable the experience was going to be. The service was outstanding; we never felt rush with ordering or enjoying our plates. For starters I had mushroom soup and a crab cake.
Main course was the 9oz filet and he brought out all the sides for us to share. Desert was a big hit, I've always wanted to try their ice cream Sunday. I absolutely loved it, and wanted to finish it all but didn't. Once our meal was over the chef came out to our table to see how our experience was and if we enjoyed the food. Followed by the headwaiter to check on our experience. These are the little touches that makes the smaller ships stand out. On Harmony two weeks ago at chops, it was so busy it almost felt rushed the entire time.
After dinner we hit the casino for some late night luck. If you enjoy playing in a smoke free casino then you will love Empress. The casino here is multi-level with openings; so they don't want smoke overflowing into sitting areas, thus make it smoke-free. While walking to bed they had a 70's party going on in the Centrum, but I didn't stop.
As I mentioned in my preview post, I didn't get the drink package for this cruise. I decided since we have 2 full port days, I'd carry wine on board and use the drink coupons. I only bought one beer yesterday (used my BOGO coupon from Crown & Anchor) so drink bill so far is $7.
Well that's a wrap on my day 1 live blog; tomorrow we are in Key West, Florida.