In:
Are you ready to purchase a Royal Caribbean unlimited drink package?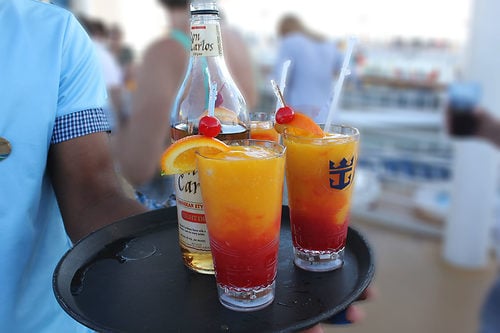 Many guests like the idea of locking in the price of their drinks onboard by getting an unlimited drink package so they have one less thing to worry about.  Here is how you can purchase a drink package for your Royal Caribbean cruise.
Online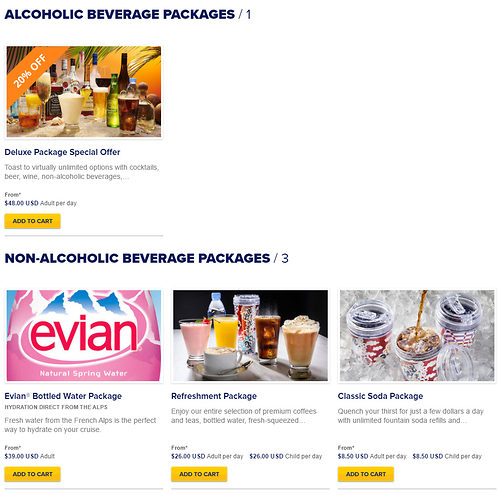 To pre-order any drink package online, go to Royal Caribbean's Cruise Planner and choose which drink packages you want to order.
In our experience, the drink packages are available for ordering online many months in advance of a cruise sailing date.  In fact, it is one of the first items available for purchase via the Cruise Planner.
Buying a Royal Caribbean drink package before your cruise begins offers two significant advantages: you can split up the total cost of the cruise vacation because the drink package cost will be charged at the time of purchase and it will be ready to be used once you board the ship.
For a seven night cruise, prices for an the Deluxe unlimited alcohol package will cost $454.30 (including gratuities) for the entire cruise. By opting to purchase an unlimited alcohol package in advance, guests can pay off the drink packages before the cruise even begins, which means less of a bill that will be incurred following the conclusion of a cruise.
Moreover, most sailings offer some sort of pre-purchase discount on the drink package, which can bring that cost down.  Pre-purchasing a drink package online is the most reliable way of saving money on a drink package purchase (compared to booking it onboard).
Phone
There is one more method of pre-purchasing an unlimited drink package and that is by phone.
Guests may call (800) 398-9819 in the U.S. or Canada to reserve drink packages for their cruise.
Onboard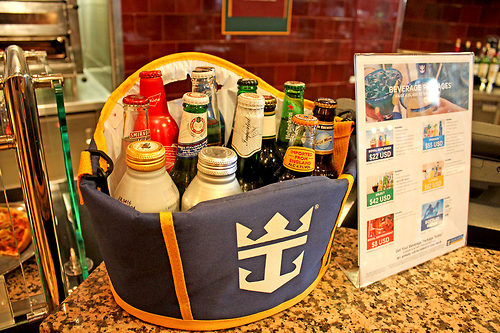 Another option is to wait and purchase the drink package onboard your Royal Caribbean cruise.
Drink packages can be purchased at various kiosks set up around the ship, as well as any bar or lounge.
There are a few advantages of buying a drink package onboard your ship. First, you can use onboard credit towards the purchase of a drink package.  Second, if you choose to purchase a drink package on a day other than embarkation day, Royal Caribbean will prorate the cost of the package for the remainder of the cruise.