Freedom of the Seas Live Blog Day Two - Sea Day
In:
Sea days are something I have come to love over the years because of the variety of activities available onboard.  In fact, Royal Caribbean ships really "come to life" on sea days because of the plethora of activities.
Being in an inside stateroom (Promenade view), there is no natural light, so when I woke up, I had no idea if it was 2am or 2pm.  My phone said it was 8:30am, which was a surprise because that meant my children actually slept in!  Shortly thereafter, the kids woke up and we got ourselves going for the day.
Breakfast was in the Windjammer and we took advantage of a private dining area just for Diamond and Diamond Plus guests in Giovanni's Table.  Honestly, I had no idea this was a perk, but it was nice having a quieter spot without to search for a seat.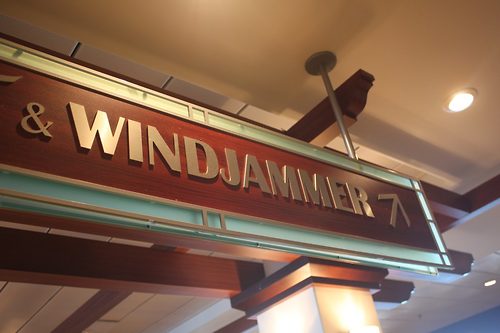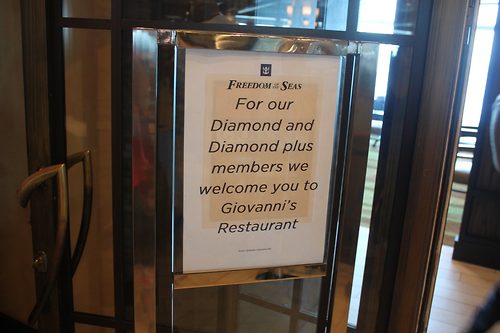 Naturally, I indulged in my favorite breakfast item in the Windjammer, by visiting the omelet station.  I noticed there were two omelet stations that face the aft of the ship, and even at 9amish, there was no big lines.
Following breakfast, I stopped by Cafe Promenade to grab a Starbucks beverage (thank you Ultimate Package) and then took my five year old to morning trivia in the Schooner Bar.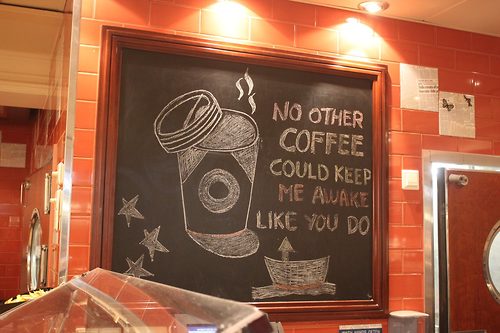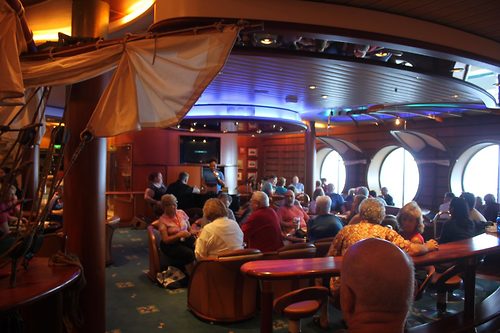 She did not want to go to Adventure Ocean, so I took her to trivia and this was her first time.  It was general trivia and she actually knew the answers to two questions that I had no clue about.  She knew how many hearts an Octopus has (3) and what ran away with the spoon in the nursery rhyme (plate).  
We lost, but it was still fun and she greatly enjoyed scoring the other team's answer sheet.
Next was our first meet of the day, which was the Key Master game in the Casino.  Basically, we tried to beat the Key Master machine and lost terribly.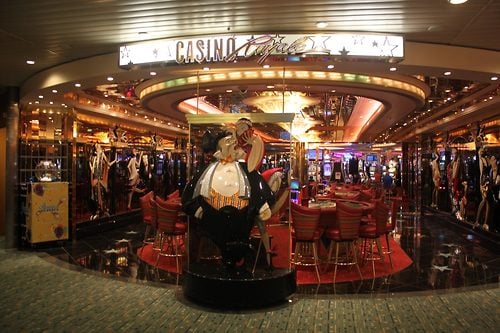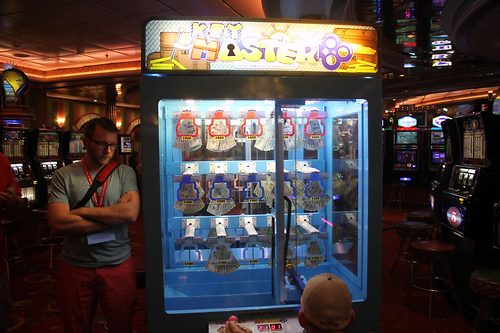 We also tried our hand at the cash crane and managed to see someone actually win (it was not the person pictured)!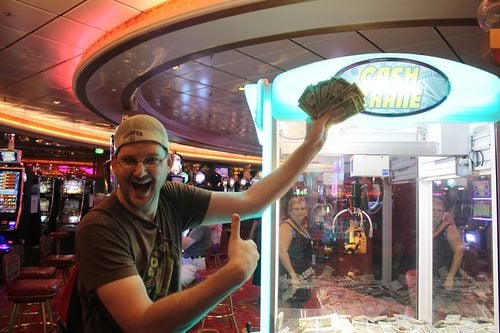 After losing enough cash in the casino, it was time for lunch at Sabor.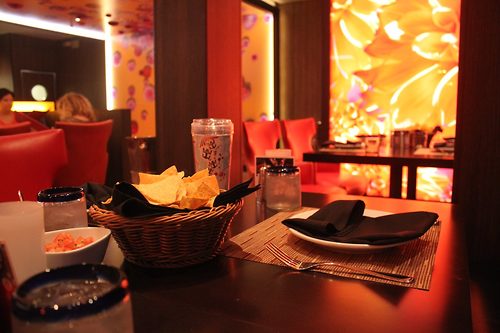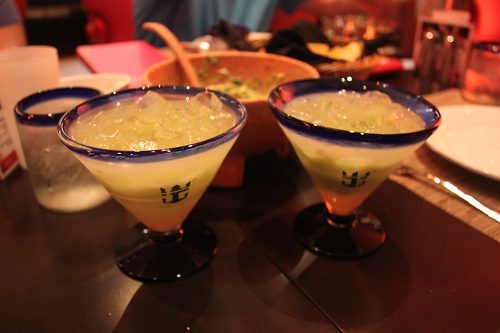 This Sabor meal was a thank you to everyone that booked into our group from our partners at MEI Travel.  We took over the back half of the restaurant and indulged in some of my favorite meals.
The guacamole, margaritas and basically everything there was as good as I remember and a grand time was had by all.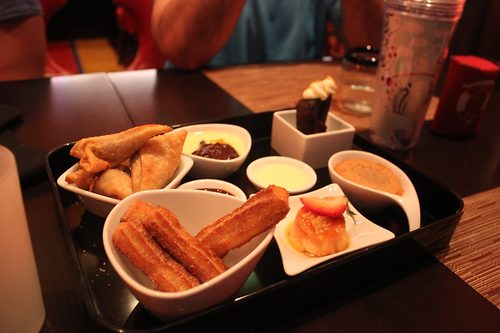 There was a bit of a discrepancy about which margaritas were included in the drink package, but in the end, we were able to use the drink package benefits for all the margaritas on the menu.  By far, the avocado margarita is my personal favorite.  I doubt this will be our last visit here on this cruise.
Following lunch, I walked around a bit and right to our next meet of the day, which was "The Most Civilized Bar Crawl" meet.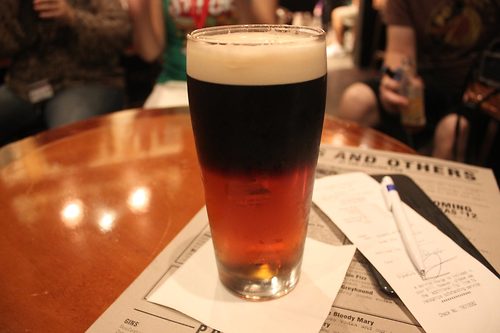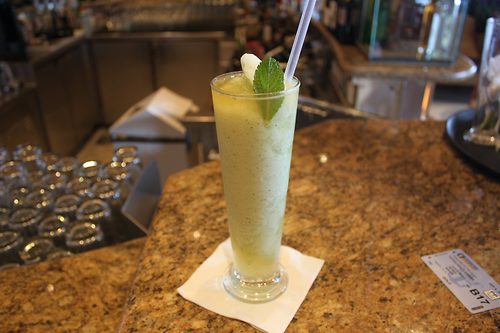 We visited the Pub, R-Bar, Boleros and the Schooner Bar.  
Great drinks, great friends and a great time! It was the perfect opportunity to talk about cruising, life and get to know everyone.
I then headed up to Adventure Ocean to grab my daughter (she ended up going to the afternoon session) and went for a swim in the pool with her.
She had a blast in the kids pool practicing her jumps and swimming and late afternoons are a great time because the pools in general are all less crowded.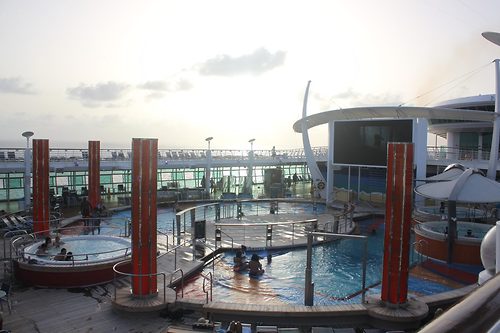 After the swim, it was time to head back to the room for showers and getting dressed. Tonight is our first formal night and we enjoy getting dressed up, just because outside of weddings and funerals, we never really have the opportunity.
My wife went with some of her friends to see the Broadway show, Marquee, in the Royal Theater and I was in charge of feeding the kids prior to dropping them off at Adventure Ocean. Feeding my kids these days means a stop at Sorrento's for some pizza.
After being fed, I brought the kids up to Adventure Ocean and then did what any sensible adult would do when left alone for about an hour: used my drink package benefits!  There was quite a crowd on the Royal Promenade because of it being formal night and plenty of people enjoying the festivities.
Dinner was back in the main dining room and another fun evening.  Great meal and service was great.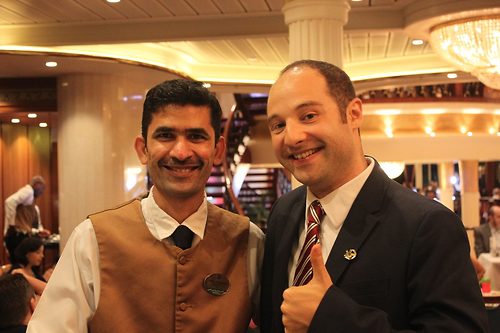 Tomorrow is our first port stop in Labadee and I am excited for another day in paradise!
Stray Observations
Best bar for a less crowded experience: Olive or Twist Bar
I have a working theory about getting reservations for the Nursery, but will wait for it to be verified before reporting about it. 
Friends of ours reported if you are in the market for individual packs of cigarettes, you can get them at pretty much any bar if you ask.
Drink Count
Sea days are a drink package guest's best friend, and managed to get 10 drinks plus one Starbucks coffee in today.  I am doing much better than I thought I would be doing, although I freely admit it is easier to get two drinks at a restaurant or bar, where if I was paying cash I might have just had one.