In:
Royal Caribbean's cruise ships are as beautiful to look as they are fun to cruise aboard, and the sheer beauty of these ships should not be overlooked by guests.  Royal Caribbean designed its cruise ships to be innovative, both in what they offer for guests to do, as well as design.  Where other cruise lines tend to base their ship designs on past patterns, Royal Caribbean has created its own tradition.
Given how recognizable Royal Caribbean ships are, this is the first in a series of blog posts to look at the beautiful designs that encompass a Royal Caribbean ship.  Hopefully this will provide insight into the design of these areas, as well as highlight the beautiful and creative designs that shape these magnificent ships.
A focal point of the cruise experience is dinner, and Royal Caribbean's Explorer of the Seas has perhaps one of the most striking dining rooms available in its main dining room. Today it is simply the Sapphire Dining Room, but for many years it had a different name that helps explain why its dining room looks the way that it does.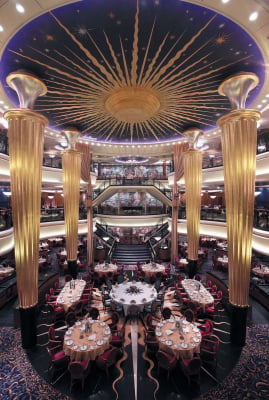 The stunning three-level formal dining room on Explorer of the Seas is linked by a grand staircase, dramatic fluted, gold-leaf columns, golden velvet curtains, and a domed ceiling with a gold sky burst rays. The Sapphire Dining Room features a gilded sunburst of gold and silver leaf that bathes the three-story dining room in a luxurious glow.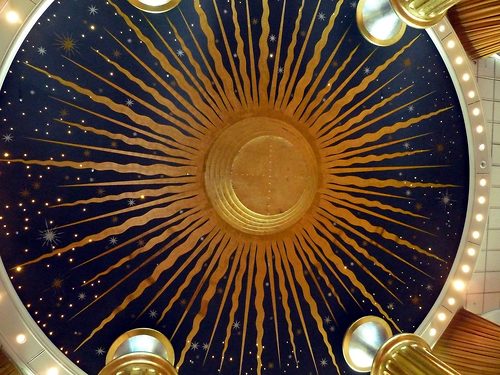 Lush carpets, classical music and white glove service all accentuate the terrific food served in here.
Prior to being renamed to the Sapphire Dining Room, each floor of the dining room bore the name of a famous explorer from history: Christopher Columbus, Ferdinand Magellan and Vasco de Gama.  A series of intricate mosaics adorne the walls (covering an area of 663 sq. ft.) of the dining rooms.  The murals, rendered in stone and glass mosaic, depict the constellations in the night skies present at the time of their global discoveries.