99 days of Harmony: AquaTheater shows
In:
Royal Caribbean's Harmony of the Seas is getting closer and closer to launching and we are counting down the days until she is here with a new blog post every day about this new ship.
AquaTheater Shows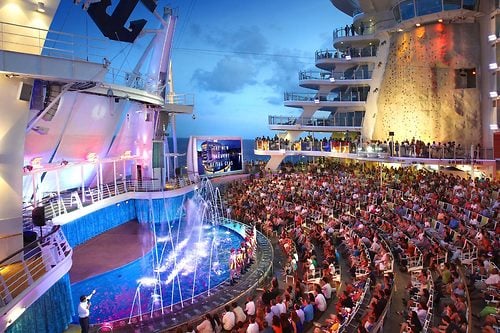 Harmony of the Seas will offer two shows in the AquaTheater, the distinct high diving, acrobatic performance space introduced by Royal Caribbean with the Oasis class of ships, that feature two 10-meter high platforms and the hydraulic-floored pool, the largest and deepest freshwater pool at sea, below will serve as podiums for high-diving, hair-raising aerobatics that AquaTheater audiences have come to love.
Both of these AquaTheater shows are brand new to Royal Caribbean and will follow in the tradition of offering some really fun and tantalizing entertainment.
The Fine Line
A journey from extreme to extraordinary, The Fine Line is the AquaTheater redefined with high-flying feats, mind blowing stunts and physically demanding acrobatics brought to life by the world's best extreme-sport athletes. Designed as a 360° immersive entertainment show, revelers will be wishing for eyes in the back of their head to take in all the action happening around them.
Hideaway Heist
A dive into hilarious escapades, guests will steal some laughs and experience amazing wows with Royal Caribbean's new comedy dive show, Hideaway Heist.
This action packed comedy aqua show jumps into the world of a swanky 1950's holiday resort where guys 'n' dolls take the audience on a frolicking escapade in, on and around the pool as an undercover detective, playing the part of a high-rolling vacationer, pursues a crafty burglar. Guests can expect plenty of family-friendly fun and awe-inspiring performance tricks as the staff of the Hideaway Resort solve the crime of a century.