In:
Royal Caribbean held a press conference earlier today at STX France shipyard to discuss Harmony of the Seas with members of the European press.
Present at the question and answer session were Royal Caribbean Senior Vice President, Hotel Operations Mark Tamis & STX France Responsable d'affaire, Jean Yves Pean.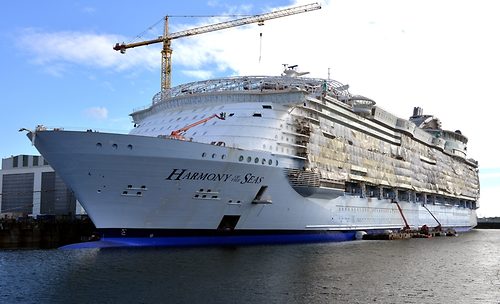 The event was hoted by Royal Caribbean Vice President of Entertainment Nick Weir and also featured a video segment with Royal Caribbean CEO Michael Bayley.
At the event, some tidbits and factoids were shared with those in attendance.
Harmony of the Seas cost is "somewhere north of a billion dollars"
Harmony of the Seas will be 20% more efficient than the other two Oasis class ships, thanks to improvements in hydronamic design, a new type of engine and product enhancements
Harmony of the Seas will be 33 centimeters longer than Allure of the Seas, making it the largest cruise ship in the world.
Some of the technology from the Quantum class ships Two70 space will be utilized in Studio B.
The AquaTheater will feature video projection mapping on the two "tusks".
There will also be an aerial element in the AquaTheater that involves "3D flying", where acrobats can be flown all around the AquaTheater.
Bionic Bar will replace Champagne Bar on Harmony of the Seas.
Jamie's Italian will replace Giovanni's Table on Harmony of the Seas.
A new menu with new offerings will be in Harmony of the Seas' main dining room.
Wonderland will feature a bar that has "creative cocktails" for guests even if they are not dining in the restaurant.
There will be more space available in the staterooms by making them longer, especially from deck 6 and above.
The Stowaway piano player will be onboard Harmony of the Seas.
Puzzle Break escape room will be on Harmony of the Seas.