In:
Royal Caribbean's Anthem of the Seas is packed with new innovations, entertainment and more technology than you can throw a stick at, but we spotted something pretty darn cool to look for onboard too: a "stowaway" piano player.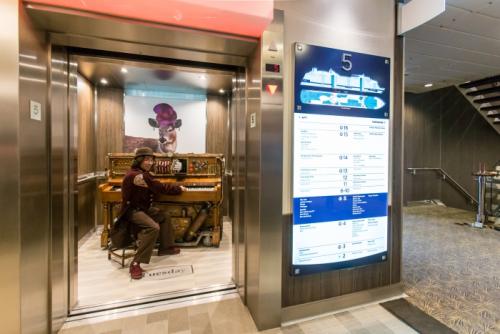 The idea is there is a piano player with a far-out piano that will move around the ship and perform for guests but encouraging guests to not report him.  
The piano is no ordinary piano.  It has hidden compartments and functions and can dispense various things, such as lollipops for kids or appear to overheat because of "intense" piano playing.
This neat form of street theater will appear around the ship at different times during the cruise.
Royal Caribbean Vice President of Entertainment, Nick Weir, came up with the concept for the "stowaway piano player" and it's yet another example of unique entertainment you can only find on a Royal Caribbean cruise.
Do you want to find the stowaway piano player? Let us know be leaving a comment!