In:
We get a lot of questions on the blog, and a common question is about what to do if the dining choice for dinner that a guest wants is not available.
Sometimes a guest will book a Royal Caribbean cruise, but discover that a particular traditional dinner seating is not available.  Or perhaps My Time Dining is booked up.  Is there any chance to change it?
The answer is, there are two strategies to use when trying to get into the dining option you really wanted.
Add yourself to a waitlist
When a particular dining option gets filled up, Royal Caribbean will allow guests to be added to a waitlist.
These waitlists are virtual queues, where if another guest leaves that dining option for some reason (usually due to cancelling or transferring their cruise reservation), the next guest "in line" can take their spot.
To be added to a waitlist, you need to contact either Royal Caribbean directly or have your travel agent do it on your behalf.
Once you are added to the waitlist, you should see a notation on your reservation in the My Cruises section of Royal Caribbean's web site.
In many cases, the waitlist will eventually come through and you will be automatically added to the dining option of your choice  You will likely not be notified of the change, so you will have to log in periodically to your cruise reservation to see if something has changed.
The fallback: speak to the head waiter
Sometimes, the waitlist option does not work and your next best option is to go speak to the head waiter on embarkation day.
Once you board your Royal Caribbean cruise, go to the main dining room in the afternoon to speak to the head waiter.
There should be a head waiter on duty in the main dining room for a few hours in the afternoon.  
Politely explain your request to the head waiter and ask if there is a way to be moved to the dining option you prefer.
In our experience, this fallback usually gets the job done.  Royal Caribbean wants their guests happy and the head waiters have a good sense of the guest dinner distribution.
Can I move between My Time Dining and Traditional Dining during my cruise?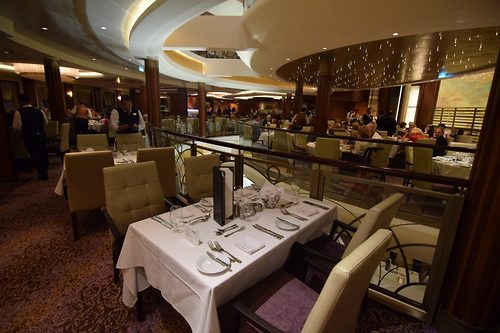 Royal Caribbean says once you are in one of the dinner options, you are primarily limited to it.
The policy does state they can honor requests to change only once based on availability.
Read more: My Time Dining versus Traditional Dining
More dining room tips
Check out these other helpful posts about dining on a Royal Caribbean cruise!
Hopefully one of these two choices will get you the dining preference you really want!