In:
One of the biggest issues cruising Royal Caribbean from Galveston is simply getting from Houston's airports to the cruise port. To help readers out, we've asked an expert -- our friend from GalvestonCruiseTips.com -- to share some details on what travelers should know about getting to and from the port.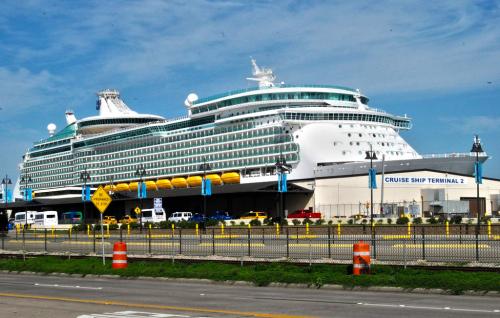 Let's put it up front: Unless you have a really good friend in Houston, there just isn't a cheap way for cruisers to get to Galveston from the airports. Every option is going to cost at least $150 round trip (for two passengers) and take at least an hour.
You can save some money, however, if you pick the appropriate mode of transportation for the number of people in your group. We usually suggest one of three ways: a cruise line shuttle, an independent shuttle, or a private car service.
Cruise lines shuttles offer the most convenience. You can buy a ticket when you book your cruise and don't have to get a ride from a third party. However, you will pay for that convenience.
Royal Caribbean charges $77 round trip per person from Hobby and $92 per person from Bush Intercontinental (IAH). If you're traveling solo or as a couple, you aren't likely to beat these prices. Larger groups, however, may wish to find a cheaper option.
A number of independent shuttles have popped up in recent years, usually offering a less expensive way to the port if traveling with a larger group. These shuttles almost always charge a higher cost for the first passenger, but a much smaller fee for each additional person.
For example, Cool Tours in Galveston offers a shuttle from Hobby Airport for $180 round trip for the first passenger, but only $30 for another rider. If you're traveling in a large group, the savings per person add up quickly.
Finally, there are a number of private car services that can provide a ride. A quick Google search will bring up dozens of options. Prices can range from $150 to several hundred dollars, depending on which you go with and what sort of car you'd like to pick you up.
One tip -- be sure to always get an "out the door" price on the car service before you book so there are no surprises. We suggest private car services for those wanting a little more privacy and comfort than riding in a shuttle van or charter bus.
As we said, no matter how you plan to get there, expect to pay a decent sum to get to your cruise. We have more details about all your options for getting from the Houston airports to the Galveston port (including taxis, car rentals, and ride-share services) on GalvestonCruiseTips.com.