In:
Renovatins to the Galveston cruise terminal are running behind schedule, which means by the time Royal Caribbean's Liberty of the Seas arrives in November, the terminal will still be under construction.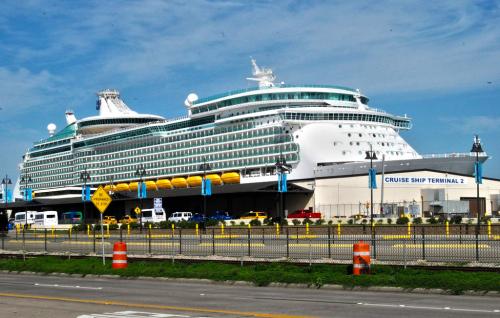 The Houston Chronicle reports the terminal expansion was originally planned to be completed back in May, but construction roadblocks and an archeological dig for a 19th century Texas Navy ship have increased costs and delayed work.
The port of Galveston is working to add 92 feet to the 1,000-foot-long berth and build a new passenger check-in, luggage screening and waiting area.
Royal Caribbean struck a five-year deal with Galveston last year to bring a larger ship to the port on the condition that the port expand the terminal.  Liberty of the Seas will replace Navigator of the Seas, and bring with her, an extra 500 more passengers. 
Port Director Michael Mierzwa said, "We're incurring some additional expenses, but it's not Royal Caribbean's fault, it's our fault."
In the interim, the port's board of trustrees approved a plan to add an air-conditioned tent, portable restrooms and additional seating - until the second building is complete.