Oasis of the Seas Live Blog - Day 4 - Falmouth
In:
Royal Caribbean Blog contributor Michael Poole is on Oasis of the Seas this week reporting all about his cruise experience.
Good morning from beautiful Jamaica! 
I didn't have any set plans today, so we thought we would do a little shopping around the pier and then head to the beach.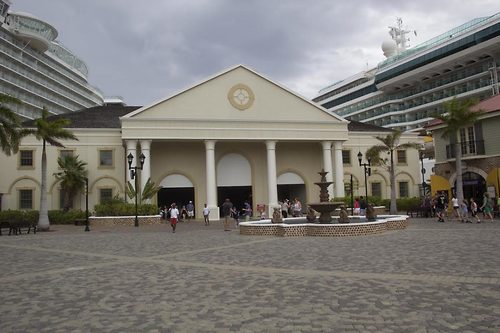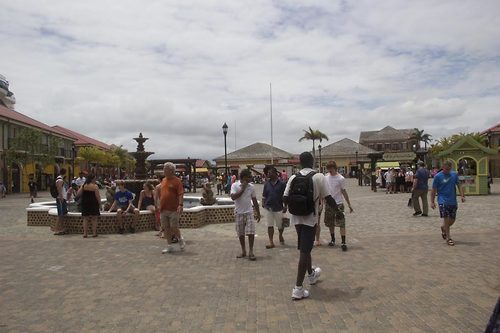 For those who have not visited Falmouth, Royal Caribbean has spent millions on this brand new pier for their ships to visit.  The pier is the nicest I've ever seen, but you are limited it activates if you don't wish to go outside the closed in area. 
My girlfriend shopped around and I went to Jimmy Buffet's Margaretville, for the classic Jamaican beer – Red Strip.  These were $6 each and included just steps away on board, so I just had two.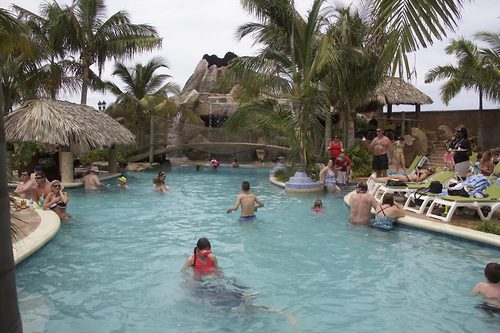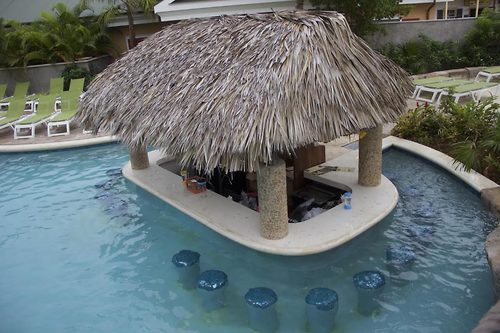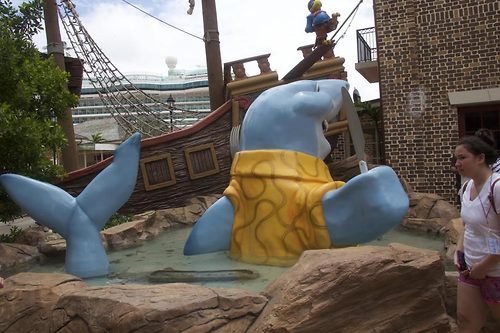 After about an hour of shopping I was ready to head over to Red Strip Beach and then it happened…it started down pouring once again.   This is so frustrating, but what can you do?  We decided to go back on and enjoy some hot tub time, has anyone noticed this is becoming a trend? 
Afternoon on board Oasis of The Seas
This afternoon my girlfriend and I went down to the pub for some pints.  Since she does not have the drink package, she used her Crown & Anchor BOGO coupon on a Stella. 
The ship was mostly empty, so I guess every decided to wing it in the rain and stay in Jamaica.  After a few pints, and I might say that term a little loosely we were ready for an afternoon snack.  It's almost funny when you are talking about all the options on board for a snack, so we went for hot dog on the boardwalk at Dog House.  This was my first time ever trying one of their hot dogs (which are free) and I must say, simply amazing! 
We actually ran into my brother and his partner and they now wanted to get off in Jamaica.  The ship was docked from 10am-7pm, so getting off at 4pm (again) left us plenty of time.  They mostly did some t-shirt shopping and about an hour later we headed back to the ship.  I thought everything was overpriced so no shirt for me, maybe in Cozumel. 
Dinner at Chops
For pre dinner drinks I went to vintages for some caymus wine (those who wish to know it's $22 glass).  I thought it was strange how empty the bar was, but they said it was common on port days.  They had little table set up with taps for $10pp, I passed on this since we were going to Chops Grill.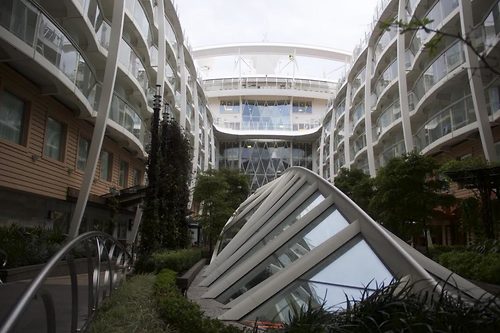 Our dinner reservations were at 8PM, and the restaurant was completely full. Our waiter said they service around 220 passengers a night, so I suppose that's why the price went up to $39pp supply-demand. 
The quality of the meal was amazing as always, but the service was not so much.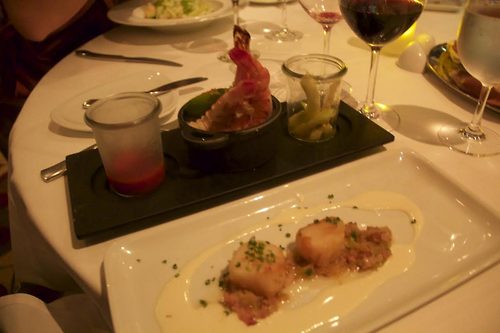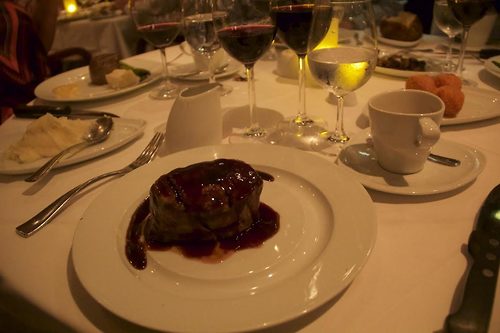 The waiter kept saying sorry for being so slow, but I think he was just overworked with tables.   He didn't charge us for the sparkling water, or the difference in wine price vs package.  The unlimited package covers wine up to $12, but we were all drinking wine that was $14. I noticed they still bring you all the sauces to pick from for the steak, on the Enchantment/Liberty they just come out in the Red Wine Sauce. 
By this point we were getting close to the 3-hour mark and had a show to get to so we left right at 10pm. 
Headliner Show - Mo5iac
My brother talked me into going to the headliner tonight and boy was I glad he did.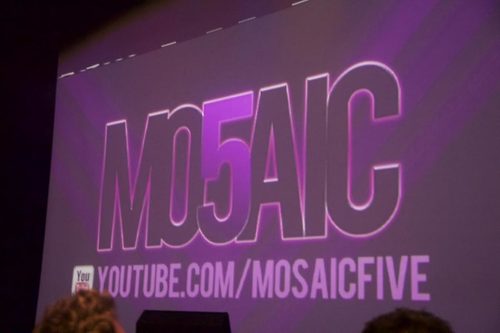 This was a group of five guys who preformed with no instruments, which means all the sound we heard all night, came from their voices.  They would sing songs, with making it sound like they had a full band with them. 
It's hard to describe the show, but was without a doubt the best show I've seen on any cruise.  The crowd was on their feet multiple times cheering them on and clapping.  If you ever get a chance to see this group on board, believe me don't miss it. 
The show ended close to midnight and that's where I called it a day.