Oasis of the Seas Live Blog - Day 3 - Labadee
In:
Royal Caribbean Blog contributor Michael Poole is on Oasis of the Seas this week.
I haven't been to Labadee since 2012 and I was really excited to go back and explore. 
We docked at 8:00am and had the whole island to ourselves, well all 8,490 of us.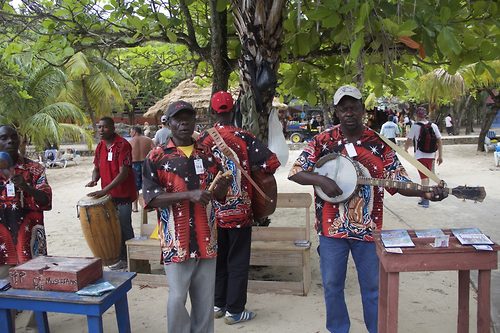 We had originally tried to get a cabana, but we were unable to reserve one.  Now our plans were wide open and we took a shuttle over to Columbus Cove.  This didn't take very long and I actually enjoyed the ride over taking everything in. 
Once you get to Columbus Cove you walk past some shopping, but we didn't bring any cash with us so didn't bother stopping.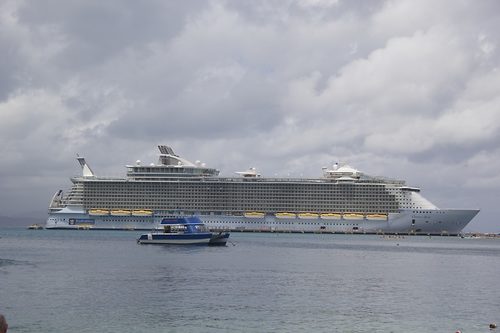 By now it was 11AM and they were starting to serve lunch, so we went straight to buffet.  This is the standard island lunch; serving ribs, jerk chicken, and burgers.  I thought the lunch was fine and nothing to get excited about, but I will say go early!  I saw the line an hour later and it was long, plus all the tables were full.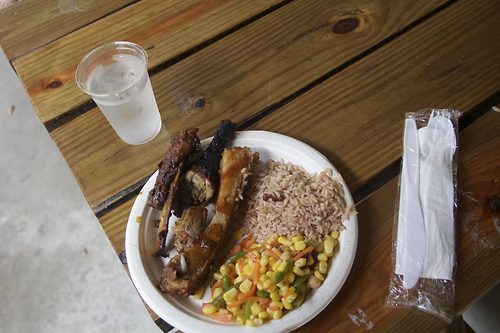 Afternoon in Labadee
Well there was very little sun out but that was fine because we were sipping on a labadoozie. 
This is the signature island drink and it's included in the ship drink package.  However, if you don't have the drink package the cost is $14 for the drink, but you do get to keep the cup. 
By this point in the afternoon 3:00 – it's starts pouring and I mean down pouring.  I laughed to my brother and said, "Just one more reason I like Coco Cay better."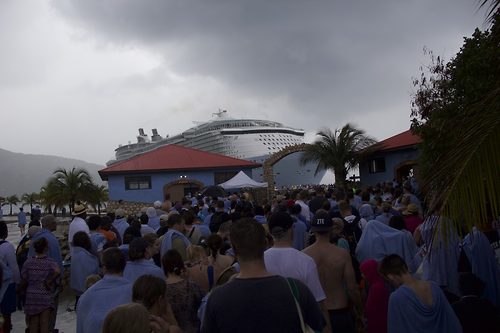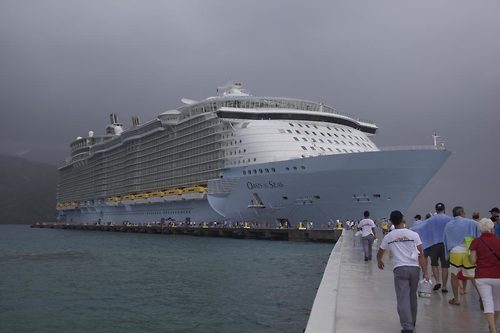 We had a great time but we haven't seen sun so far this the cruise.  We rushed back to the ship, well everyone did the same so the lines were long to re-board. 
Once we got back on board we headed to the pool deck to relax in the hot tub.  Well there was only one thing left to do… Nap!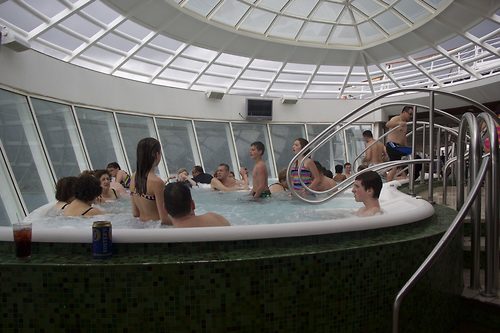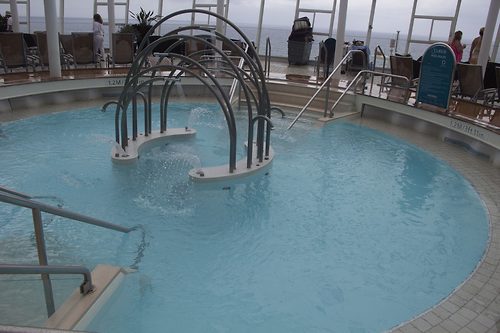 Dinner at Sabor
Tonight we headed back to Sabor for dinner at 8pm and it was packed! 
I didn't take my camera again since I posted pictures of our lunch from yesterday and ate the same food.  I will note the service was a little slow tonight, but we didn't mind since we had Patron Grand Margaritas flowing. 
My girlfriend does not have the drink package and the waiter just put her drinks on my card with my package.  I didn't ask him to do this and was fully prepared to pay for hers, so extra tip for him. 
Evening Actives
After dinner we headed over to dazzles and the entire Cat's cast was singing 80's tunes.  This was the moment it hit me, you don't get this kind of entertainment on the smaller ships.   If you haven't listen to me on the podcast, I am a big fan of the smaller ships, but I'm really enjoying myselfd on Lady O. 
Headed off to explore in Falmouth, Jamaica and the sun is FINALLY out!   I'll share my day with you tomorrow.