In:
Check out this wonderful review by our good friends Don & Heidi from EatSleepCruise! They had the chance to check out Jamie's Italian on Quantum of the Seas and I can't wait to try it myself. Enjoy!
Quantum of the Seas has a variety of specialty restaurant options that cannot be found on other ships. On the last night of our 8 night sailing, we had pre-booked reservations to try one of these new establishments, Jamie's Italian.
Created by celebrity chef Jamie Oliver, this restaurant offers modern, Italian cuisine in a funky, casual atmosphere. The restaurant is a slight departure from other specialty Italian restaurants found on Royal Caribbean ships, including the family-style Giovanni's Table and the slightly more upscale Portofino's.
Still, Jamie's Italian, which is open for lunch and dinner, served some amazingly fresh food that was worth the modest upcharge.
Atmosphere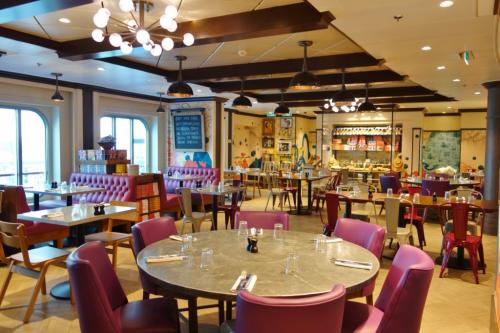 Located on Deck 5, Jamie's Italian restaurant is a very welcoming space, nestled in the Via next to the beautiful Waves of Light Sculpture. Jamie's Italian offers an up close view of this artwork with some "al fresco" style seats that are open to the area. While we did not dine in this area, many cruisers who choose to eat at Jamie's Italian do opt for these tables that offer amazing views of the Via and plenty of people watching.
Inside Jamie's, you feel as though you have entered a very modern kitchen. Similar to something you would expect from a restaurant in a major metropolitan area, the décor in Jamie's Italian is a mix-match of colors and textures. Doses of bright, vibrant colors and different shaped furniture give the restaurant a casual, yet contemporary feel.
Plenty of Jamie Oliver's cook books are on display and televisions throughout the venue regularly show segments form the chef's television appearances. Neither of these decorative elements are distractions as they blend well into the overall restaurant layout and theming.
Dining Experience
Ambiance aside, the main star of this restaurant is the food.
With a menu that features a mix of warm and cold starters including the signature planks, pasta dishes, and meat based entrees, there is certainly something for everyone here. Given that we were here on the last night of our 8 night cruise, we had already sampled a vast array of great dishes at the four complimentary restaurants as well as a few of the other specialty restaurants. Still, we made it a point to sample as much of the cuisine as we could reasonably fit into our already expanding waistlines.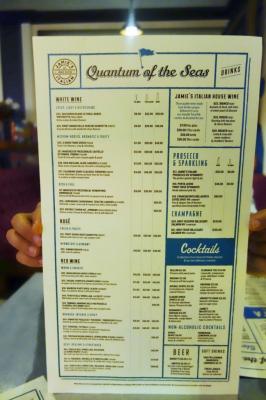 Our waiter was from Northern Italy and was very friendly and knowledgeable about the menu. Many of his recommendations were right on point, and we were glad we listened to him. Overall, the service was excellent, and the staff was very attentive.
We started dinner off with a few of the signature cocktails on the menu. I tried the Gennaro's Sidecar, as I am a fan of sidecars to begin with, and the wife opted for the Rossini, a bubbly and fruity cocktail that was sweet enough for her tastes.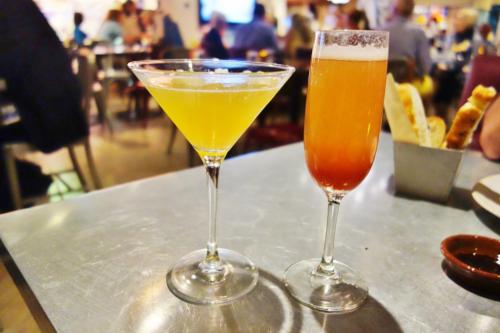 Before we even had a chance to examine the dinner menu, the waiter brought over a basket of bread which offered a nice selection, including crusty Italian bread, focaccia, and bread-sticks, served with an olive oil and balsamic vinegar dipping sauce.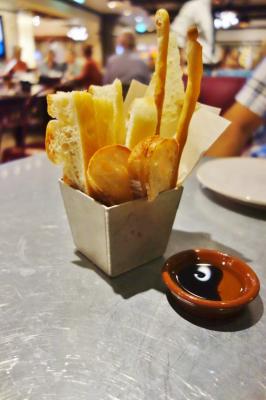 We were debating whether we should order one of the planks, as many of the tables around us had them and they looked unbelievable, but instead we decided to try out some of the warm appetizers.
Growing up in Rhode Island, one of my favorite starters is fried calamari. Although, it is one dish I have never had on a cruise ship. I was pleasantly surprised when the waiter brought out a generous portion of light, crispy squid cooked to perfection, definitely fresh and made to order. Honestly, it was some of the best calamari I have ever had on land or sea.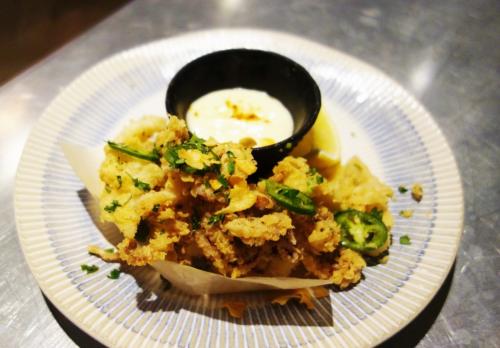 The wife opted for a different starter as she is not much of a seafood fan. She tried the Arancini Margherita, which are deep fried risotto balls with mozzarella. They came covered in tomato sauce.
Even though the order only came with three, I was forced to eat one of them, with which I gladly complied. Similar to the calamari, this was a classic Italian-American starter that was made just right.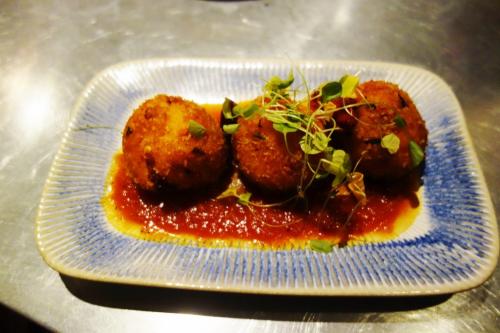 The appetizers were plenty filling, but there were still so many dishes left to try. On the recommendation from our waiter, we decided to order a pasta dish to split along with our entrees.
Our selection was the Penne Pomodoro, which came with a light sauce and was just the right amount for us to each have a taste of this homemade pasta as a side dish to our main course.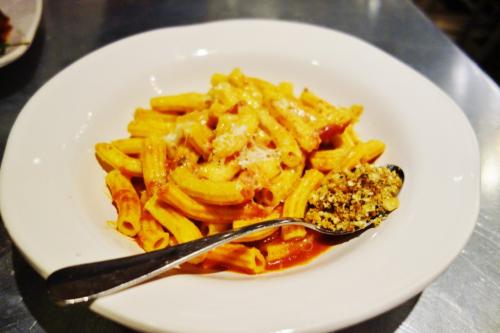 The wife, who is a picky eater, went with the only chicken dish on the menu, the Chicken Al Mattone, grilled chicken seasoned with garlic and rosemary.
It was not exactly what she was expecting as the cut of chicken was not all white meat, included a bone, and was topped with a glaze that was a bit greasy.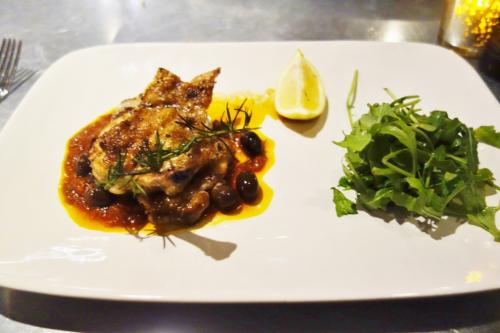 On the other hand, I ordered the Lamb Chops Scottadito, which was definitely the best lamb I had all cruise. It was a good serving size and had a nice grilled flavor. The dish was not necessarily what I think of when I think Italian food, but I am very glad I ordered it.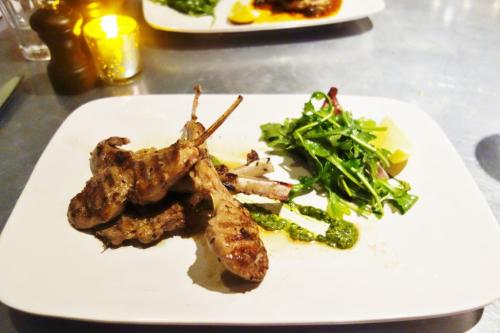 To add to the gluttony, our waiter also brought out some polenta chips. These were more like home fries, nicely textured and topped with rich Parmesan cheese. Not the healthiest side dish, but definitely a great addition to any dinner.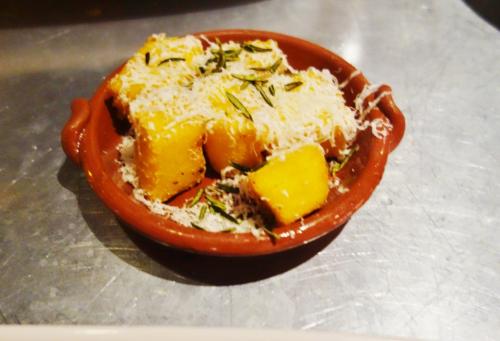 When I think about Italian food, besides pasta, dessert is the next thing that comes to mind. But, Jamie's Italian actually does not have many traditional Italian desserts. 
So, we decided to order the tiramisu and the Epic Homemade Brownie. Of course, slightly melted vanilla ice cream paired perfectly with a warm brownie is always a good option.
On the other hand, we were warned by our waiter about the tiramisu, and he was right. It had a different texture than expected and an orange flavor. It was definitely a departure from the classic Italian treat.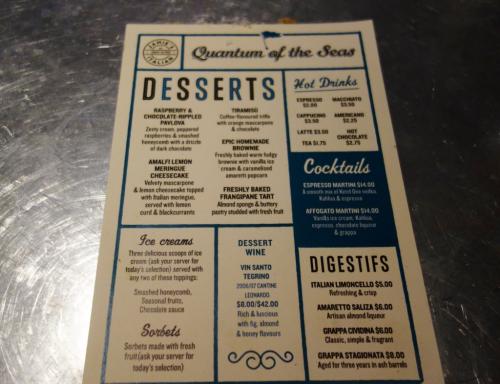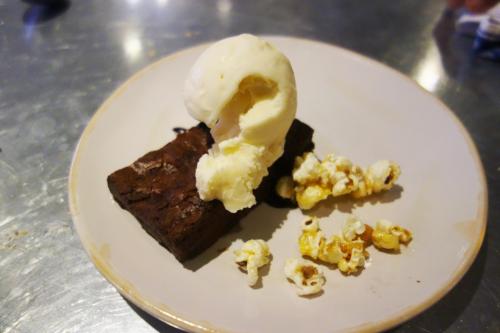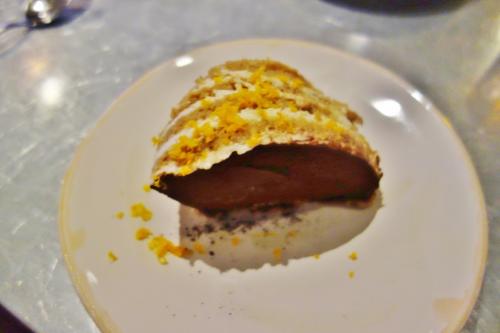 Summary
Jamie's Italian offers some great Italian classics with modern twists in a lively environment. The starters were authentic, and the homemade pasta was rich and delicious. The entrees were solid, and the side dish of polenta chips was an amazing accompaniment. While the dessert was a little disappointing, we should have listened to our waiter's suggestion and tried something other than the tiramisu. The service at Jamie's was among the best service we received all week on the ship. On our next sailing on Anthem of the Seas, we have reservations at Jamie's Italian and will definitely make sure to sample more of the menu.
Jamie's Italian can be found on the Quantum of the Seas and the Anthem of the Seas and offers Rustic, Italian food with a casual dress code. There is an upcharge of $15 for lunch and $25 for dinner. Reservations can be made prior to cruising on the Cruise Planner or while onboard.