In:
If you take a cruise on Oasis of the Seas, you may notice among the many pieces of art around the ship a "crew" cleaning up some graffiti that has the word "Genesis" written on the wall.  Royal Caribbean fans may recognize this piece of art as a rather large in joke to appreciate.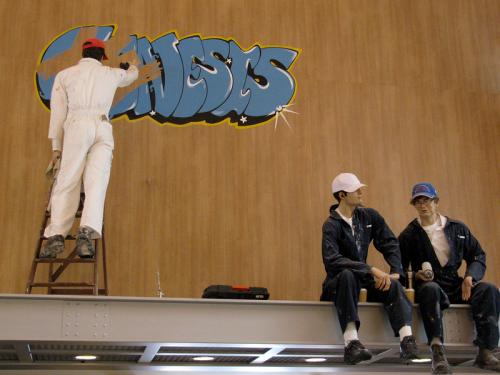 You'll find this display on the Royal Promenade and the word Genesis was the original project name of the Oasis-class before the Oasis name was selected.  It's common in the cruise industry to begin working on a new class of ships under a project name and then announce a formal name later on.
In the case of the Oasis-class, it was known as Project Genesis.
The art we see here is Royal Caribbean crew members covering up the word Genesis as if it were written down before the ship was built but since has to be erased since we all know the ship class is called Oasis.  It's a clever nod to the ship's history in plain sight.