In:
You're ready to book a Royal Caribbean cruise and like anything you buy, you'll likely be looking for ways to shave off some money on the price of your cruise.  Royal Caribbean does offer some discounts that can help you save money on your cruise vacation if you qualify.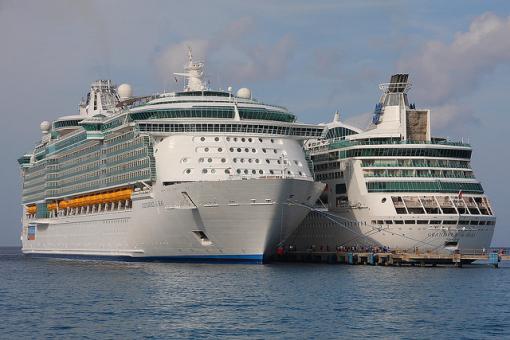 To get any of these discounts, it's important to mention the discounts you are eligible for to your travel agent or Royal Caribbean directly. 
Often many passengers are unaware these discounts exist, so do your research to make sure you qualify for any of them and then inquire when you are ready to book a cruise.
7. Military
If you are an active or retired member of the United States or Canadian military, there are special rates just for you.
You must be actively serving or retired from...
the Canadian National Defense
United States Army, Air Force, Marines, Coast Guard, National Guard or Reserves
All guests traveling in the same stateroom are eligible to receive the military rate. No additional staterooms, other than the one that is occupied by the military person is eligible for the military rate. Spouses, parents, in-laws, children or other family members or friends are not eligible for the military rate without the eligible military person occupying the stateroom.
6. Crown and Anchor Society members
Royal Caribean regularly offers reduced cruise fare rates and discounts to its loyalty program, Crown and Anchor Society.  
These special rates are often  available for select cruises.  You can easily check for the special rates by logging into Royal Caribbean's website and going to the Crown and Anchor area to see which cruises are available.
Royal Caribbean also offers discounts to Crown and Anchor Platinum and above members on balcony and suite staterooms.
Single supplement cruise fare is reduced to 150% from 200% for members that have 340 or more cruise points
5. Royal Caribbean Shareholder
Any shareholder holding a minimum of 100 RCL shares at time of sailing can qualify for a discount.
The discounts break down as follows
$250 Onboard Credit per Stateroom on Sailings of 14 or more nights.
$200 Onboard Credit per Stateroom on Sailings of 10 to 13 nights.
$100 Onboard Credit per Stateroom on Sailings of 6 to 9 nights.
$50 Onboard Credit per Stateroom on Sailings of 5 nights or less.
4.  Senior Citizens
Guests who are 55 years or older can qualify for reduced rates, so you will need to contact Royal Caribbean or your travel agent to inqiure about exact rates
3. Airline Employees
If you're a member of one of these organizations, you can qualify for special rates on inside, ocean-view and balcony staterooms.
Airline employees
Federal Express
DHL Worldwide Express
Airborne Express
United Parcel Service (UPS)
Retired employees of airlines currently in operation
If you are IATA/ARC appointed, you should contact your Human Resources Department to find out the names and phone numbers of Interline Travel Agencies. 
2. Firefighters and Police Officers
If you are an active or retired employee or volunteer of  a local or state law enforcement agency, fire department or Emergency Medical Services unit in the United States or Canada, you can qualify for a discount.
Qualified guests must present valid proof of employment (badge or ID) plus a second form of identification when boarding the ship.
1. Residents of certain states
From time to time, Royal Caribbean offers discounts on cruises to residents of certain states in the United States.
Commonly, there are discounts to residents of the states of Florida, New York, Connecticut and New Jersey.  We've also seen discounts available to residents of other states, most notably the south eastern United States.