First time cruisers: What are the differences between Royal Caribbean's ships?
In:
When you're trying to pick the right Royal Caribbean cruise for you, there's a lot to choose from.  Royal Caribbean currently has 22 ships in its fleet and that's a lot to choose from.  Let's discuss what the differences (and similarities) are and which one is great for you.
Royal Caribbean ships do vary considerably in size, from ships that can handle around 2000 passengers to ships that top out over 5000 passengers.  
Ship Class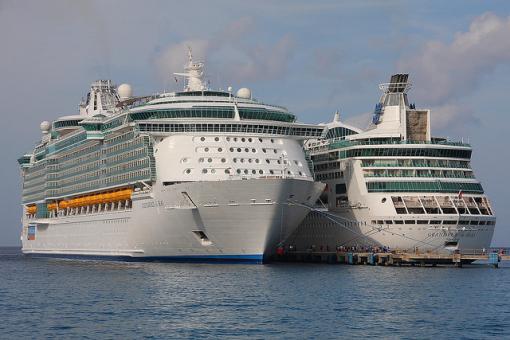 The first thing to understand are the classes of ships. Royal Caribbean has 7 classes of ships in active service to choose from.  
Quantum
Oasis
Freedom
Voyager
Radiance
Vision
Sovereign
Ship classes are categories of ships that have a very similar size, amenities and layout.  Think of ship classes like car models.  Every Ford Mustang for any given year is based on the same build, but individual cars can have slightly different options.
By looking first at ship classes, you get to more easily see key differences between the ships.  Each class is fairly unique but you will notice similarities too.
Understanding the what each ship offers is important.  Even among sibling ships, there are some differences. For example, Liberty of the Seas offers a Broadway show whereas none of its sibling ships have one.
The differences between ships used to be much larger but Royal Caribbean embarked upon a fleet-wide refurbishment in the last few years to bring innovations first developed for the Oasis-class onto older ships in the fleet.  To be honest, the changes have breathed new life into these older ships and now the differences between all ships has been greatly reduced.
Ship age
That brings up ship age.  The tendency in the cruising industry is to build bigger ships each time, so typically the smaller ships are also the older ships.  That's not always the case but generally speaking, the last few classes of Royal Caribbean ships (Quantum, Oasis, Freedom, Voyager) are signifigantly bigger than the older classes of ships. 
The newest class of ships are Quantum, Oasis and Freedom class. The oldest are Vision and Sovereign class.
Of course, age doesn't tell the whole story. In fact, many Royal Caribbean fans will tell you the older ships are their favorite ships. Smaller ships offer a much more intimate cruise experience and they often have things the larger ships do not, like more vantage points to the ocean.
Newer cruise ships have more of the fancier and newer technologies, which can factor into your decision but the recent fleet-wide refurbishment mentioned earlier did help quite a bit in "leveling the playing field".
You shouldn't make your decision based purely on ship age but it's a key difference between the ships.
What you should pay attention to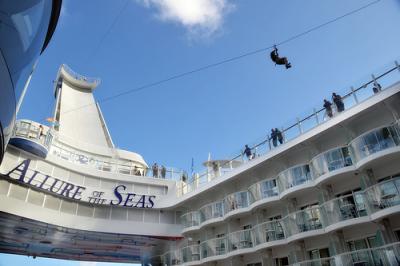 When picking the right ship for you, look at these key factors
Ammenities for your group
Each Royal Caribbean ship offers a lot to do but if the hyped up features don't interest you, then it may not be perfect for you.  Oasis of the Seas offers zip lining, Broadway shows, a surf simulator and over a dozen restaurants but if all you want to do is enjoy pool time and read, then perhaps it's more than you need.
Likewise, if you've got children, the newer ships in the fleet have larger and newer kids club facilities that will be a better fit.  Look at the features each ship has and see which are relevant most to you.
Price
I love the newest ships Royal Caribbean rolls out, but if I can get a similar cruise on a smaller ship for a fraction of the cost, then I'll gladly take it.  
Pricing fluxuates a lot but newer ships command a higher price, so if there's a deal to be found, then consider that option too.  You shouldn't let price solely dictate which ship you pick, but it's a powerful factor.
Where it's going
One advantage smaller Royal Caribbean ships have over larger ones is they can go to many ports the big ones cannot.  
Many ports in Europe, Asia and the Pacific can't handle the new mega-cruise ships Royal Caribbean has built so if you have your heart set on certain ports of call, make sure the ship you pick can get you there.