Royal Caribbean pulls Rhapsody of the Seas from Black Sea itinerary in 2015
In:
Earlier this year Royal Caribbean announced Rhapsody of the Seas was to sail to the Black Sea in summer 2015 but Royal Caribbean is now changing those plans.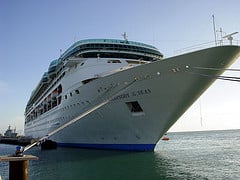 Royal Caribbean will instead be offering Rhapsody of the Seas sailing an Aegean Sea itinerary, calling on a variety of ports throughout Greece and Turkey.
Rhapsody of the Seas will now offer a 9-night Eastern Mediterannean cruises out of Istanbul along with a 7-night Greece and Turkey itinerary out of Rome.  In addition, there will be 7, 8, 9 and 10-night Greek isles cruises from Rome.
Sister ship Splendour of the Seas is also sailing a similar itinerary during the Summer 2015 season.
Previously the ship was to visit ports in Russia and the Ukraine along the Black Sea.  It's assumed the change in plans is a result of the political unrest in that area.