5 things to love about Royal Caribbean's Rhapsody of the Seas
In:
Royal Caribbean's Rhapsody of the Seas is a popular ship that offers cruises in Europe and North America. There is a lot to love about this ship, and we have five important facts you should be aware of before your next cruise on Rhapsody of the Seas.
Covered Solarium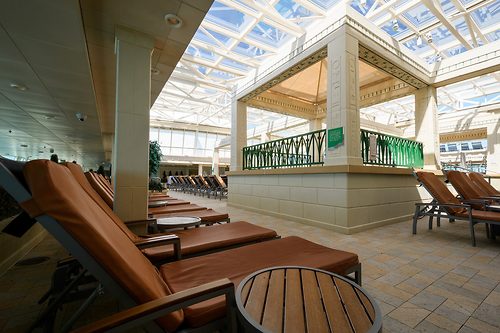 The adults-only enclave of the Solarium is always a popular spot with many Royal Caribbean fans, and the fact it has an enclosed Solarium means the fun is available rain or shine.
The Solarium offers a terrific pool, along with comfortable lounge chairs and lots of sun (or shade, if that is your preference).  Whether on a sea day, or just a break between activities, the Solarium is the perfect refuge for guests looking to sit back, and relax.
Great itineraries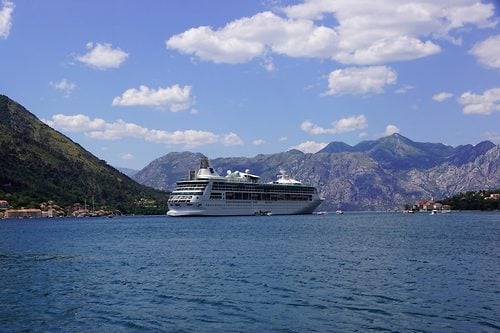 These days, Rhapsody of the Seas splits her time between North America and Europe.  This means that Royal Caribbean fans have the opportunity to take advantage of some great destinations.
In the fall and winter, Rhapsody calls the Port of Tampa home. Tampa is a convenient and lovely cruise terminal to sail from, including an amazing sailing underneath the Sunshine Skyway bridge. At sea, Rhapsody visits some beautiful ports in Central America, including Costa Maya and Roatan.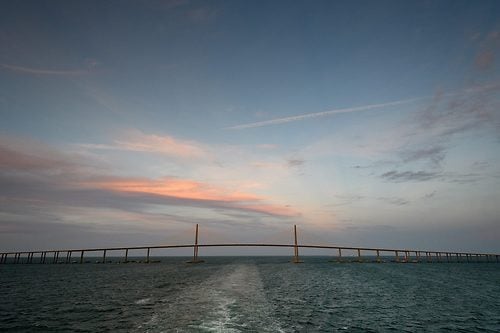 In the spring and summer, Rhapsody heads to Europe, where she offers a variety of itineraries from Venice.  Guests sailing on Rhapsody of the Seas will have the opportunity to visit the historic and beautiful ports of the Eastern Mediterranean, including Dubrovnik, Santorini and the Amalfi Coast.
Park Cafe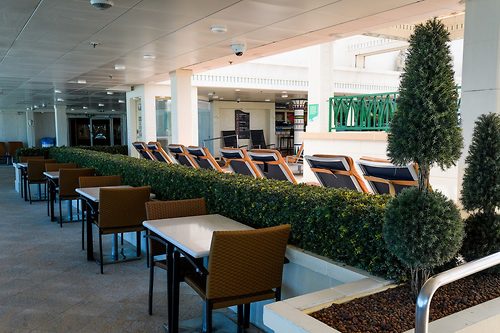 Royal Caribbean added Park Cafe to the cruise ship's Solarium, and that means not only a convenient spot to enjoy a quick meal, but one of the best sandwiches ever: the Kummelweck roast beef sandwich!
The Kummelweck sandwich was first offered on Oasis class ships, but Park Cafe has spread to other ships in the fleet since then. Guests are served a rare, thin cut of beef dipped in au jus accompanied by a secret sauce. If it sounds mighty tasty, that is because it really is and something that is a must-try (at least a half dozen times) for any guest.
Bars to visit late at night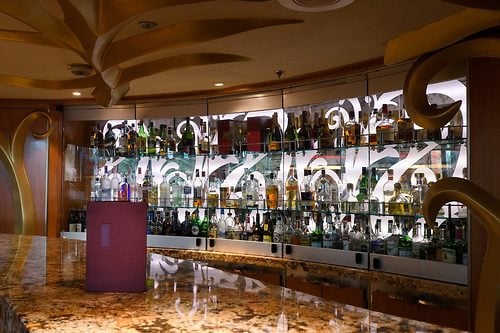 If your idea of a fun cruise is staying up late and enjoying drinks while perhaps dancing, talking or relaxing into the late hours of the evening, then there are a few bars you will find open later than others.
On Rhapsody of the Seas, the Casino Bar, Viking Crown Lounge, R-Bar and Schooner Bar remain open later than other bars. Guests who want to avoid an (earlier) last call notice, should head to one (or a few) of these locations to enjoy uninterrupted late-night beverages.
Specialty restaurant
Just because Rhapsody of the Seas is smaller in size than the Oasis or Freedom class ships, does not mean she lacks the variety of specialty dining those ships offer.
During their cruise on Rhapsody of the Seas, guests can choose from Chops Grille, Giovanni's Table, Izumi and Chef's Table.
With Royal Caribbean's dining packages, enjoying some (or all) of these restaurants is very convenient and affordable.
Your favorite
What is your favorite thing about Rhapsody of the Seas? Is it on our list or do you have something you think is worth the cruise fare alone? Tell us about in this blog post's comments!