In:
Royal Caribbean reported its first quarter 2014 results today and its quarterly profit fell by two-thirds due to higher costs and less passenger onboard spending.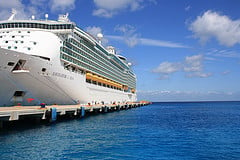 Royal Caribbean's net income fell 65 percent to $26.5 million, or 12 cents per share, in the first quarter.
Voyage disruptions, notably six shortened or canceled cruises between January and March hurt Royal Caribbean's bottom line.  Navigator of the Seas was impacted due to an oil spill shutting down Galveston while Adventure of the Seas encountered technical problems that impacted its propulsion.
Demand for European sailings and for China sailings remained particularly strong throughout the period and double digit yield improvements are expected for both products. 
"Despite pressures in the Caribbean, the diversity provided by our global footprint is proving its value. This model has allowed us to take advantage of the strong demand for our European and Asian products, while successfully navigating pressures in the Caribbean," said Jason T. Liberty, chief financial officer.
Royal Caribbean does expect things to get better as 2014 goes forward.  It is expecting double-digit percentage rise in yields in European and Asia Pacific cruises this year. 
Royal Caribbean said booking volumes rose about 18 percent in the past three months. Bookings jumped 20 percent in the past eight weeks.