In:
Royal Caribbean's Grandeur of the Seas is dealing with a gastrointestinal sickness that has broken out on the ship for the second time in two weeks.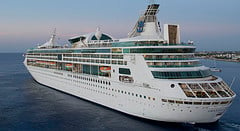 The Centers for Disease Control and Prevention is reporting almost 100 passengers on the Grandeur of the Seas cruise that left Baltimore on April 5th.
Royal Caribbean spokeswoman commented, "Those affected by the short-lived illness have responded well to over-the-counter medication being administered onboard the ship."
A cruise that departed Baltimore March 28 on the same ship also had an outbreak of viral illness that the CDC said was caused by norovirus. During that cruise, more than 100 passengers became ill. Fewer than a dozen crew members were sickened. 
Grandeur of the Seas is expected to return to Baltimore as scheduled Saturday morning. 
Upon its return to Baltimore, the ship is expected to be thoroughly sanitized. In addition, "two CDC Vessel Sanitation Program environmental health officers and an epidemiologist will board the ship," as part of the ongoing investigation, according to disease control officials.