In:
Royal Caribbean UK is looking for a guest blogger to report about their experiences while cruising on Allure of the Seas in the Mediterannean in 2015 for an entire month.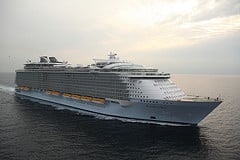 Royal Caribbean has started a contest to find this one blogger called "Away With Words", where the winner will be brought onboard Allure of the Seas for one month in summer 2015.  The person will report back on the destinations they haveexplored, and everything the ship has to offer. Royal Caribbean will provide onboard accommodations, meals, a complimentary drinks package and laundry.
To enter, you must answer the question, "Tell us about your most WOW travel experience..." in either 500 word written entry or a 60 second video on YouTube or Vimeo.
Those interested must enter by June 30, 2014 and be 21 years old and a resident of the United Kingdom or Ireland.
More details on the contest and how to enter can be found here.