In:
A cruise passenger on Royal Caribbean's Adventure of the Seas who apparently jumped overboard, is the subject of a US Coast Guard search operation.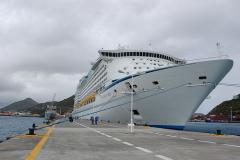 CTV News reports Royal Caribbean Cynthia Martinez said Sunday that the captain of the Adventure of the Seas stopped the ship, turned around and alerted authorities after a passenger reported seeing the person going overboard late Saturday. In a Sunday email, Martinez said footage of the incident was also captured by the ship's cameras.
A cruise passenger aboard Adventure of the Seas, known only to us as Laura, tweeted us a first-hand report.  The man is presumed dead. Adventure of the Seas spent 6 hours with the coast guard doing rescue boat missions and helicopters fly above. 
The Royal Caribbean ship was finishing a seven-night trip and returning to San Juan.