In:
Royal Caribbean announced today that interior designer and HGTV star Genevieve Gorder is the first advisor for the design of Quantum of the Seas.  Gorder is the first member of the Quantum Experience Advisors program, that features a group of celebrity experts in fields such as design, sports & fitness, entertainment and others who will work hand-in-hand with Royal Caribbean's internal teams to provide their expertise to help shape interior design, key amenities and activities on the Quantum-class.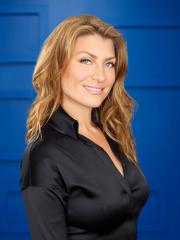 The Quantum Experience Advisors is bringing these industry professionals in to help ensure every aspect of the guest experience has been maximized to the fullest extent.
Gorder will be tasked with being the Quantum Experience Advisor for Design.  Gorder is collaborating with Royal Caribbean's newbuild and design team to offer insights and opinions and influence the décor and furnishings of the loft and suite accommodations onboard Quantum of the Seas.
Working in secret since May 2013, Gorder has reviewed plans, fabrics, carpets and furnishings for the ship's luxurious accommodations.  Gorder and her team have helped to provide a more cohesive look and feel to the onboard suites and lofts.
Royal Caribbean Executive Vice President of Operations, Lisa Lutoff-Perlo, commented on the announcement, "Our teams at Royal Caribbean are always leading the charge in terms of delivering innovative and industry-leading ships and programming and now, by teaming up with some of the brightest and most talented professionals in their respective fields, we are sure to make the Quantum-class some of the most amazing ships to ever set sail.  Guest experience is our number one priority and ourQuantum Experience Advisors are bringing fresh insights, opinions and perspectives to help us deliver the kinds of WOW moments that can only be found on Royal Caribbean."
Quantum of the Seas and Anthem of the Seas are set to debut in November 2014 and April 2015 respectively.