In:
Royal Caribbean will resume cruises to Barbados after removing all of its ships from the Southern Caribbean route last year.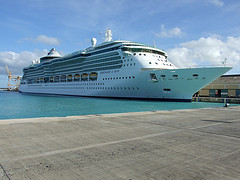 Barbados Tourism Minister Richard Sealy made the announcement after negotiations with Royal Caribbean that he characterized as "intensive".
Royal Caribbean's Jewel of the Seas has been offering cruises back in May, will offer year-round service to the Southern Caribbean island.  In addition, Royal Caribbean's brand new Quantum of the Seas cruise ship that is under construction, will have incremental service starting in November 2014.
Sealy was excited about the news of Royal Caribbean's return, "I would like to think that the leadership of Barbados had something to do with that.  Certainly, the relationship with the port project would be part of it. But we have done our part."
Royal Caribbean had announced in March 2011 that it was leaving the island but then joined into a joint venture with Barbados to build a brand new state-of-the-art cruise terminal in Barbados that will cost over $300 million.