In:
Royal Caribbean is partnering with Barbados Port and SMI Infrastructure Solutions to build a brand new state-of-the-art cruise terminal in Barbados that will cost over $300 million.  The new facility will allow some of the world's biggest cruise ships to dock at the island.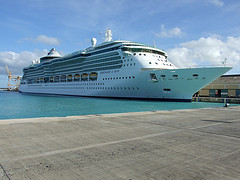 George Hutson, Barbados Minister of International Transport and International Business, announced the two year project at the recent Barbados Port Inc.'s 50th anniversary staff awards ceremony.
"If we are going to remain relevant, if we are going to capitalize on the opportunities available from cruise tourism, we must renew our plant from the basic infrastructure currently existing to one which will accommodate and service the increasingly large cruise ships."
According to Hutson, Barbados is hoping the new cruise terminal will attract more cruise ships to the island, which in turn will lead to increasing revenue generated by cruise passengers on the island.
The new terminal will be completed in two phases, the first phase will cost $300 million and will include two cruise piers, arrival and departure facilities, along with parking lots. The development will take involve reclaiming 15 acres of land from the sea, 100,000 square feet of which will be provided for commercial activity. Dredging is slated to begin in November.
Cruise tourism in Barbados has grown from 127,000 in 1985 to 726,543 last year.  The best year ever for cruise passenger traffic to the island was 2004 when 812,863 people visited the island.