Royal Caribbean Post Round-Up: July 28, 2013
In:
Welcome to this week's post round up and there was a lot of news and happenings this week in the world of Royal Caribbean.  
In addition to the news this week, we showcased 33 beautiful Royal Caribbean photos worthy of drooling all over your keyboard as well as a list of all the fun onboard outdoor activities on Royal Caribbean ships.
Were you able to catch up with it all?  If not, let's dive into what happened this week for a look back.
Royal Caribbean News
Join us for the first ever Royal Caribbean Blog Cruise!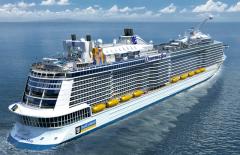 We're so excited to announce the first ever group cruise for readers and staff of RoyalCaribbeanBlog.com aboard Quantum of the Seas!  This is an exclusive group where we are inviting you, our readers, to join us on one of the first Quantum of the Seas sailings on an 8-night cruise to the Caribbean.
This Royal Caribbean Blog group cruise is all about enjoying this brand new ship with other fans who are big fans of Royal Caribbean.  Don't miss this opportunity to check out the brand new cruise ship as well as be a part of exclusive events for those that book with our group!
For more details on booking the cruise, the itinerary and prices, check out the Royal Caribbean Blog group cruise page and if you have any questions, email me!
Royal Caribbean Around the Internet
Seatrade Insider has a look at how the China-Japan territorial dispute has affected Royal Caribbean's bottom line.
Cruize Cast has a brand new podcast episode out discussing cruising to Italy.
USA Today has a photo tour of a former Royal Caribbean ship, the Song of America.
The New York Times has a great look at travel bloggers and how they pay for their trips.