In:
Royal Caribbean reported a second-quarter net income of $24.7 million, or $0.11 per share, which is better than a net loss of $3.7 million last year during the same time.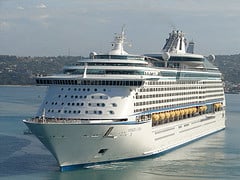 Royal Caribbean noted that its earnings during the quarter include an impact of $0.05 per share related to the Grandeur fire and a non-cash charge of $0.07 per share accounting correction related to the company's affinity credit card program.
For the full year outlook, Royal Caribbean's outlook remains essentially unchanged from the previous update in May.  The impact of the Grandeur of the Seas fire and the strengthening of the US dollar have already been accounted for.
Royal Caribbean chairman Richard Fain was happy about the results, "It is rewarding to see things coming together. While the operating environment has been frustrating, our bookings trajectory is looking good and I'm thrilled to see our cost initiatives beginning to pay off. Exploiting this positive momentum will help us take our returns and our profitability to the next level."
Total revenues increased to $1.88 billion, from $1.82 billion last year. Analysts expected revenue of $1.86 billion for the quarter.  In addition, 19 analysts polled by Thomson Reuters expected the company to report profit of $0.09 per share for the quarter, which Royal Caribbean came out ahead of. Analysts' estimates typically exclude special items.