In:
Royal Caribbean announced that it is expanding its collaboration with award-winning chef Michael Schwartz that will feature seasonal tasting menus aboard Allure of the Seas' fine dining restaurant, 150 Central Park.  Schwartz had previously been working on the food at 150 Central Park on Oasis of the Seas since 2011.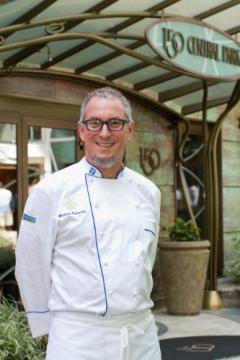 Schwartz has built his reputation as a chef on a commitment to cooking with sustainable foods at his flagship Miami restaurant.  Schwartz will continue to help the cruise line select and integrate fresh, high quality ingredients into 150 Central Park's supply chain by leveraging his relationships with South Florida farmers and beyond.
Royal Caribbean executive vice president Operations, Lisa Lutoff-Perlo, commented on the news, "Royal Caribbean continually looks to deliver WOWs to our guests through innovative and diverse dining concepts featuring the freshest possible ingredients. We are thrilled to be able to grow our relationship with a respected hometown partner like chef Michael Schwartz and offer his locally-sourced menus at both our 150 Central Park locations."
"I am thrilled about the opportunity this program has offered my favorite farmers to grow and improve their operations," says chef Michael Schwartz. "Royal Caribbean has been a willing and enthusiastic partner in this program, and the collaboration has worked because of their commitment to the sustainable philosophies I care so much about. Adding Allure to the line-up offers economies of scale with benefits for everyone involved."
Over the past year and a half since the unique farm-to-ship program began on Oasis of the Seas the cruise line has elicited an overwhelmingly positive response from guests to Schwartz' fresh, simple, and pure approach to fine dining. What began with hydro naturally-grown baby beets, carrots and other produce from Swank Specialty Produce in Loxahatchee Groves Florida, grew to a portfolio of responsibly-raised produce, poultry and meats – from Poulet Rouge chicken from North Carolina's Joyce Farms to grass-fed beef from White Oak Pastures in Georgia.