In:
Royal Caribbean has announced that Michael Schwartz will create new menus for the 150 Central Park restaurant aboard Oasis of the Seas.  Schwartz is the winner of the James Beard Award and will pick the menu for the signature restaurant.  Schwartz is best known for his commitment to sustainable and seasonal food at Miami's Michael's Genuine Food & Drink.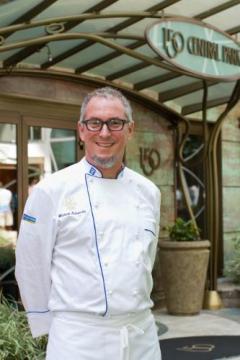 Michael Schwartz will be responsible for creating new dishes at 150 Central Park restaurant and will also pull some of his favorite recipes from his restaurants in Miami, Florida and Grand Cayman.  
Schwartz has hand picked his new Chef de Cuisine, James Seyba, to oversee the new menu's implementation and to engage with guests daily.  
Royal Caribbean's Vice President of Food and Beverage, Frank Weber, discussed the decision to bring Schwartz onboard, "Royal Caribbean continually looks to deliver the Royal Advantage to its guests through diverse and innovative dining concepts and the freshest possible ingredients.  By joining forces with chef Michael Schwartz at Oasis of the Seas' 150 Central Park, we are gaining a respected hometown partner who will help us to navigate and embrace the local agricultural community by hand-picking the most appropriate local small farms to supply ingredients for our premiere dining venue."
Chef Scwhartz is excited about the opportunity as well, "I am thrilled for the opportunity to collaborate with such an acclaimed global brand as Royal Caribbean and to work with them to further the important sustainable philosophies I care so much about. It is so exciting for me to bring some of my favorite farmers' local products onboard for the first time, adding to the already impressive food and beverage offerings available to guests on Oasis of the Seas."